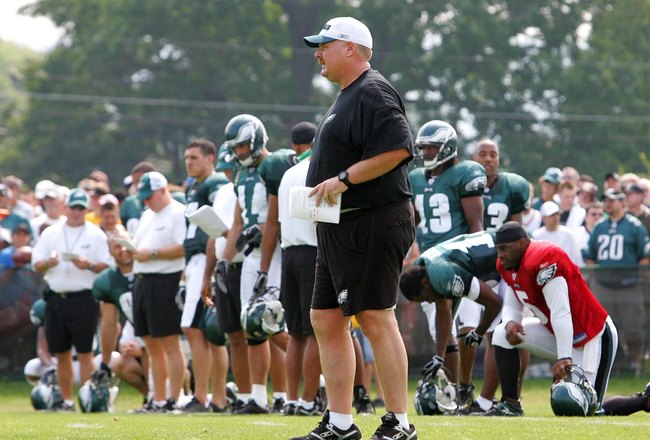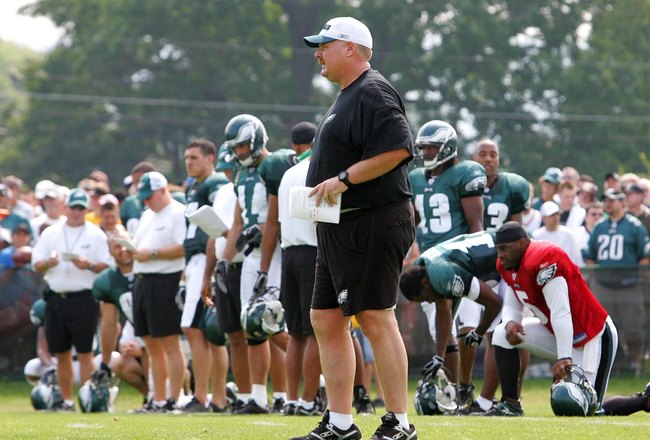 The Eagles have announced their training camp schedule and it will begin on Sunday July 22nd and conclude on Tuesday August 14.
They will change things up in this year's training camp by going through a walk thru session during the mornings then practice in the afternoon.  Head coach Andy Reid wants the training camp to better emulate the regular season.  During the regular season, the Birds walk thru during the mornings and practice in the afternoon, so this will make the workouts more consistent.
Here you have the days and times of the walk thru's and the practices.
Sun., July 22       5:00 pm (rookies and selected vets report to camp)
Mon., July 23     8:45 am (walk thru) and 3:30 pm (practice)
Tues., July 24     8:45 am (walk thru) and 3:30 pm (practice)
Wed., July 25     8:45 am (only remaining veterans report to camp)
Thurs., July 26    3:00 pm (10/10/10) (closed to fans)
Fri., July 27          8:15 am (walk thru) and 2:45 pm (practice) (autographs Defensive Line)
Sat., July 28         8:15 am (walk thru) and 2:45 pm (practice) (autographs Offensive Line)
Sun., July 29       8:15 am (walk thru) and 2:45 pm (practice) (autographs Defensive Back)
Mon., July 30     8:15 am (walk thru) and 2:45 pm (practice) (autographs Wide Receiver)
Tues., July 31     Players day off; no scheduled media availability
Wed. Aug. 1       8:15 am (walk thru) and 2:45 pm (practice) (military day)
Thurs. Aug. 2      8:15 am (walk thru) and 2:45 pm (practice) (autographs Quarterback, Tight End, specialists)
Fri. Aug. 3            8:15 am (walk thru) (Andy Reid) and 2:45 pm (practice) (autographs Running Back, Linebacker)
Sat., Aug. 4         8:15 am (walk thru) (Juan Castillo) and 2:45 pm (practice) (autographs Defensive Line)
Sun., Aug. 5        8:15 am (walk thru) (Andy Reid) and 2:45 pm (practice) (autographs Offensive Line)
Mon., Aug. 6      8:15 am (walk thru) (Marty Mornhinweg) and 2:45 pm (practice) (autographs Wide Receiver)
Tues., Aug. 7      Players day off; no scheduled media availability
Wed., Aug. 8      11:00 am (mock game) (closed to fans)
Thur., Aug. 9      Pittsburgh at Philadelphia, 7:30 pm
Fri., Aug. 10        Players day off; no scheduled media availability
Sat., Aug. 11       8:15 am (walk thru) and 2:45 pm (practice) (autographs Defensive Back)
Sun., Aug. 12      8:15 am (walk thru) (Juan Castillo) and 2:45 pm (practice) (autographs Running Back, Linebacker)
Mon., Aug. 13    8:15 am (walk thru) (Marty Mornhinweg) and 2:45 pm (practice) (autographs Quarterback, Tight End, Specialists)
Tues., Aug. 14    8:15 am (walk thru) (Andy Reid) and 2:45 pm (practice) (fan appreciation day)
Wed., Aug. 15    Players day off; no scheduled availability; break camp
Thur., Aug. 16    Training camp resumes at Nova Care Complex