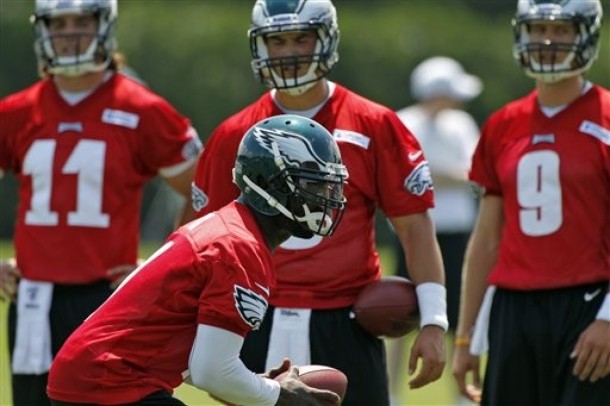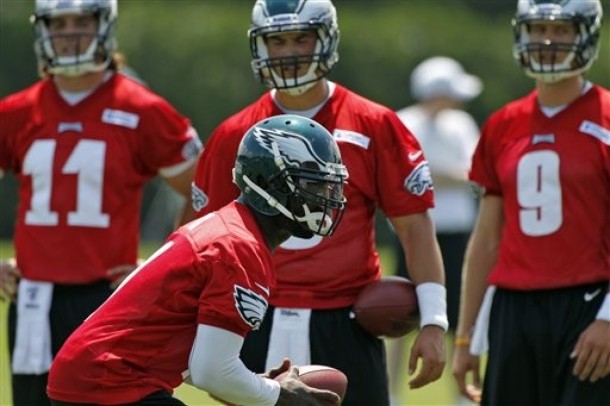 Who is going to back up Michael Vick?  Mike Kafka has the lead right now because he knows the offense very well, but will the experience of Trent Edwards win out, or will rookie Nick Foles win the job with his stronger arm.
This could ultimately have play a large role in the season because of Vick's habit of getting injured and missing a game or two each season.  Will the guy they have backing him up be able to lead the Birds to wins in those games?
Is seventh round draft pick running back Bryce Brown anywhere near as good as his combination of size and speed?  This spring I got a chance to see what made him the top high school running back in the nation a few years ago, but I still don't know whether he can play.   He's got great hands with good quickness and strength.  Brown looks like the real deal but will he be able to take the pounding which is dished out to running backs in the NFL.
I'm looking forward to seeing if rookie free agent wide receiver Damaris Johnson can continue to excel when the team puts on the pads.  This diminutive receiver is lightning fast and quick.
Surprisingly Johnson runs very good routes and seems to have a high football I.Q.  The little guy from Tulsa was able to run some routes that the Birds have designed for DeSean Jackson.  He gets in and out of his cuts at full speed, which makes it very difficult to cover him.
He's about as big as a mouse out on the football field, but he may add another gear to the Eagles line up.  I could see the Eagles running the "Fast Break" offense when he goes on the field with Jackson and Jeremy Maclin.
Can the little fellow take the pounding which comes with playing in the NFL?
Will second tight end Clay Harbor separate himself from the other tight ends by catching the football more consistently?  I can tell that Reid and Marty Mornhinweg want to make the two tight end sets a bigger part of the offense.  Will he continue to drop a couple of passes each day at training camp?
Will back up wide receiver Riley Cooper live up to his potential or continue to drop passes and leave the door open for rookie Marvin McNutt to beat him out?  McNutt was catching everything that came his way during the OTA's, but he's got a lot to learn before being able to execute this offense.
Can Demetress Bell hold things down at left tackle?   This question could wind up being the most important of all.  He looked fairly athletic in the OTA's, but he's not Jason Peters.  Hopefully the Birds won't have to make tight end Brent Celek their third offensive tackle like he was for most of the 2011 season.