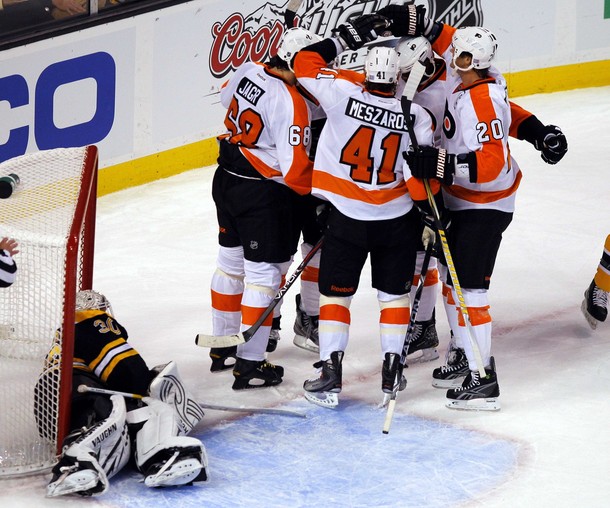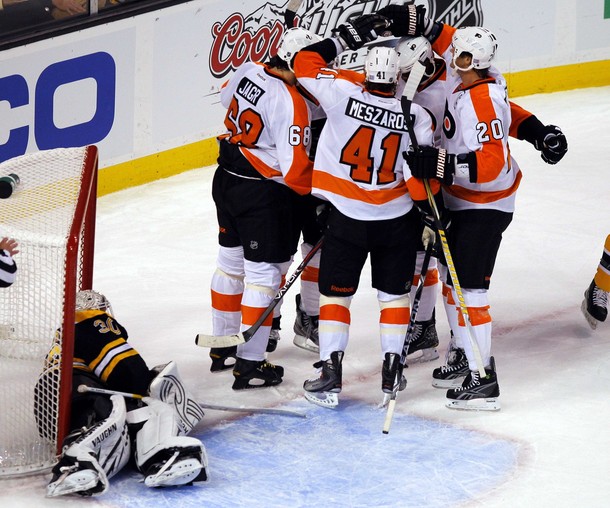 The Philadelphia Flyers have just a handful of roster openings that need to be addressed before the beginning of next season- one top six winger, forward depth in the bottom six (including re-signing their qualified restricted free agents), possibly one defenseman and a back-up goaltender.
These vacancies can be filled by either working with players already in the system, trading for players, or tapping into the free agent market on July 1.  With the salary cap officially set at $70.2 million, though, the market is more likely to resemble a Sotheby's auction house on amphetamines.
Dennis Wideman, a right-shooting, third pairing offensive defenseman for the Washington Capitals, was traded yesterday to the Calgary Flames and subsequently signed to a five year, $26.5 million contract with a no-move-clause.
P.A. Parenteau, one of the few forwards that arguably fits the "top six" definition, is already expected to cash in as a "plan B" for those teams that lose out on Zach Parise.
The Flyers currently have $11.3 million available to sign free agents.
Recognizing that getting into bidding wars could impede their ability to manage the roster in-season, how should the Flyers approach free agency?
At forward
Re-sign Jake Voracek before anyone attempts to extend him an offer sheet.  Whatever you think he's worth, his value to the organization just went up with James van Riemsdyk shipped to Toronto and the new salary cap taking effect.
Market Claude Giroux as the principal selling point for wingers.  For veteran forwards especially, the chance to prolong their careers with one of the best young centers in the NHL should be a very attractive offer.  It worked for Jaromir Jagr, right?
Get creative. There are a number of talented veterans who have fallen off the radar due to injury and age concerns, but for the right price, they can add a lot of low risk, high reward value. Players worth considering if their health and age don't present immediate red flags are Kristian Huselius, Mikael Samuelsson, Jamie Langenbrunner and Mike Knuble.
Don't overpay for bottom six depth. The organization has a number of decent prospects that can fill in on the third or fourth line level, so throwing money at role players isn't an efficient way to manage the team. If the price is right, though, consider forwards like Niklas Hagman, Kyle Wellwood or Jeff Halpern.
At defense
Make a decision between Matt Carle and Andrej Meszaros.  While there are certainly good reasons to re-sign Carle, there is no guarantee (in spite of what is being reported by some) that he is going to sign for under $5 million, especially considering he is testing the market. When the likes of Brent Seabrook, James Wisniewski and Wideman (among a dozen others) are all making more money, it's wishful thinking to believe he's going to leave a million off the table.  Meszaros has faced weaker competition than Carle in his time in Philadelphia, so it's not as simple as saying he can replace Carle in either of the top two pairings. If he's never going to be tested in that role, though, then his $4 million can be traded elsewhere to bring back prospects or add a top six winger.Keeping both players and their respective contracts just seems redundant.  Between the prospects in the system (Marc-Andre Bourdon and Erik Gustafsson) and a number of adequate third pairing defensemen on the market, the Flyers should be able to build a successful team sans one of these two blueliners.
At Goaltender
This is the only position in which urgency is key. The organization has already thrown out the jaw-dropping idea of re-signing Michael Leighton, in spite of paying him $3.1 million for one regular season NHL game in the past two years.  Finding the right back-up to support Ilya Bryzgalov and provide better than average goaltending in case of injuries should be just as important a priority as finding a top six winger.Benefitting the Flyers is the fact there are a limited number of positions open in the NHL for a back-up, giving them leverage to sign who they want at an affordable price.  Martin Biron appears to be a lock for returning to the New York Rangers, but Scott Clemmensen (career 0.909 save percentage) and Chris Mason would be reasonable choices (career 0.910 save percentage).  If you want to get creative, consider a younger goaltender in Al Montoya (career 0.906 save percentage) or salary cap castaway Cristobal Huet (career 0.914 save percentage).
If general manager Paul Holmgren can practice patience and hindsight, he should be able to move forward without hemorrhaging money and contract space.  As it is, NHL owners suggested yesterday during collective bargaining agreement talks that they want all new contracts limited to six years.  If that isn't a vote of "no confidence" in how general managers are currently spending their money, I don't know what is.
For the latest Flyers and NHL free agency news, you can follow me on twitter (@JoshJanet).