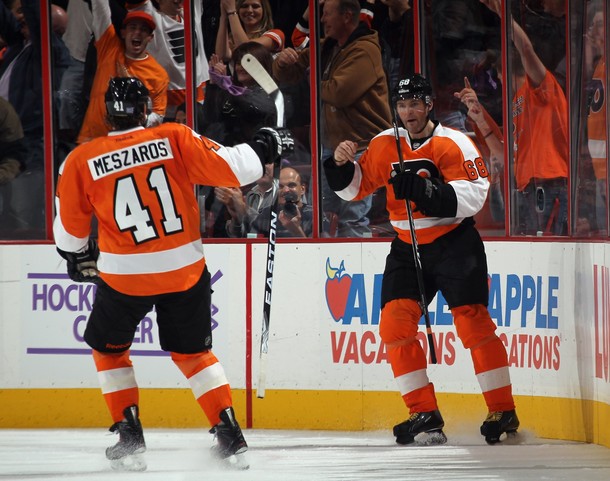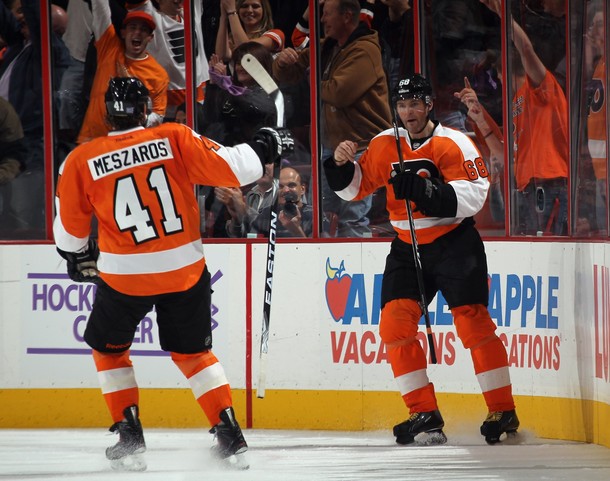 While no big names have yet to sign in Philadelphia, there continues to be a flurry of activity and rumors surrounding the team. I've compiled the news below for brevity.
The Flyers announced today three depth signings at the AHL/NHL level- defensemen Danny Syvret and Cullen Eddy and forward Mike Testwuide.  I reported incorrectly on this site last month that Testwuide was not qualified as a restricted free agent; he will be back for at least one more year.
Eddy has been with the organization for two years on an AHL contract, with this being his first professional contract at the NHL level. The Hidden Valley, PA native was named the Phantoms Man of the Year in April and has been a fan favorite in Glens Falls. While he is unlikely to make it to the NHL, it's arguably worth it for the organization to keep him in the fold as a reliable defenseman at the AHL level.
The signing of Syvret (again!) signals that a defensive prospect is likely to be moved. With Syvret, that puts nine defensemen under contract at the AHL level (including Matt Walker).  Syvret is more than capable of being a third pairing defenseman at the NHL level, making the likes of Erik Gustafsson and Marc-Andre Bourdon expendable in any trades.
The Phantoms have re-signed forward Garret Roe to an AHL contract as well as bruising defenseman Zach Fitzgerald. Fitzgerald has averaged 254 penalty minutes a season in the last four years.
Neither Zach Parise nor Ryan Suter have made decisions yet on where they intend to play the rest of their careers, but all indications suggest that the Flyers' chances of signing either are slim-to-none. Sam Donnellon has suggested this is just a move by general manager Paul Holmgren to drive up their prices, but it has also prevented the Flyers from moving forward with their own plans.
The previous reports have also increased rumors that the Flyers are more fervently pursuing Bobby Ryan from the Anaheim Ducks. The asking price continues to be a second line center, but it's possible that a package of Jake Voracek and a young defenseman could eventually get the job done, provided no teams raise the stakes against the Flyers.
Jaromir Jagr has officially signed a one year, $4.55 million contract with the Dallas Stars. While the size of the contract suggests that money was the predominant factor in his decision to play there, it doesn't matter.  He was a blast to watch all season in Philadelphia and has earned the right to play wherever he wants, regardless of the reason. Just be grateful the Flyers avoided that contract and move on.  Thanks for the memories, Jags.
For the latest Flyers news and updates, you can follow me on twitter (@JoshJanet).