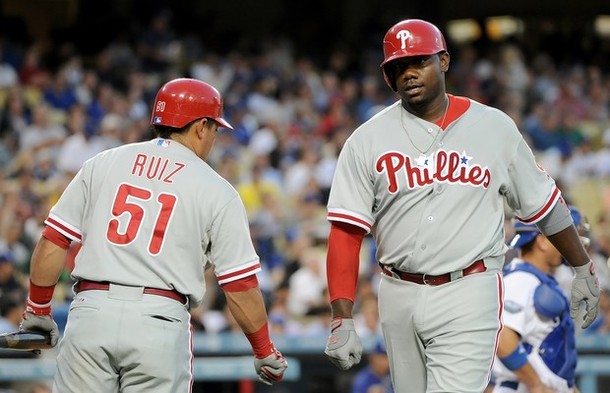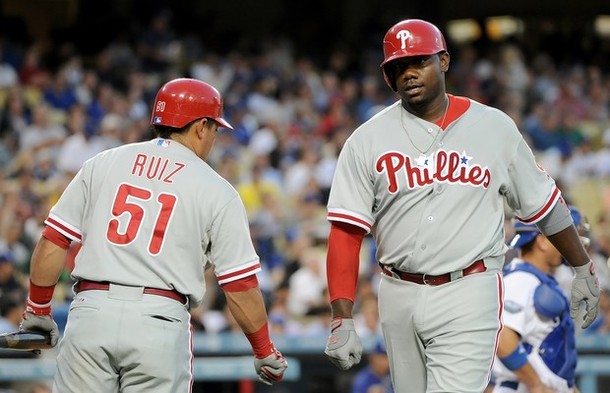 The Phillies won their third straight game on Monday night, taking down the Dodgers 3-2 out in Los Angeles. The Phils' built an early 3-0 lead, and rode the excellent pitching of Joe Blanton and Jonathan Papelbon to victory.
Joe Blanton has had such an up-and-down season, but tonight the veteran was on top of his game. He threw eight solid innings, allowing just two runs on six hits, struck out seven, and didn't allow a walk.
It says a lot about just how bad this bullpen is when Charlie Manuel is forced to ride Blanton for eight innings on 110 pitches in a one-run game.
Blanton has pitched much better in his last six starts, allowing 18 runs in that stretch. Here's to hoping he can continue this roll to make him an asset at the July 31st trade deadline.
Ryan Howard finally got on the board with his first home run (and RBI) of the season. The slugger is batting just .150 since his return to the big leagues, but it was good to see him make a solid contribution to the victory.
Shane Victorino, possibly auditioning for a trade to the Dodgers, had one of his best games of the season, going 3-4 with a triple. Keep driving up your value, Shane.
Placido Polanco had another hitless effort, finishing the game 0-3. The veteran has just three hits in his last 10 games, and his batting average has fallen to .260.
Chase Utley had a rough night at the plate, going 0-4 and leaving five runners on base.
Jonathan Papelbon earned his 20th save of the season, allowing just one baserunner in the ninth inning.