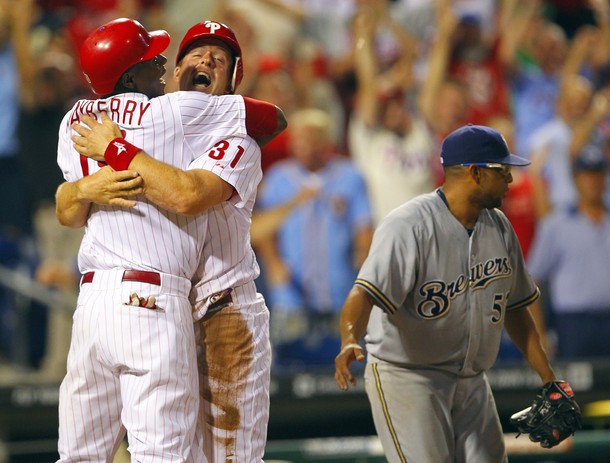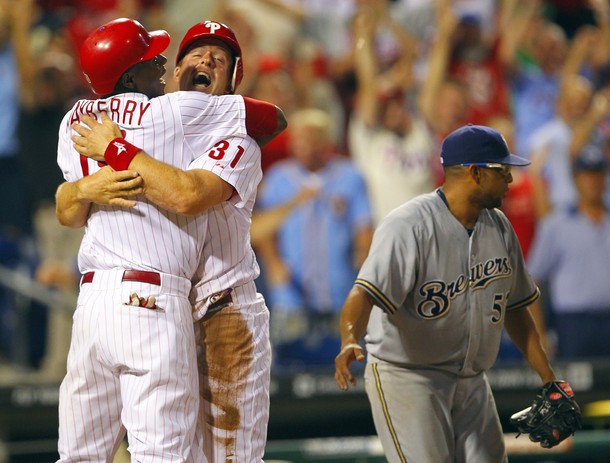 The Phillies completed a sweep of the Milwaukee Brewers on Wednesday afternoon, completing a third straight come-from-behind victory over the Brew Crew with another 7-6 victory.
This may have been the most enjoyable series to watch the Phillies all year. Seeing them rally from late inning deficits hasn't been the 2012 team's strong suit, and to see them pull off three consecutive dramatic victories brings back memories of the 2008 team; a team that was never out of a game until the final out was recorded.
The Phils have now gone 8-4 since the All-Star break, and beginning to find more ways to win than to lose. The way they're playing now inspires confidence, but they still have a huge hole to dig themselves out of.
The Phillies are starting to have a number of players step up for them. Chase Utley turned in one of his strongest performances of the season, going 3-4 and driving in three runs. Erik Kratz was also one of the game's heroes, going 3-5 with two doubles (one of which came in the 10th inning to help set up the tying and winning runs).
Kyle Kendrick was excellent out of the bullpen once again, tossing 1.2 scoreless innings. He hasn't allowed a run since returning to the bullpen.
Just when you thought Antonio Bastardo might be regaining some confidence and composure, he gives up a two-run shot to tie the game in the eighth inning.
Starter Vance Worley wasn't particularly strong today, giving up three runs on 10 hits over 5.1 innings, but he was able to survive out there and give the team a chance to win.
The Phillies now face a huge test this weekend with a three-game series against the Braves. The outcome of this series will likely determine the direction the team heads before the trade deadline.