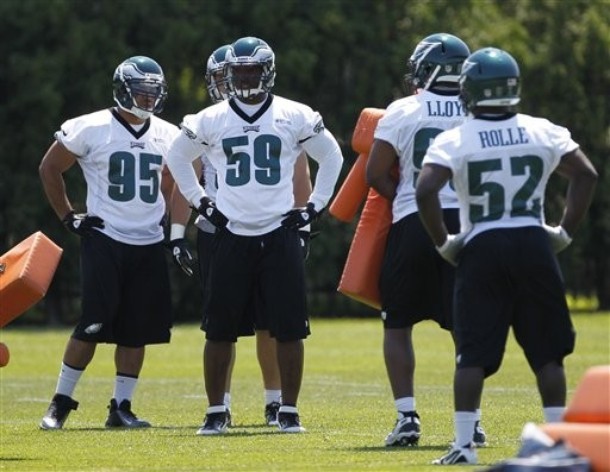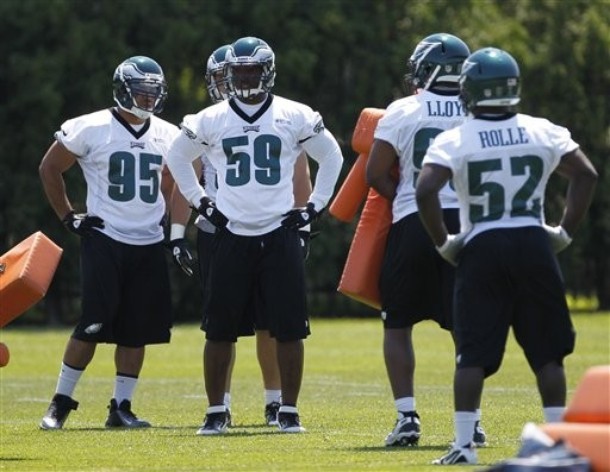 It's time to take care of business for Eagles middle linebacker DeMeco Ryans and he knows what it means to take care of business.  Ryans knows how to study in preparation for an upcoming game and Andy Reid and his staff are hoping that his professionalism will rub off on his younger teammates.
"I'm just focused on my job, first and foremost," Ryans said. "My job is to make sure everybody is lined up properly, make sure I have my assignments down, make sure I'm correct on what I'm supposed to do and be able to make plays. That's my job, and then everything else, it'll fall into place as we continue to go along."
"My goal is to step out there this year and prove that I'm the best linebacker in the league. That's a goal of mine each year, and it's something that drives me and makes me focused on what I have to do, and that's all about being the best."
I talked to Ryans for a few minutes when he came to the Nova Care Complex after being traded from the Houston Texans and I could tell that he'll be bringing a level of attention to detail to the Eagles linebacker corps that they've been missing since Brian Dawkins and Jeremiah Trotter left the organization.
He talked about getting into the detail of learning the Eagles defense.  The linebackers and safeties are supposed to function like coaches on the football field, but it's harder to do it without experience.  They're supposed to know not only where everybody is supposed to be on each defense, but they should also know what are the strengths and weaknesses of each defense, so they're capable of making the necessary changes.
If a defense can't make the adjustments before the play but have to wait to get to the sidelines and have the defensive coordinator make the changes, then they find themselves always being a step or two behind the offense.  Having a veteran middle linebacker like Ryans in place will allow them to make the adjustments immediately.   Defensive coordinator Juan Castillo will be able to give Ryans more responsibility in making adjustments and getting the team into the right alignments.
Last year the Birds had rookie middle linebacker Casey Matthews running the defense and he was focused on learning his assignments, not making sure everybody was lined up properly or making an adjustment to a certain offensive formation.
A good veteran linebacker has a book on each offense in the league.  He has a book on quarterbacks and what they like to do in different situations.  A smart veteran player knows the tendencies of different offensive coordinators, especially the guys who call the plays for the opposing teams in his division.
Andy Reid has a special appreciation for the details of the game, so I know he values these qualities in Ryans.  This is the major difference in a guy like Ryans and former Eagles linebacker Ernie Sims, who played the game simply on his athletic ability in much the same way that college defensive players approach their jobs.
Ryans will also bring his discipline and work ethic to the table, which will allow the younger linebackers to see how they must dedicate themselves to being in the best of shape to perform their jobs at the highest level.  A coach can preach to his players until he loses his voice, but if you have an accomplished player on the team, who is demonstrating what the coach is saying, the players tend to get the picture.
It's the difference in having a big brother to copy as he cleans up his room as compared to listening to your father lecture you to do it.
Former Eagles linebacker and current linebacker coach Mike Caldwell is confident that having Ryans around will make his job much easier and I agree with him.
"He doesn't have to come in and say anything or do anything," Caldwell said. "He'll come in and be diligent. He studies. He does the extra things that other guys don't do, so the younger guys see that and they're just going to gravitate to that, and that's going to become them."