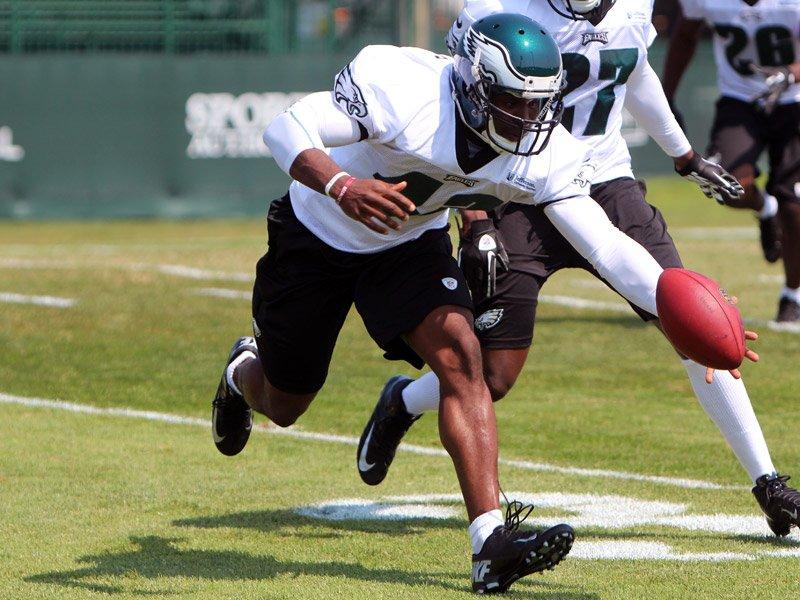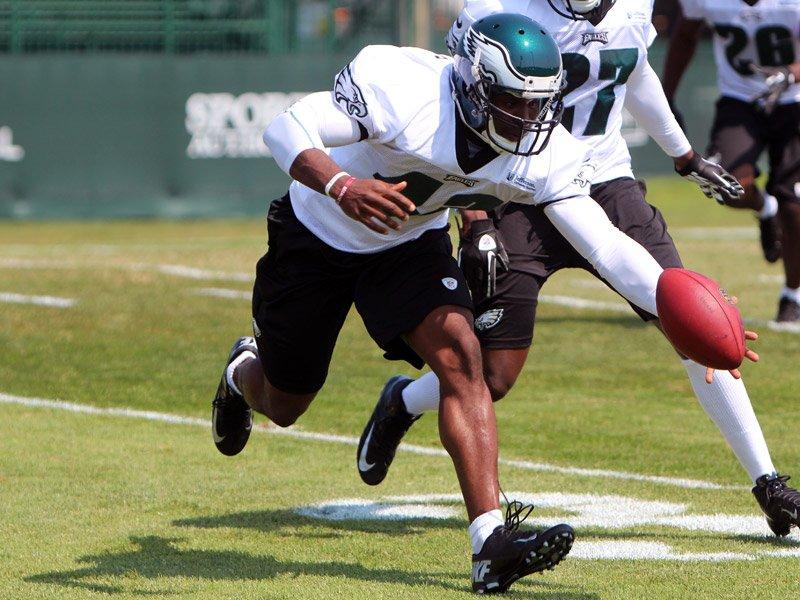 One of the positions which everybody has their eyes on at this Eagles training camp is the safety position.  You probably already know the situation, but me lay out to you any way.
Nate Allen and Kurt Coleman are the starters and both are going into their third year league.  Neither has a lock on the starting job, but Allen is likely to be a starter at the beginning of the season, Coleman's position isn't definite.
Second-year man Jaiquawn Jarrett was drafted a year ago in the second round and needs to prove that he can play in this league.
The recently acquired veteran O.J. Atogwe is the wild card.  He has 25 interceptions and 16 forced fumbles on his resume.  I feel certain that Andy Reid, defensive coordinator Juan Castillo and safety coach Mike Zordich are going to give him every chance to win the starting job, but he's going to have to do it on the field.
The key to his chances of starting will be greatly affected by how fast he can learn the Eagles coverages.  It shouldn't take him long because everybody in the league plays most of the same coverages, but the terminology is different.
"I definitely would say [offseason work] is not overrated," Atogwe said, after a brief practice, the first full-squad gathering at Lehigh, which was closed to the public. "But I don't believe I'm far behind. I learn defenses quick. I've played in the league a long time [this is his eighth season]. Concepts remain the same. Now it's just assimilating the terminology and doing things the way the coaches want me to do it. For every player, that takes practice."
"I'm just meeting a lot of these guys for the first time, but they've been very welcoming, very encouraging. For me, it's learning the system, as far as how they practice, how they move from drill to drill — that's for me, the things I didn't know."
There are question marks about Atogwe because he signed with the Redskins a year ago, started only eight games, was bothered by a toe injury, then was released by the Skins in March.   Still, Zordich is confident, he's still got a good season or two left in the tank.
"I still see a pretty darned good football player," Zordich said, when asked about Atogwe. "Who knows what happened within the Redskin walls? I don't know what happened. But I see a pretty good football player. I see a guy with experience, I see a guy with playmaking ability, I see a guy who knows how to get turnovers [24 interceptions since 2006]. Those are important things."
Allen looked very good during the off season.  The Eagles haven't had a safety running like Allen since a young Brian Dawkins was manning the secondary for the Birds.  Allen doesn't have the physicality of a Dawkins but he could have a big year with interceptions, if the offense gets leads and the defensive line rushing the quarterbacks the way they're capable of doing.
He doesn't have to destroy ball carriers when he tackles them, he just needs to make the tackle.  The same is true of Coleman, who isn't as big or as fast as Allen.  Coleman has a good mental grasp of the game.  Again both of these guys need to just wrap up ball carriers, which will reduce the number of big plays the defense allows.
"Everyone's in here to compete, no matter if it's O.J. or Jaiquawn [Jarrett]", Coleman said after Friday's early workout. "Everybody's in here to compete, everybody's trying to get the starting spot, bottom line. I've got to go out there and do my job. You know, we're pushing each other and I think that's the great thing about O.J. He's a seasoned vet, he understands the game of football and I've allowed him to ask me questions and vice versa because he knows this game a lot, in and out."
Jarrett needs to prove he can play in this league.  More specifically, is he fast enough to play in this league.  We'll keep you posted about how all of them are doing.  The youngster says the signing of Atogwe is a good thing.
"It's always good to sign a great safety as competition", Jarrett said.. "Competition is only going to bring the best out of each player. He's a great addition to the team."
"He's still a veteran. As much as he's learning the playbook, he's still helping me out, teaching me how to become a pro and what to do, what to look for when I'm out at practice, even during walkthrough."
"He's a great person. Always working with a smile, always asking how I'm doing. I like O.J.. He's a good person."
Veteran Colt Anderson is a Special Teams specialist, who is recovering from a knee surgery, and not really in the running for the starting safety spots.