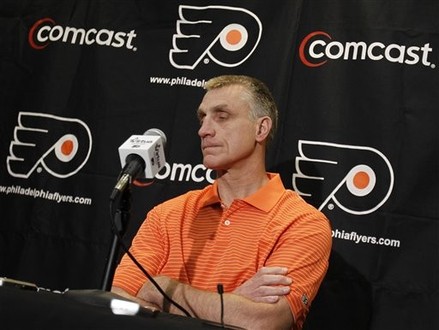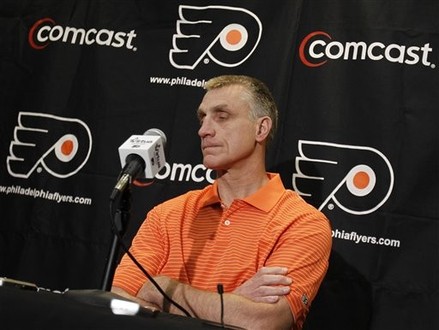 Whatever your thoughts are on the Philadelphia Flyers' offseason to date, one general opinion that seems to be shared by many fans is that general manager Paul Holmgren "deserves credit."  He tendered substantial offers to the biggest names in free agency and neglected to (arguably) overpay for some of his own (now former) players.
The most elegant play was the offer sheet submitted to and signed by defenseman Shea Weber that manipulated several loopholes in the existing collective bargaining agreement (CBA)- contract front-loading, extended years on the contract, and lucrative signing bonuses.
For all of his clever manipulations, though, what is Holmgren going to do when the next CBA removes these loopholes?
Ignoring the most glaring item of contention from the NHL's first proposal to the NHLPA for the next CBA – another round of player salary roll backs – there are a few items that will most likely be implemented in some form that will affect how future contracts will be written.
Contracts limited to five years
Contracts mandated to have same salary in each season
The elimination of signing bonuses
Five-year entry level contracts instead of three-year entry level contracts
Ten years until unrestricted free agency
The first three items are all intended to narrow the playing field between big market teams and small market teams.  The latter two are intended to help small market teams keep their young talent on cheap contracts and prevent them from leaving as unrestricted free agents until they're around age 30.
Five years is probably too small to be accepted by the NHLPA, as age always comes into play when signing a new contract. It's easier for players to cash in on better contracts if they can sign in their primes to longer deals that pay more money than they would likely receive as older free agents (unless you're Shane Doan, apparently).
Seven or eight years, though? It wouldn't be unheard of.  Since Holmgren has been general manager of the Flyers, he has tendered nine contracts over five years in length and four contracts over eight years in length. Limiting contract length removes one tool from his arsenal.
Another tool is the ability to vary salary from year to year within a contract.  I'm surprised that this was something all owners agreed to, as in Holmgren's case, it would hinder his ability to throw ludicrous up-front money at free agents.
Of the nine contracts tendered by Holmgren over five years in length, the total sum of the first two years of all contracts is approximately $133,100,000. The last two years?  $46,450,000, or 35% of the first two years.
The total money spent in the first two years if salary cap hits represented the actual dollars spent? $101,500,000, or 76% of the first two years.
Signing bonuses are a simple but attractive way to get money into the hands of free agents quickly, but even Holmgren found a way to use them to his advantage, as the Weber contract illustrated.
If these rules are in fact implemented in the next CBA, Holmgren will no longer have his usual bag of tricks to resort to.  The money may still be flowing from Ed Snider's coffers, but it will look just like everyone else's.
When all monetary offers are considered equal, more importance is shouldered by the organization to maintain a championship-worthy team, a respectable coaching staff, and an appearance of trust.
The moves to ship off Jeff Carter and James van Riemsdyk just before their new contracts kicked in may not mean much to the current players under contract if the up-front money is good, but when all monetary incentives are considered equal in free agency?  You have to figure they're going to think twice about signing a multi-year extension in Philadelphia.
Perhaps the biggest concern from all these proposed CBA clarifications is that the value of draft picks and high-end prospects becomes that much greater. The Flyers' organization is considered exceptionally weak in that department, though recently drafted players like Scott Laughton, Shayne Gostisbehere and Anthony Stolarz all have good long-term potential.
Paul Holmgren is going to have to re-think his approach to management in the new frontier that is the next CBA. He can't keep gaming the system forever.
For the latest Flyers news and updates, you can follow me on twitter (@JoshJanet).