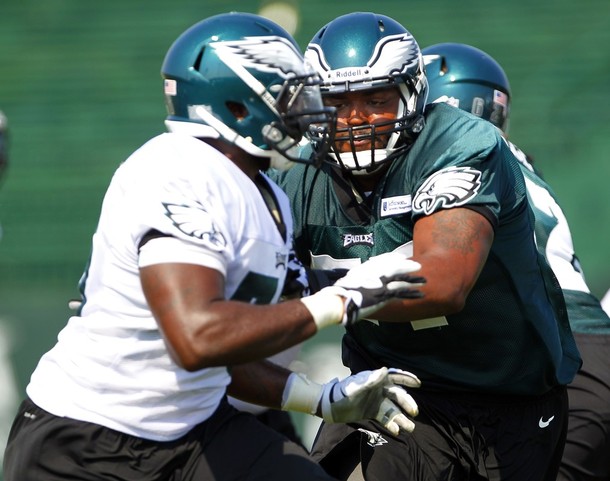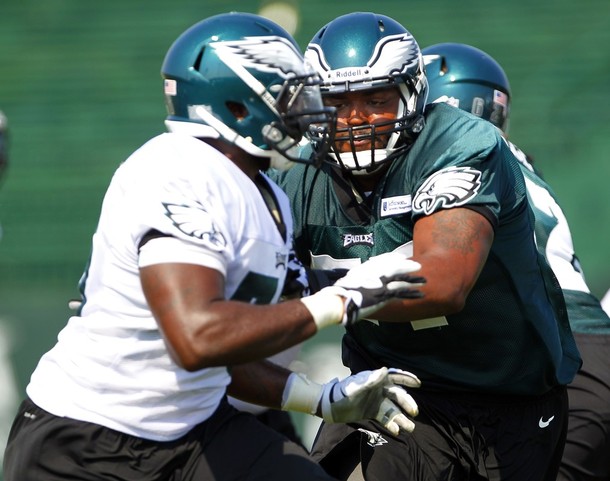 The one-on-one drills were between the offensive line and the defensive line was very interesting.
Third-year defensive end Brandon Graham was the star of the drill.  He won each and every rep he was given and seemed to get off the quicker than all of the Birds defensive ends.  He performance was so dominant that Eagles defensive line coach Jim Washburn had to pull him to the side and give him a hug.
Graham was flying off the ball and seemed to be playing at a different speed than everyone else. The former number one pick displayed tremendous strength by tossing around  did a nice job coming off the corner.  He won each and every time he lined up.
They should never match up Graham on rookie Dennis Kelly again.  Would somebody send Kelly a text and tell him that Graham is sacking the quarterback, so he needs to get out of his stance?
The former Michigan Wolverine finished things up by beating starting right tackle Todd Herremans by doing a push and pull move.  Graham rag-dolled Herremans after he got him to move his feet.  A smaller defensive end like Graham can get physical with a big offensive tackle after he gets him moving.
Eagles starting offensive left tackle Demetress Bell impressed me with his quick feet and body control.  He did a nice job of nullifying the speed of Trent Cole, when the former All-Pro tried to beat him by faking outside and coming back inside.  Bell adjusted the move and stood Cole up.
His next time up, he manhandled Darryl Tapp who was trying to get around the corner.  Tapp got some revenge when he beat Bell around the corner during their final battle.  He didn't come totally clean, but was able to beat Bell with some good hand fighting.