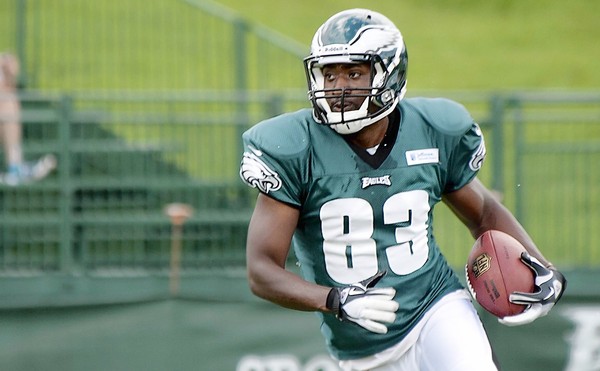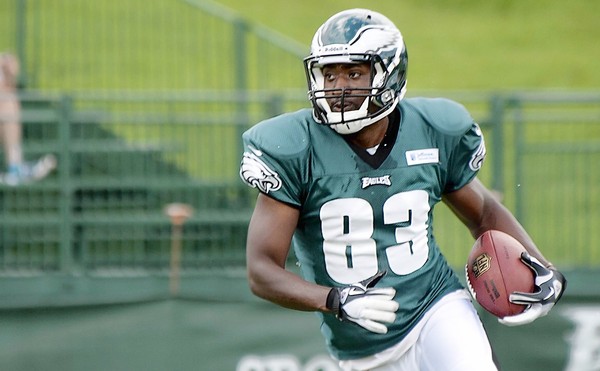 In the NFL it is amazing how one day you can be on the sidelines watching, and the next day you can be on the field with the starting team. In the annual training camp in Lehigh, Eagles sixth-round pick Marvin McNutt got a taste of that. With Riley Cooper going down with a collarbone fracture in the first week of camp, McNutt is getting a chance to show fans and coaches what he's got.
In the rookie and selected veterans camp, McNutt looked like a player who would struggle to make the team. He was getting jammed at the line, not separating from corners, and just flat-out being beat on almost every play. But once the pads went on, the former Iowa receiver opened some eyes. With a large 6'2, 216 pound frame, the rookie knows how to use his body to get in a position to catch the football; something he learned from a current teammate before they even had the chance to meet one another.
McNutt came into college as a quarterback but after being redshirted and seeing almost no action, wide receiver coach Erik Campbell convinced him to make the switch to wide receiver. "When you look at the number of guys he has put in the NFL and the way they played in college, why would someone not want to play for him?" McNutt recently said of his college positions coach. The freshman officially made the switch half way through the season and didn't make much of an impact in the remaining games.
Campbell, who coached receivers at Michigan from 1995 to 2007, told McNutt to watch tape of one of Michigan's greatest receivers in their long history, Jason Avant. Avant (6'0, 212 pounds) had a similar body type to McNutt and the new receiver found a player to emulate his play to. "With my big frame and he is a different type of bigger frame, I was able to see how he used his feet and hands and still use his techniques like Coach Campbell told me," said McNutt of Avant, "He was not one of the fastest guys but he definitely is one of the hardest workers and continues to work every day." Number 83 calls ending up on the same team as Avant a "blessing in disguise."
In his first full season as a wide receiver McNutt made a big offensive impact and had a nose for the end zone immediately. His sophomore and junior seasons yielded eight touchdowns each and in his junior season he set a school record with 12 receiving touchdowns to go along with 82 receptions for 1,315 yards and All Big-Ten honors. Even after torching college defenses, McNutt lasted until the sixth round where the Eagles just couldn't pass up on him.
McNutt didn't see much action in OTAs and training camp as soon as the full team showed up. As soon as Riley Cooper went down with his collarbone injury, that will keep him out until the first week of the season, McNutt was next on the depth chart to take the reps. McNutt took advantage of this opportunity and stood out to his coaches. Even though Andy Reid said it was too early to name any players standing out in camp, one of the first names to come out of his mouth was Marvin McNutt. Clearly the rookie is making an impression on the coaching staff though he is a long way away from cracking the starting lineup.
One thing McNutt will be working on for the remainder of camp, and likely the preseason, is special teams. Taking Riley Cooper's spot on the depth chart during his time away, and even when he comes back, will depend on what type of impact he can make with special teams play. Fourth receivers, as well as anyone below them on the depth chart, must play special teams well to maintain a spot on the roster.
The St. Louis native, barring a tremendous decline in play, is no longer fighting for a roster spot but will now be fighting for playing time. With Cooper's injury McNutt currently sits just behind Jason Avant on the depth chart and he will look to impress his coaches further to possibly keep that position for the entire season.
In the NFL, even as early as July and August, players can go from fighting to make the team to lining up next to the likes of DeSean Jackson and Jeremy Maclin. The 23-year-old has an opportunity to do just that in his rookie season, all thanks to an unfortunate injury.