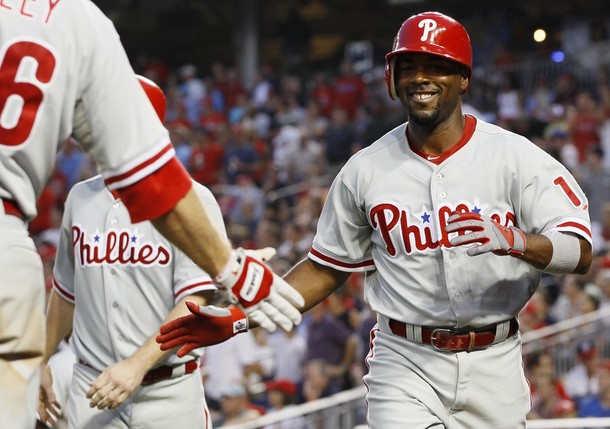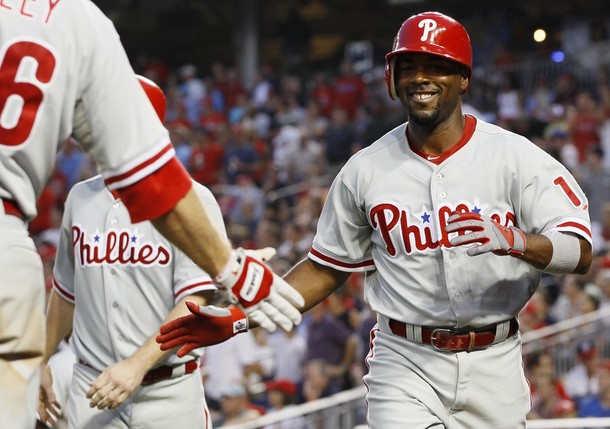 The Phillies won their second straight game on Wednesday night, edging the Nationals 3-2. The win improves the Phils to 47-57, 14.5 games out of first place.
The Phillies got their first look at some of their new players acquired on Tuesday, with outfielder Nate Schierholtz and reliever Josh Lindblom making their debuts in Philadelphia uniforms.
Schierholtz made a good first impression in his start. The outfielder went 2-5 with a solo home run in the fifth inning. He also made a spectacular defensive play in the eighth inning, making a sliding catch to record the first out of the inning. His only blemish on the night was a pop-up in the ninth inning with Juan Pierre at third base with one out.
Lindblom faced two batters in the eighth inning, allowing a single and recording a strikeout. He had good command of his slider, and had a live fast ball that topped out at 94 mph.
Jimmy Rollins has caught a little lightning in a bottle. The shortstop hit two solo home runs off of Edwin Jackson, giving him a total of three homers in the last two games.
Vance Worley did a really nice job in his latest start. The right-hander threw seven strong innings, allowing two runs (both unearned) on six hits. The young pitcher did well to keep his composure early in the game when things were going poorly, and ended up giving his strongest performance in over a month. The last time Worley pitched this well was June 21st, when he allowed just two runs in seven innings.
Worley might not have surrendered any runs if not for a poor defensive play in the first inning. Kevin Frandsen and Chase Utley each botched a double-play opportunity in the inning that ended up costing the Phillies two runs.
Ryan Howard struggled heavily at the plate again, going 0-3 with three strikeouts, leaving three runners on base.
Domonic Brown had a lackluster performance in his first start of the season, going 0-4. He missed out on two opportunities with runners in scoring position, leaving three men on base. But hey, at least there weren't any misadventures in the outfield.
Erik Kratz had a nice game in place of Carlos Ruiz (who is dealing with plantar faciitis). He went 1-3 at the plate, but also made some nice defensive plays, including a tough play on a foul ball and he also caught Ryan Zimmerman stealing in the eighth inning.
John Mayberry had a hard time at the plate tonight, finishing 1-4 with a single and three strikeouts.