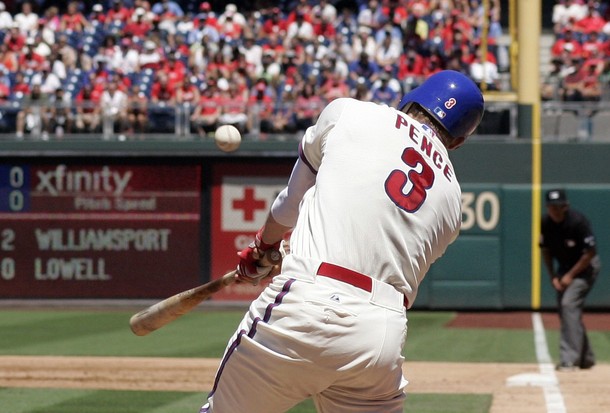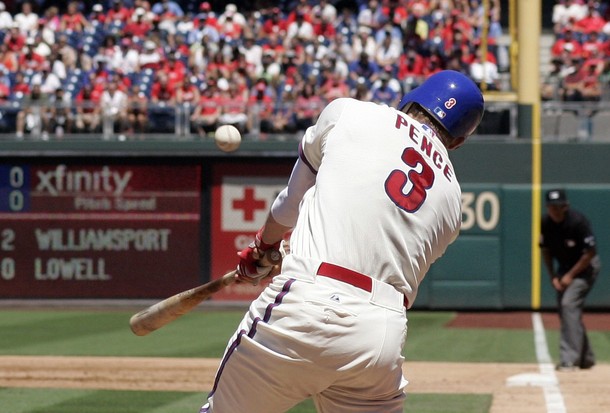 On July 28th 2011, Ruben Amaro completed a trade with the Houston Astros that sent Hunter Pence to Philadelphia is exchange for three minor leaguers, two of them (Jarred Cosart and Jonathan Singleton) were among the most highly coveted prospects within the Phillies organization.
With his team out of playoff contention, almost exactly one year later Amaro shipped the talented outfielder to the San Francisco Giants for a package consisting of a well-regarded catching prospect (Tommy Joseph), a fourth outfielder (Nate Schierholtz), and a marginal pitching prospect (Seth Rosin).
Pence's time with the Phillies ends as a major disappointment. Amaro paid a heavy price for the 29-year old, and got very little in return. The outfielder played well upon arriving in Philadelphia, hitting .324 with 11 home runs and 35 RBIs in the second half of the 2011 season, and helped the team win a franchise-record 102 games. But that was about it.
When the Phillies needed Pence the most, he disappeared.
In the playoffs last year, the righty hit just .211, collecting only four hits in 19 at-bats. This includes an 0-4 performance in Game 5 when the Phillies were eliminated by the Cardinals 1-0.
In 2012 the team was counting on their $10 million dollar outfielder to step up and help carry the team in the absence of Chase Utley and Ryan Howard, and once again Pence failed to deliver. While he managed to put up some deceptive numbers (.271 batting average, 17 home runs, 59 RBIs), the real story is told within the facts that he hit just .238 with runners in scoring position (including .167 with runners at both second and third) and that Charlie Manuel eventually had to shift Pence to the three-hole and move Carlos Ruiz to the cleanup spot.
Pence couldn't handle the pressure of being "the guy" in a batting order, and once Utley and Howard returned Manuel even went as far as to leave Ruiz in the fifth spot and drop Pence to sixth.
Pence also proved to be a fundamentally unsound and undisciplined player. He rarely went to bat with a plan of attack, often swinging first pitches, leading to easy pop-ups, or rally-killing double plays. His defense was also atrocious, there were too many times that he would take a poor angle to a fly ball or botch routine plays.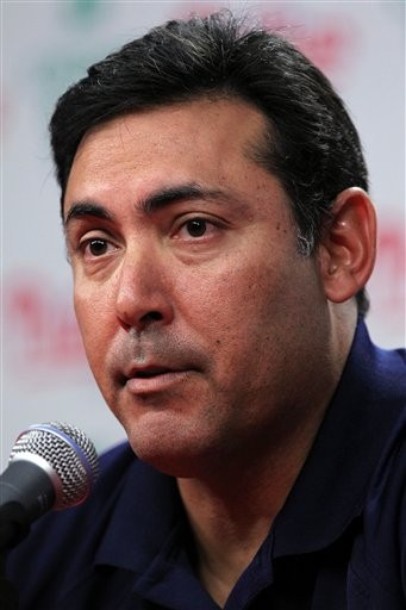 While his time in Philadelphia also carried its share of good moments, Pence had too many flaws and didn't bring enough to the table for the Phillies to want to commit $15 million to him for next year. The Phillies expected a guy that could give them what they used to get from Jason Werth: right-handed power, solid defense, and a five-hole hitter that gives smart at-bats and works a count. They didn't get anything close to what they wanted, and decided that their $15 million was better spent elsewhere next year.
In hindsight, the trade that brought Pence to Philadelphia now looks like a black eye for Amaro. The players sent to Houston have been progressing nicely, with 22-year old Cosart going 5-5 with a 3.52 ERA in Double-A this year, and is on his way to the major leagues having just been promoted to Triple-A. Meanwhile, 20-year old Singleton has a .281 average with 18 homers and 56 RBIs at Double-A, and is also a part of the Astros' future. The third piece from Philadelphia in the Pence trade, Domingo Santana, also has shown great promise, hitting .295 with 17 home runs and 78 RBIs this year in Single-A.
When all was said and done, Amaro lost three promising prospects, and in return ended up with one highly-touted minor league player, a spare-part outfielder, a marginal pitching prospect, and two half-seasons from Hunter Pence (complete with disappointing play). The Phillies' general manager has made some good moves during his era, but he's also made some major blunders.
Depending on what ultimately becomes of Cosart, Singleton, Santana, and Joseph, the Hunter Pence trade of 2011 could go down as one of Amaro's worst.