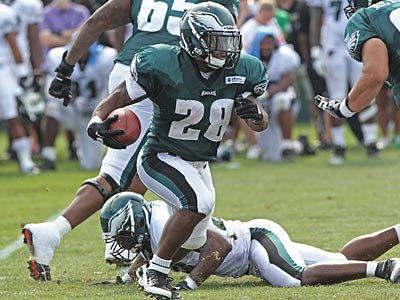 Unlike the defensive side of the ball, most of the starting jobs on Eagles offense have been settled.  There's still a battle for the starting spot at left tackle between King Dunlap and Demetress Bell, but that's about it.  Stanley Havili has a good lead over Emil Igwenagu at the fullback spot.
A good performance by Dunlap could put more pressure on Bell for the starting left tackle spot.  Dunlap, who will start tonight,  is probably a more valuable backup than Bell because he can play guard as well as tackle.  I expect the Eagles to work Bell back into his starting position unless Dunlap's performance blows them away.
Every good block which Havili makes at the fullback spot will secure him the starting position.  He's much better than Igwenagu as a ball carrier and receiver, so the position is really already decided.
After the starters are done tonight, most of the attention on the Eagles offense will be focused on their depth at the quarterback, running back and wide receiver  positions.  They'll be trying to find out, just how good their backups are at these positions.
There's a chance that rookie quarterback Nick Foles will play well versus the Patriots defense in much the same way he did against the Steelers and grab hold of the backup job.  This game will be a better evaluation of Foles because the Eagles' offensive coaches game-planned for this contest.
Foles will be able to show Andy Reid and Marty Mornhinweg  that he can grasp a game plan then go out and execute it.  The fact that he can make the deep throws to DeSean Jackson, Jeremy Maclin and Damaris Johnson puts him in a good position to take the backup spot from Mike Kafka because Kafka's arm strength is limited.
The former Arizona University signal caller may also get the chance to run the no-huddle offense, which requires a solid command of the plays and adjustments in the offense.  Reid and Mornhinweg have talked about possibly letting Foles play the entire second-half and part of it could be with the first team offense.  That tells me they are eager to see Foles work with Jackson and Maclin.
The speedy Jackson was totally frustrated a year ago when he was playing with Kafka, who was unable to get the ball to him deep.  If Foles proves he can get the ball deep to number 10, it will spell trouble for Kafka.
Trent Edwards played well versus the Steelers but I don't think he's in consideration of getting a job here, so I don't think he's going to play against the Patriots.
At the running back position, this will be a big game for Dion Lewis.  He's had such a good training camp that Andy and Marty may be looking for ways to get the ball in his hands for four or five snaps a game.  If he plays well, they will continue that mindset, but if he struggles then they'll look to assemble packages for other non-starters like Damaris Johnson and Clay Harbor.
I think they will work him into this game with the first-stringers to see how he performs with Vick.  Can he be inserted into the lineup with the offense not missing a beat?  The key will be his pass blocking.  He might be better as a screen receiver than LeSean McCoy right now.  Lewis does a great job of getting lost before he slips out for the pass behind the offensive linemen.
Bryce Brown and Chris Polk continue their battle but in truth, it's Brown's job and Polk is playing for a job on another team.  I think Polk is a quality back, who can play elsewhere but he doesn't have the upside of a 220-pound back with 4.4 speed, who has the potential of being a NFL star.
The tight end spot is locked up with Brent Celek and Harbor making up the team's tight end tandem, but Harbor like Lewis is auditioning for a weekly package of plays, especially on the goalline.  Harbor could be featured in the redzone  during the season, if he continues to consistently catch the football.
Outside, there still may be one wide receiver position open.  Damaris Johnson has locked up a spot behind DeSean Jackson, Jeremy Maclin, Jason Avant and Riley Cooper.  He's really even with Avant or slightly ahead of him because Johnson has the speed to be starting wide receiver in this offense, while Avant is a slot receiver without the speed to play outside.
Marvin McNutt and Mardy Gilyard may be competing for a remaining position or the Birds may say good-bye to all of them.  McNutt has tremendous size, but he hasn't been able to get open on a consistent basis.  Gilyard has good size and speed and runs okay routes, but he hasn't been consistent.  They will have to play great football in the Browns and Jets games to force the Eagles to consider keeping them around.  McNutt is ahead in the competition because of being drafted.
The biggest thing both of these will do on Monday night is play on special teams.  If McNutt were to prove himself to be an outstanding coverage guy, or Gilyard was to take back a kick, that could be a big factor in swaying things one way or the other.
Back to the offensive line, Howard Mudd seems to be happy with rookie tackle Dennis Kelly at the right guard position.  In the future it could mean trouble for the current starter at right guard, Danny Watkins, but right now it means they don't like Kelly at offensive tackle, which means they need to get another one.
Kelly's move inside jeopardizes the jobs of Julian Vandevelde, Dallas Reynolds, and Mike Gibson, who are all battling for one backup job.
Rookie Brandon Washington who has missed just about all of  training camp due to a concussion could jump in there and secure a job as a backup guard, if he plays great in the last two games.  I expect Mudd to try him outside at tackle because he seemed to be a very good athlete with quick feet.
Dunlap can play either tackle position, as well as move inside to play guard.  He's their most valuable backup, which is one of the reasons I expect him to lose the starting job.  They Birds only have three offensive tackles, Dunlap, Todd Heremans and Demetress Bell, which means they'll be looking for offensive tackle talent on the waiver wires.