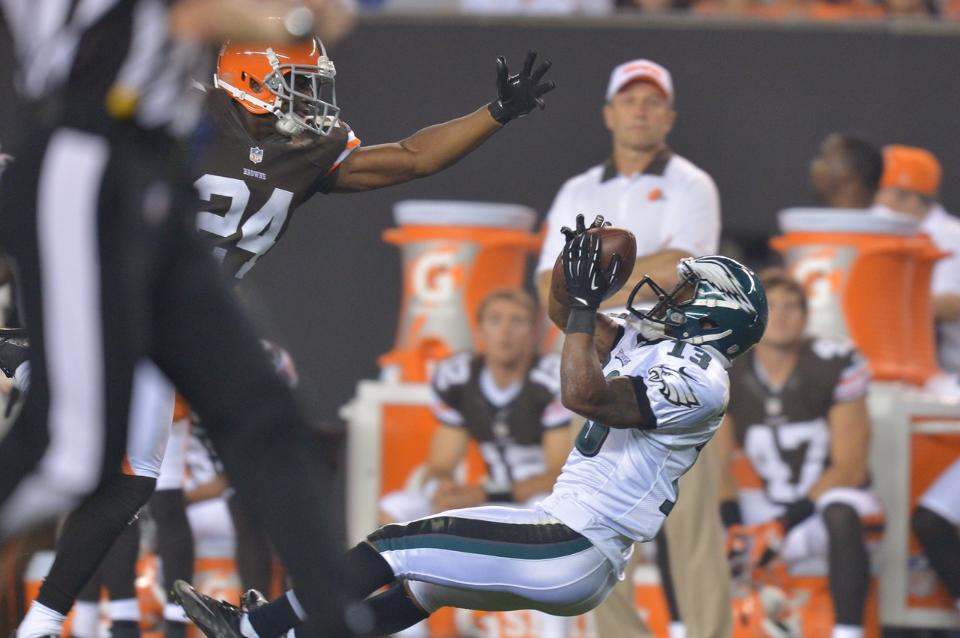 The Eagles gave the Cleveland a glimpse of the many weapons they're going to have to defend in the first week of the regular season.  Here's a quick look at how a few of the Birds receivers played on Friday night.
Damaris Johnson – Eagles diminutive wide receiver Damaris Johnson rebounded from his poor performance against the Patriots with a very good outing against the Browns.  He showed us why he could be a major addition to the Birds offense and special teams.
The Eagles already have one of the fastest wideouts in the game in DeSean Jackson, adding another deep threat in Johnson will make their already potent offense even more explosive.  The little guy caught two passes against Cleveland for 58-yards and he returned a punt 30-yards.
Johnson exploded off the line of scrimmage and gave former Eagles cornerback Sheldon Brown a stutter-step to freeze him then he put on the afterburners.  Rookie quarterback Nick Foles dropped into the pocket and gave Johnson a chance to get behind Brown.
The youngster blazed past Brown immediately and could have opened a good distance between himself and the cornerback, but he had to comeback Foles' pass, which was under thrown.  The former Eagles cornerback tried to recover but Johnson spun around then hauled in the pass for an outstanding and acrobatic 45-yard catch.
Johnson was inches away from a 23-yard touchdown catch, but he couldn't get his second foot down in the end zone.  He also had a 13-yard catch which featured the little guy eluding three Cleveland defenders.
Brent Celek – I loved the play that Nick Foles and Brent Celek made to score the Eagles first touchdown.  It's the kind of play which I want to see Michael Vick and Celek hook up on numerous times this season.  Vick should always know where Celek is whether he's running a route or helping with the pass protection.
Celek was helping rookie right tackle Dennis Kelly on the play, but slid out on a route, once he saw Foles was in trouble.  Of course he displayed his tackle-breaking ability by shedding one of the Browns and going into the end zone standing.
I want Vick to be content with taking five, six, seven and eight-yard passes to Celek, until teams take it away.  If Vick can get the short-passing going, it will open up the deep game over time when the secondary starts cheating up closer.
Brett Brackett – This young tight end had a big game with a great effort on a touchdown catch.  He caught the ball at about the six-yard line, headed for the endzone and dove for paydirt, while stretching the ball out as far as possible for the score.  Brackett also contributed a 20 yard catch.  He had three catches on Friday night for 34 yards.