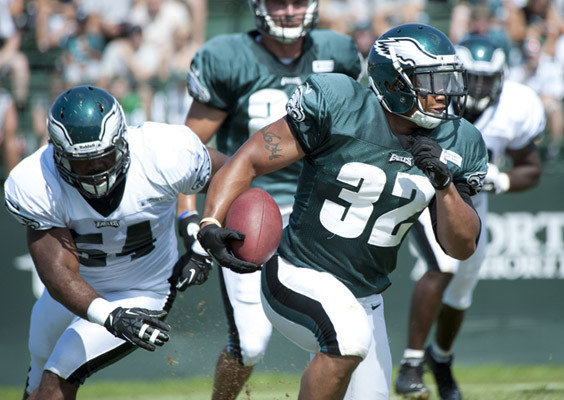 The Eagles have quite a few decisions to make prior to cutting down their roster to 53 by 9pm on Friday.  Here's a look at them and how I think they will turn out.
Offensive Line – 
Unlike many of the other offensive line coaches in the NFL who prefer size or quickness, Eagles offensive line coach Howard Mudd likes athletes on his lines.  That's why I expect the Birds to grab somebody off the waiver wire after the cuts on Friday.  He doesn't seem to be thrilled by the team's offensive line backups.  I preferred Dallas Reynolds to Julian Vandervelde as the inside depth, but your guess is as good as mine. as for who will stay around.
Running Back – 
I've heard numerous Eagles watchers predict the Birds keeping four running backs, LeSean McCoy, Dion Lewis, Bryce Brown and Chris Polk.  I think Polk is a good football player and he's as tough as anybody on the football team. He runs hard and tough, which makes me wonder why he wasn't given a chance to win the fullback position.  Polk is also one of the team's best pass blockers.
He's capable of helping somebody in the NFL this year, but I don't think it will be the Eagles.  He needs to play well for the Birds, in order to improve his chances of being picked up once he's put on waiver.
Wide Receiver –
Marvin McNutt started making a move for a job at the start of training camp, but hasn't been able to keep the momentum going after the first week.  I've like his ability to run the slant route with his great size, but he can't separate from defenders.  Wide receivers are slow developing so that they need to be patient with him and keep him around one way or another.
He hasn't done anything to win a job, but the fact that he was drafted in the sixth round may earn him a spot on the practice squad.
Chad Hall can't help but be impressed by Hall as a competitor.  He plays hard and at full speed every time he walks onto the field in practice or during a game.  He's smart and as tough as they come.  Hall is a very good backup, who has the ability to do a great job as a backup because he knows every wide receiver position.
They may decide to keep him around because they're not totally sure that about the toughness and durability of rookie Damaris Johnson.  His future won't be decided on Thursday night on the field because they know what he brings to the table. It'll be decided by how Andy feels about his depth at the wide receiver position.
Defensive Line Position – 
Darryl Tapp is a passionate football player, who is playing the best football of his career.  Like Trent Cole, Tapp does a good job against the run and the pass.  He has been pushed to another level by the competition from Brandon Graham and Phillip Hunt.  Like the rest of the defensive line, Tapp refuses to be blocked and gets off the ball like a shot.  Last week, he went by Browns All-Pro offensive tackle Joe Thomas like he wasn't even there.
I think the deck is stacked against him here because of the numbers.  I expect him to be traded to the Browns or the Colts, sometime between now and 9pm on Friday.
Antonio Dixon was a dominant player for the Birds a couple of years ago.  He is a classic two-gap defensive tackle, who can stand up a blocker and drive him back into a hole.  Dixon does his best work when he's clogging up running lanes by taking on double team blocks.  The 300-plus pounder loves to play at the line of scrimmage while Eagles defensive line coach Jim Washburn believes in playing the game across the line of scrimmage in the opponent's offensive backfield.
He could excel in a 3-4 or a 4-3, but he doesn't really fit the Washburn "Wide Nine" scheme.  Dixon doesn't have the explosiveness of the other defensive tackles, but they may keep him around because they might need his size to slow down teams who try to wear the Eagles down with their running game.
Linebacker Position –
Casey Matthews hasn't done much this preseason because of a high ankle sprain.  He didn't play very well in the first game and he wasn't outstanding at training camp, but he will probably be kept around over backup linebacker Ryan Rau.  I thought Rau played well in the Browns game.  He forced a fumble with a big hit and was around the ball all night.
Keenan Clayton really helped himself last Friday with that blocked punt.  I was shocked to see the Birds go after a blocked punt against a team they're going to play in two weeks to start the season.  Ir was a great play by Clayton who took the ball right off the punter's foot.  Clayton is an athlete who could be utilized as an extra safety versus the two-tight end sets.  I think he would be a good matchup for most of the tight ends in the league, but the Birds have Kendricks in the SAM linebacker position.
Safety Position –
I still don't feel good about the Eagles safety position.  I would like to see the Birds move a cornerbacks like Brandon Hughes  to the safety position.  He's as big as our safeties and much faster.  Hughes plays a physical cornerback and should be able to slide inside.   It's too late to do that this year, but the Birds need to think about converting some of these corners into safeties.
Phillip Thomas came into camp with very little notoriety, but I think he's out performed O.J. Atogwe and Jaiquawn Jarrett.  I haven't been impressed with the performance of Atogwe or Jarrett, but Thomas has been running all over the place making tackles.  I've seen him punish receivers and running backs in the open field with tough hits.  Thomas has also made some good plays in pass coverage.  He's a long shot to make the team, but I think he's outplayed his competition at the safety position.
If I were making the call I would release Atogwe and Jarrett and hang on to Thomas, who has played some inspired football.
At times I feel neither Atogwe nor Jarrett move well enough to play out in the open field in the secondary.  You don't see them close on receivers or the ball to make any plays.