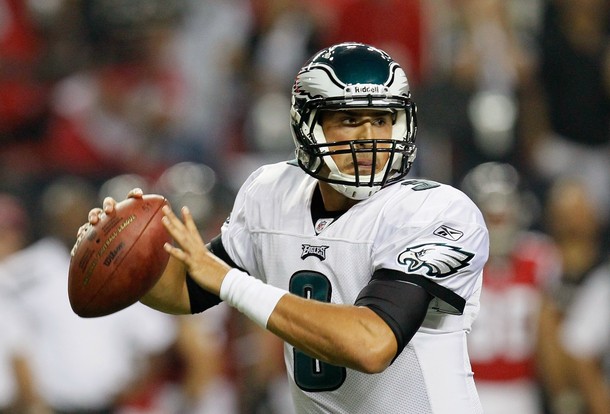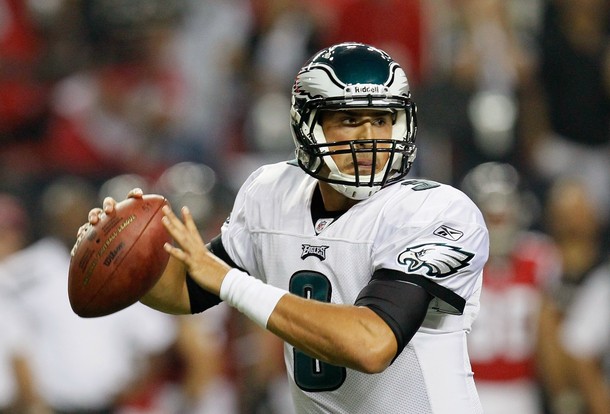 Every team in the NFL this season will begin Week 1 with 53 men on their respective rosters. Three of those men will play the position of quarterback. The Eagles are no different. Michael Vick, Nick Foles, but then who? Who will take on the responsibility of scout team/emergency quarterback? At the start of training camp, that was an easy question to answer. Three weeks into the preseason, it's not so easy anymore.
At the start of camp, everyone figured Michael Vick would start, Mike Kafka would back up, Nick Foles would be the number three, and Trent Edwards would be the odd man out. But the greatest equalizer in sports is injury. With Kafka breaking his hand during the first preseason game against the Steelers, and Michael Vick seemingly getting hurt when he's breathed on, we got a nice long look at both Foles and Edwards, and neither has disappointed. Foles has rocketed up to the back-up role, and all Edwards has done is gone 32-48 for 292 yards, 2 TDs and 0 INTs for a quarterback rating of 96.9. Marty Mornhinweg has been impressed with Edwards thus far.
"I think he's a gamer. There's no question; he has some natural instincts. I think his experience has shown as well. You've been to all of our practices, so you see that he gets very, very few reps and that was the thought with him going in. He understood his role, that he was going to get very few reps and then I expect him to go in a game and perform at a high level and he's done that. He's done just a beautiful job, just like I expected him to do and just like he expected himself to do and all his teammates and all the coaches expected. He's done a fine job."
Kafka, on the other hand, has not played since that first preseason game, and before he got hurt, did not look particularly well. It has been decided that he won't play in the final game vs. the Jets, so his final evaluation will be during practice and his past accomplishments. Andy Reid had this to say about Kafka not playing Thursday night,
"I've got enough time with him to be able to make that evaluation. The main thing for him right now is that it's tender right now. He took some snaps yesterday and he could feel them and it's just best that we hold him out."
Trent Edwards knows his back is against the wall. He knows he has to take the job from Kafka, it won't be given to him, but he's not putting any extra pressure on himself, "It's still a preseason game and I have put as much importance on the first three games as I have Thursday's game. It's all the same to me."
If the team's third quarterback has to play an extended amount of time, there's no other way to put it. They're in trouble. But A.J. Feeley going 4-1 down the stretch after injuries to McNabb and Detmer aren't that far removed from our memories. Trent Edwards will get three more quarters to prove he's worthy. Mike Kafka has done everything he can to preserve his spot on the roster. Who do you trust? Edwards, who has 32 NFL starts to his name, or Kafka, who looked competent enough last year almost leading them to a win vs. the Falcons, but who has only thrown 16 passes in his short NFL career. We'll find out Friday.