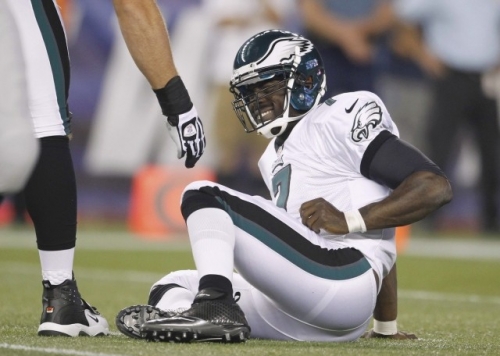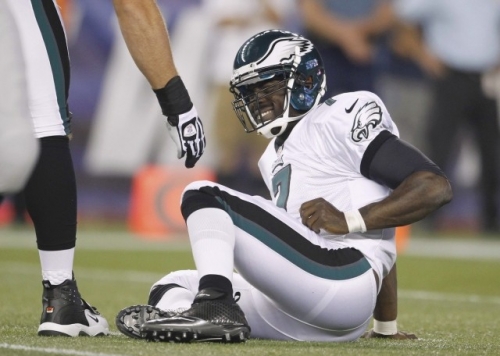 The NFC East is annually a tight race that usually comes down to the final weeks of the regular season. It wasn't until the closing moments of the season that the New York Giants clinched the division from the Dallas Cowboys, and went on a surprising run to win their second Super Bowl title in five years. Few people have been excited about the defending champs though, and the Giants will play the lack-of-respect card as a motivational tool to succeed again. Meanwhile the Cowboys, Philadelphia Eagles, and Washington Redskins have all made major off-season acquisitions in hopes of drastically improving themselves to snatch the crown away from New York.
Washington Redskins
Watching this team play last season, the Redskins looked to only be a quality quarterback away from being a much more competitive team. Washington has been on an endless hunt for a franchise quarterback, and last year had to suffer through watching Rex Grossman and John Beck haplessly attempt to run the position. But they hope that they can finally call the search off after sacrificing three first-round picks for the opportunity to draft Robert Griffin III.
Griffin's talent and potential are as high as any prospect to come out within the last few years. He's got a strong arm and great accuracy, but he'll need a little polishing to improve his instincts and mechanics. Redskin fans will point to the success of Cam Newton in Carolina as a ray of hope that Griffin can become an instant success and perform at a high level right away. But Newton had a big advantage with the Panthers that Griffin won't have: a strong supporting cast.
Newton had a strong offensive line, quality running backs, and a number-one receiver waiting for him when he arrived in Carolina last year. Griffin will have a highly questionable offensive line, which carries injury-prone starters with limited talent. Roy Helu and former practice squad member Evan Royster will be his running back tandem, not DeAngelo Williams and Jonathan Stewart. Pierre Garcon is his number-one receiver, not Steve Smith.
The Washington defense has been the strength of this team for years, and 2012 should be no different. Middle linebacker London Fletcher is now 37, but he's still performing very well for this team. They have a couple of excellent pass rushing linebackers in Brian Orakpo and Ryan Kerrigan. The secondary is the only concern on the unit, as the team will field two new veterans at safety with Brandon Meriweather and Tanard Jackson coming over in the off-season. Overrated DeAngelo Hall is the team's best corner, and while he's capable of making big plays, he also gives up a lot of them to the offense.
While the supporting cast on the Washington offense isn't all bad, it isn't on the level of Carolina's, meaning that while Griffin will make them more competitive, he certainly won't throw for over 4,000 yards and set various rookie records like Newton did. The future is bright and the Redskins will be much more difficult to contend with now that they don't have mediocre talent under center, but with the other issues on offense there is a limited ceiling for this team in 2012.
Projected Finish: 6-10, 4th place
Philadelphia Eagles
Too much hype, and not nearly enough substance. That's what comes to mind for me when I look at the Philadelphia Eagles. For the second straight year, the Eagles are favored to win the NFC East, and go to the playoffs. The Eagles to me have a lot of talent, but there are a couple of major flaws with this team that will hold them back.
The first of these flaws rests under center. The quarterback can't stay off of the injury report, and is a lock to miss a minimum of three games a year. Health aside, there are even larger questions about his game when he's actually on the field. In just 13 games last season (also keep in mind several of which were shortened due to injury), Michael Vick turned the ball over 18 times. His magical 2010 form was just a mirage, and he's now reverted back to the player he was in Atlanta; a highlight reel capable of breathtaking plays, but ultimately a mistake-prone quarterback incapable of properly reading defenses. He can't be that guy if this team is to make a serious run at the division title; he must make a strong effort to protect the ball.
LeSean McCoy is unquestionably one of the top running backs in football right now. His numbers may dip a bit without the help of injured left tackle Jason Peters, one of the best run blockers in football, but McCoy is still the offense's true MVP.
Starting wide receivers DeSean Jackson and Jeremy Maclin should both bounce back from disappointing seasons. Jackson now has a new contract, and can focus on football instead of his bank account. Maclin was battling an illness before the season and wasn't quite the same player he'd been in the past.
The Eagles hope that linebacker DeMeco Ryans in the answer in the middle for them. They've been trying to replace Jeremiah Trotter since 2007, and haven't been to able to find even an adequate solution to the problem. They also hope Ryans will develop into the leader that this defense has been without since Brian Dawkins wasn't re-signed by the team in 2009. Second-round pick Mychal Kendricks has been one of the team's most impressive players in training camp.
The Eagles have improved again on paper, but crippling flaws in key areas are going to make it a struggle for this to be even a .500 team. The Michael Vick Experience makes for an offense that is potentially explosive, but not one that is reliable and efficient. Yes, on any given play the Eagles could go the length of the field for a touchdown, but they can also suffer through spells of brutal inefficiency.
Defensively, even though they've got some much better talent at linebacker, can the defensive coordinator be counted on to put these players in the right positions and get the most out of them? If anyone has a convincing argument that says Juan Castillo is going to be able to regularly outcoach even the average offensive coordinators in this league, I'd love to hear it.
Many analysts and writers have picked this team to win 10-11 games and the division, but I just don't see it. I don't think this is a mentally tough football team. When adversity came to call last year and teams tried to push the Eagles around, more often than not the Eagles went into a shell and sulked rather than fight to push back. This is a team that struggled to win when it mattered last year against quality opponents, and now have a very difficult schedule with five of their first seven games against playoff teams, five division games in the second half of the season, three of the final five games on the road. Michael Vick thinks this is the beginning of a dynasty, I say its just more of the same.
Projected Finish: 8-8, 3rd place
Dallas Cowboys
Much like the Eagles, the Dallas Cowboys are team with a ton of talent that has underachieved. The team feels confident that the moves made in the off-season to upgrade the defense will be enough to help win a couple more games in 2012.
Tony Romo is coming off of what might be the best season of his career. He threw for over 4,000 yards and 30 touchdowns, while reducing his turnover number as well. Quietly, the veteran has developed and matured into an excellent quarterback as well as a leader. He did lose one of his best receivers from 2011 when Laurent Robinson signed with Jaguars, but Dallas hopes that Dez Bryant will mature and Miles Austin will come back healthy to help fill the void.
DeMarco Murray will have his first full season as the team's featured back. He had flashes of greatness last year, including a game that he ran for 250 yards. However, he seemed to wear down late in the year. If Felix Jones can stay healthy, he'd give the Cowboys the a nice tandem in the backfield.
The Cowboys still have issues with their offensive line. This is a group that gave up 39 sacks a year ago, and didn't do a good job opening up running lanes, and it wasn't improved much through free agency or the draft.
Dallas made their top priority to upgrade their defense. They spent the sixth overall pick on cornerback Morris Claiborne, who they expect to step in right away and start. They also signed free agents Brandon Carr and Brodney Pool away from the Chiefs and Jets, and both players should fit in well with Rob Ryan's defense. With these three additions, the Dallas secondary should be much more stable and less prone to giving up big plays.
The team's other big addition was the signing of linebacker Dan Connor, who will work with Sean Lee at the inside positions. Though not a spectacular player, Connor is a fine run defender. DeMarcus Ware remains one of the best pass rushers in the game, coming off of a year in which he notched a career-high 19.5 sacks.
The Cowboys weren't able to solve all of their problems, but they did a nice job filling in their defensive holes and turning a weakness into a strength with their remodeled secondary. A much more well-rounded defensive unit may help this team improve by a game or two on last year's 8-8 record. As long as Tony Romo keeps his top form from a year ago, the Cowboys will be a team that no one should sleep on, and could challenge for a Wild Card berth.
Projected Finish: 9-7, 2nd place
New York Giants
For the second time in five years, the New York Giants crept into the playoff picture during the final weeks of the season and went on a miraculous run to the upset the New England Patriots (again) to capture another Super Bowl title. After an off-season of listening to analysts talk about every other team in the conference, Tom Coughlin is using the lack of respect as motivation to get his guys fired up for the new season.
You have to give Eli Manning a lot of credit. He may never lead the league in passing, and he may still occasionally play a laughably bad game, but he's proven that he's as tough as they come and finds ways to win games.
Manning did lose one of his weapons (Mario Manningham) in the off-season, but he's still got a couple of great targets in Victor Cruz and Hakeem Nicks. Cruz came from nowhere to finish third in the league in receiving with 1,536 yards. It will be difficult for him to repeat such a performance, but he's going to be a guy that defenses have to work to take away.
The Giants still don't have a true featured running back. Ahmad Bradshaw is decent, but not overwhelming. He'll be pushed for playing time by first-rounder David Wilson.
New York still has one of the better defenses in the league, anchored by a deep defensive line, featuring Jason Pierre-Paul, Justin Tuck, Osi Umenyiora, and Chris Canty. This is a dominating rotation that can handle even the best offensive lines in football.
The linebackers are a bit of a question mark, as they lack a dominate middle linebacker. Mathias Kiwanuka is an excellent pass rusher, and Michael Boley and Keith Rivers are capable of making plays themselves, but none of these three are cut out for the duties in the middle.
The Giants also have a nice secondary, featuring Terrell Thomas and Corey Webster as their cornerbacks. Webster led the team with six interceptions last season. The safeties are in great shape with Antrelle Rolle and Kenny Phillips. Rolle, a former corner, has great versatility and can occasionally cover the slot. Phillips is only getting better now that he's two years removed from his knee surgery. They also have last year's first-round pick Prince Amukamara pushing for playing time.
Like Tom Coughlin, I don't understand why the Giants don't receive more respect. While I wouldn't peg them as a favorite to represent the conference in the Super Bowl again, they're by far the most stable team in the NFC East. They're a team with few glaring issues, and they've won multiple championships. They may not always win pretty, but unlike certain other teams in the division, they respond well to adversity and find ways to win in tough spots.
Projected Finish: 10-6, 1st place