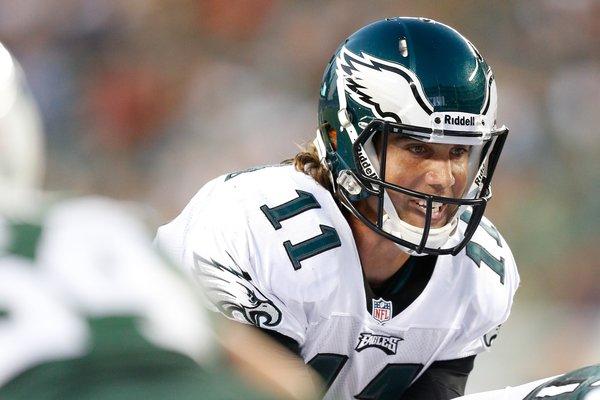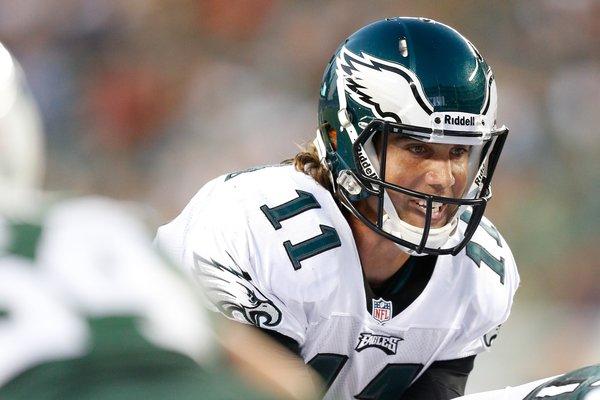 Eagles third year quarterback Mike Kafka is the odd man out at the Eagles quarterback position.  Jeff McLane of Philly.com was the first to report the decision by the Eagles and NFL.com's Albert Greer has reported that the Eagles have been shopping Kafka to other teams.
Veteran quarterback Trent Edwards who came into camp as a long-shot, played well in each game and played himself onto the team.  He had a brilliant performance in his three quarters of work against the New York Jets last night and it put him over the top.
Kafka opened the door by getting his left hand fractured in the first preseason game against the Steelers.
Edwards outstanding in driving the Eagles for scores in each game he played.  He extended plays by showing surprising athleticism by moving in the pocket to extend plays.  The veteran was on target with most his throws.
This is another case of a quarterback playing his best football for Andy Reid and Marty Mornhinweg.  I think it's going to be hard for the Birds to trade Kafka because of the way the Eagles have come out in the previous trades of their quarterbacks.
"There was great competition at the quarterback position," said Eagles head coach Andy Reid. "That's what football and training camp is all about. In the end, we had to make the difficult decision to let Mike Kafka go. Mike is a class act, a student of the game and a great person and I think he'll have no problem finding a job in the National Football League very soon.
"On the other hand, I'm proud of the way Trent Edwards conducted himself since the early days of the offseason workouts. He had to fight for everything he earned this summer. He improved each and every day and made the most of every opportunity."