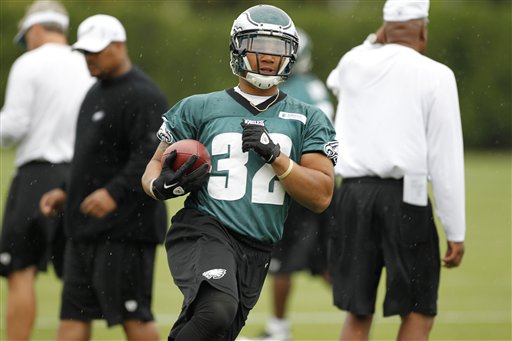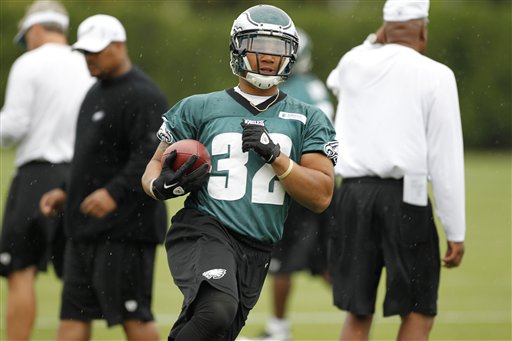 Trent Edwards Stays, Mike Kafka Goes
When Andy Reid announced Mike Kafka wouldn't play Thursday, and that he had seen enough of him to make a proper evaluation, I was convinced that the fix was in, and that Trent Edwards was going to be given three full quarters of action as a favor to simply showcase himself to other teams. I'm glad the Eagles chose to keep the veteran over the weak-armed project.
I think Ray Didinger of Csnphilly.com said it best. If Nick Foles' terrific play had earned him the right to surpass Kafka on depth chart as the number-two quarterback, the same had to be true for Edwards. The former Bill played so well in the preseason, he'd more than earned the right to be on this team.
Kafka had shown very little in his first two preseasons, and the only thing he ever seemed to have going for him was his grasp of the system.
Polk Stays, Eagles Keep Four Running Backs
It may be a bit unusual, but for at least one season the Eagles are going to go four-deep at the running back position. And hey, why not? Rookie runners Bryce Brown and Chris Polk were both tremendous in the preseason, and made it impossible for the Eagles to cut either of them. I'll be curious to see how much, if at all, the Eagles will work the rookies into the offense.
I'm excited for both of the young guys. Brown's potential is obvious, and Polk's powerful running back style has brought back memories of Duce Staley for me.
All Six Defensive Ends Stay
Another surprise from the final cuts was that the Eagles made room for all six of their defensive ends. We knew Trent Cole, Jason Babin, Phillip Hunt, Vinny Curry, and Brandon Graham were locks, but there didn't seem to be room for Darryl Tapp. The Eagles were able to find some room, and they've now got one of the deepest groups of ends in the league. This is a decision that I like, you can never have too many healthy pass rushers.
Familiar Faces Shown The Door
While most of the players released on Friday were young players, a couple of the cuts were veterans that have played important roles on the Philadelphia defense in the past. Cornerback Joselio Hanson, defensive tackle Antonio Dixon, linebacker Keenan Clayton, and safety O.J. Atogwe are all gone.
The Eagles drafted Hanson's replacement in the slot with Brandon Boykin this year. As Garry Cobb mentioned in an earlier article, Hanson's inability to succeed as an outside cornerback is what probably cost him his job. The Eagles wanted to keep six corners, and felt they were better off keeping an extra young player that could play outside instead of keeping two guys that could only play the slot.
Antonio Dixon just didn't fit in with the scheme that Jim Washburn is trying to run. He was the team's best defensive tackle a couple of years ago, but didn't show the same explosive play that he had in 2010 during this training camp.
Keenan Clayton was a very puzzling case during his time in Philadelphia. He seemed to have some talent, but never got an opportunity to impact the defense at one of their weakest positions (linebacker). The coaches just never seemed to trust him. In the two years that he was on the team, the Eagles gave multiple opportunities to guys like Akeem Jordan, Moise Fokou, Jamar Chaney, and Casey Matthews, but the thought of putting Clayton on the field was apparently laughable. I'll be interested to see if he goes somewhere else and succeeds.
O.J. Atogwe just doesn't have anything left in the tank. His days as a premier safety are long behind him, and he couldn't impress the coaches in a situation where they are desperate for any kind of competent safety play.
Jarrett and Matthews Survive
I can understand, if not agree with, most of the decisions made to shape the final roster today, but Jaiquawn Jarrett and Casey Matthews surviving the cut are ones that I disagree with.
Jarrett has been a disaster. The team hoped he would challenge for a starting spot, but was barely able to hold on to his roster spot. I can accept the fact that he's still on the roster only because the safety position was so weak, and it would have looked bad for them to release a second-round pick after just one season.
The Matthews decision I'm even more upset with. The second-year linebacker showed very little last season, and spent all the preseason inactive with injuries. I thought that both Ryan Rau and Keenan Clayton had more to offer this team than Matthews, but the Eagles' coaches have always been high on the Oregon product.