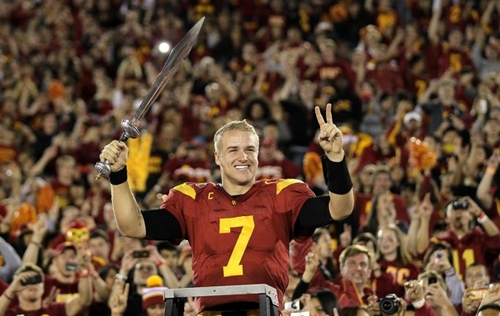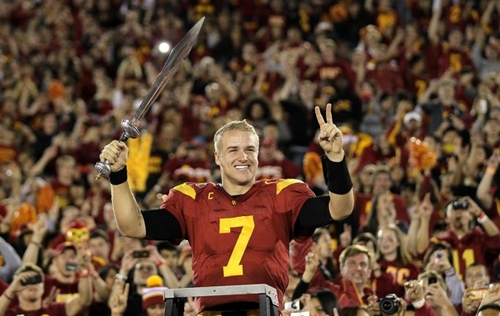 As we close the book in the college ranks, each week I will look back on five things that I feel impacted the season moving forward. This week most of the big boys brought their lunchbox. What can you say about Alabama except they are the best team in the country until someone knocks them off. A feat that Michigan was not up for. The debate stirred early Monday was it that Michigan played that bad or did Alabama play that good. Trust me; it looks like Alabama is just getting started. Although I don't put that much merit in preseason rankings the Wolverines were ranked 8th in the country. Alabama actually took their foot off the gas or this game could have got out of hand. Strong performances from USC, LSU, Oregon, Florida State, and Clemson showed all are throwing their hat in the ring to be called the nations best. Lets move on to the 5 things I saw week 1.
1) Florida —– Florida saying they had two quarterbacks to me said they really have 0 quarterbacks. And It showed. I don't think anyone was real excited post game about the Gators 27-14 win over Bowling Green Saturday. The jury has been out about coach Wil Muschamp for a year now and I wasn't blown away by what I saw. I witnessed a very undisciplined team who thought Bowling Green was just going to roll over when they walked on the field. I give them a ton of credit they had Florida on the ropes early in the 4th quarter. I wasn't impressed by either quarterback but it seems like Jeff Driskel has won the job for now even though Muschamp hasn't said it yet. I do think Driskel can improve as the season moves on but his coach needs to show he has faith in him. To me it was only one game but Driskel was the better quarterback. Mike Gillislee was outstanding at running back running for 148 yards and a pair of scores. The offensive line did open up some holes for the running game but didn't hold their blocks and the passing game got almost half its yards on one play. Tight End Jordan Reed played well and added three catches. Defensively the D line was undisciplined and not impressive. The Linebackers consistently were beat inside on slants. Three of the top four tacklers were defensive backs and aside from a few blown assignments they played formidable although I clearly saw frustration on cornerback Marcus Roberson's face. The Special teams blocked a punt, Kicker Caleb Sturgis made 2 of 3 field goal attempts including a 50 yarder and Andre Debose averaged over 15 yards per attempt. The problem I have is with Muschamp. Poor clock management and penalties. I am also hearing he didn't let offensive coordinator Brent Pease call the entire game on his own. People may say hey wait Florida won by 13 points what's the problem ? The problem is simple. They won by 13 but it was over Bowling Green and in the Swamp. I will give it this week against Texas A&M but I have Florida on fraud alert after week one.
2) Bob Stoops— I think it took until week 8 last year for me to call out Bob Stoops as a bad coach. Thank God he continues to prove me right. He is the Charlie Manuel of College Football. Never has a coach done less with more every year. The Sooners looked unprepared, sloppy and just out coached Saturday night. While most had their fill of the pigskin thanks to Notre Dame's 9am Eastern Kick actually there were two important games to watch that started late Saturday Night. One team impressed, one did not. Oklahoma was able to scratch out a 24-7 win against a UTEP team who will not win 4 games in a lousy conference. But this game was much closer then that. The score was 10-7 in the 4th quarter. Landry Jones looked totally out of sink with his receivers. Running Back Dominique Whaley committed just too many physical and mental errors. The defense allowed UTEP running back Nathan Jeffrey to run for 177 yards. The Sooners only played two defensive tackles due to Casey Walker missing the game for personal reasons, Stacey Mcgee was suspended and Torrea Peterson missed due to an academic issue. Again all of these problems under Stoops watch. Oklahoma also got some bad news as Fresno transfer Jalen Sanders will not be able to play this season. Sanders had over 1000 yards and 12 td's for Fresno last season. Oklahoma gets another tune up week Saturday against Florida A&M. Stoops thinks they can turn it around and I have the Sooners running the table so I have no choice but to hope he can. Something tells me I just know better but I never change my original picks. I am stuck with them.
3)Penn State —- Ok can we really get off Penn State' s back now that they lost? Mark May I know you like to play the opposite side of common sense and I will never have a super bowl ring like you but that doesn't give you a pass for being ignorant. If I was 6'6 325 I may have a ring as well but I'll give you that over me. But to continually chastise ball players that had nothing to do with what happened you sound like my crazy uncle Ted that starts talking trash after his 4th shot at Thanksgiving. Most of these kids hadn't played their first pee wee football game yet when this was happening. To judge an entire team of kids by actions that happened 15 years ago you are just an idiot. And furthermore what happened was a criminal case and the NCAA should have stayed out of it. On the field it seemed like the depth of Penn State will be the problem this year and those problems will only get worse over the next three years. If 5 star recruit Quarterback Christian Hackenburg remains committed that is a huge step to stop the bleeding going forward. If he decides to go somewhere else many will follow. I don't think this kid understands the next four years of Penn State football may rest in his arm. He literally in my opinion could make or break next year with his decision. I hope the press stays off his back and lets he and his family do what's best for them. Penn State visits Virginia this Saturday go Lions..
4) Why is Savannah State playing D-1 football? —- I am all for tune up games and understand why certain teams schedule cup cake games early in the season. But someone is going to get seriously injured if this continues. So instead of waiting for something bad to happen, hey NCAA I am putting you on notice that this needs to stop. I would have loved to line up against Florida State. Man what a photo for my mantle years later. What a rush it would have been to tell my family how Florida State used me as a doormat when they beat us 84-0 one day; And shame on Oklahoma State and Florida State for even entertaining this. When Vegas came out with a 67.5 line for Saturdays game against Oklahoma State (who is suppose to have a down year!) the tune up game becomes something much more. It becomes a massacre. Hey Big bad Big 12 and ACC giants I hear that Mt. Union has an opening next year. Everyone keep you eye on that Florida State Savannah State game this weekend. And pray everyone comes out healthy.
5)Don't tease me again Clemson !! —- Well here we go again. Just when you write Clemson off they come out and start the year with a very solid win over a tough SEC foe the Auburn Tigers. Toss in their best player Sammy Watkins was suspended and the win becomes that much more impressive. Auburn returned 10 starters on defense and all Clemson did was shred it for 528 total yards. Andre Ellington had a few highlight reel runs amassing 231 yards on the ground. Tajh Boyd threw for 208 yards and the final score did not indicate how much the Tigers dominated. Clemson, my preseason # 3 team in 2011 started out the same way so I am treading lightly but with the exception of Alabama the Tigers may have impressed me the most out of any other team week one. We will not have to wait long to find out just how for real the Tigers are. After two very winnable games against Ball State and Furman Clemson heads to Tallassee for a September 22nd showdown with Florida State which is just an absolute must watch game for even the average fan.
My top 10 teams week beginning 9/3/12
1)Alabama Scary Good but tough contests against Arkansas, LSU and most likely Georgia if they reach the SEC final await
2)USC I couldn't tell much from the Hawaii Game. Barkley to Lee 75 yards on the first play from scrimmage but Oregon awaits on November 3rd
3)LSU Talk about a team on auto Pilot ? Mettenberger was very efficient but wasn't challenged. They go at least 5 deep at tailback most likely wont be challenged until October when they visit Columbia to face the Gamecocks
4)Florida State Maybe the best defense in the game. Should not even play the Savannah State game but Clemson wont back down in a few weeks
5)Oregon Speed Speed Speed Man they are fast but I wonder how they would hold up against a Florida State or Alabama Defense ? Look where they are ranked I think you can figure out who I think would come out on top
6)West Virginia Don't hate me Clemson but they pasted you 9 months ago. You have all season to prove me wrong
7)Clemson "Potential" what a scary word. Just means they have never done it. Here is your chance
8)Georgia The Dawgs have a very good Quarterback and a great defense. Lets see if they get past Missouri this Sat in what will not be a cake walk
9)Oklahoma Don't even know if they deserve the ninth position but they have the talent to be ranked much higher
10)Arkansas Was a little sketchy last week against Jacksonville State lets improve off that. Tough schedule as the season wears on Bama and Lsu at home
Look for this weeks four games of the week this Thursday.