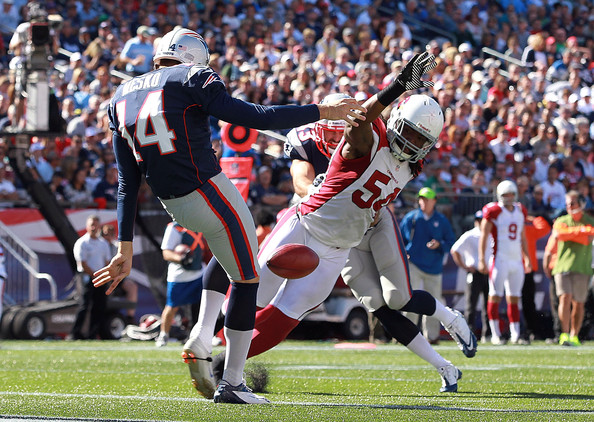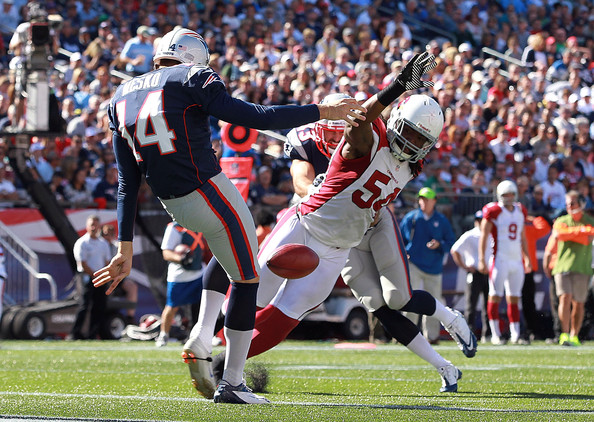 The one area of this game against the Cardinals that I'm most concerned about is the Special Teams.  I think the Eagles have the better offense and the defenses are very comparable, but the Cardinals have the better Special Teams.
I expect Arizona to utilize a conservative game plan for their offense and try not to let Kevin Kolb throw the game away.  Their defense will be aggressive against the Eagles offense with zone blitzes, but they're not going to use any defenses that are vulnerable to big plays.
I expect them to most aggressive against the Eagles with their Special Teams.  As I said before this is where the Cards have an advantage.
Arizona beat New England last Sunday because of their Special Teams.  They blocked a punt against the Patriots and could have blocked two.  They Cards has shown everybody that they can beat you in every area of the kicking game, whether it be by returning punts or kickoffs, or blocking a punt.
Eagles Special Teams coach Bobby April is probably getting very little sleep nowadays.  His units haven't been special so far this season.  Last week the Ravens would have been able to get a first down on a punt fake, if their punt fullback, former Eagles Sean Considine, hadn't tripped over somebody's foot.
Eagles fans get ready to hold you breath every time the Birds punt the football to the Cardinals.  First of all Eagles punter Chas Henry has been struggling lately.
"He had three things he needed to improve on: his get-off time, his plus-50 punting, and his consistency", April said of Henry.
April could have spared all those words and just said the kid needs to improve on everything.
We don't want the blockers for the punt team to hear the ominous double thump of the ball being punted then being blocked, it could cost the Birds the game.
The other thing the Eagles have to worry about is Cardinals punt returner, cornerback Patrick Peterson.  He's a threat to return a punt for a touchdown, every time he lines up back there.  He returned four punts for touchdowns during his rookie season.  The Eagles punt unit had better be serious this week because the Arizona punt return unit works very hard to get their blocks because they know each time they take the field can be a return for a touchdown.
"Well, he's really talented, because he's so big", April said about Peterson. "It would be like if we had [LB] DeMeco Ryans back there returning punts and he's fast. So, what happens is, he breaks a lot of tackles where a lot guys would go down. The coverage would stop him but he runs through it and he barely gets dented. So, he's really a phenomenal athlete. Really phenomenal athlete. He's of great concern".
The Cardinals also have a home run hitter returning their kickoffs.  Their kickoff returner Larod Stephens-Howling has returned two kickoffs for touchdowns in his career.
Remember this while you're watching the game, the Special Teams will play a big role in which teams win this one.