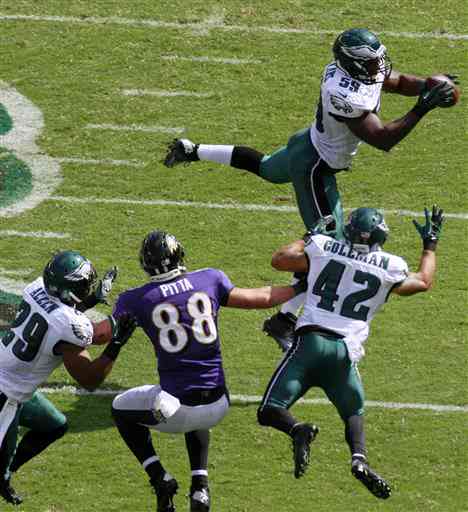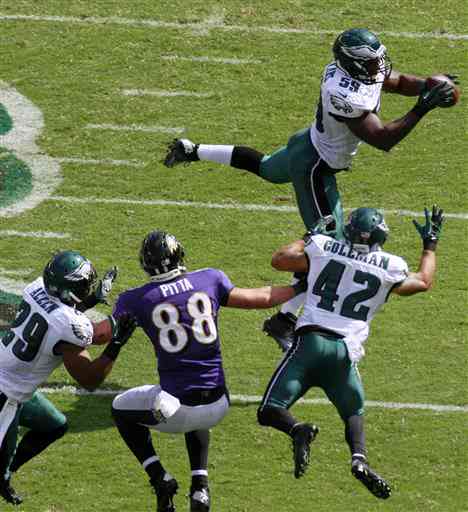 Last year every other word from Eagles fans was about incompetence of the the Eagles defense and their new defensive coordinator Juan Castillo, along with their inability to hold a lead.  Things have changed demonstrably.
In the first two games of the season, the Birds defense and more specifically their nickel defense is amongst the best in the league.  They have closed out games against both the Browns and the Ravens.  I would have to put them up there with the 49ers defense, which shut down the Packers and Lions in successive weeks.
On every play it seems that their secondary and linebackers are climbing all over the other team's receivers, while their pass rush surrounds the quarterback.  The leader of the Eagles defense and one of the changes, middle linebacker DeMeco Ryans described the nickel unit yesterday.
"Our defense is all about having tight coverage and letting our defensive line get after the quarterback, get hits on the quarterback", Ryans said.
It's amazing that making changes at the two linebacker positions, nickel back and left cornerback has made such a difference.
CHANGE AT THE TWO LINEBACKER POSITIONS:
Last year the Birds started off the season with rookie Casey Matthews playing some of the nickel snaps along with Jamar Chaney, Akeem Jordan and fellow rookie Brian Rolle.  It was a rotation which was what they planned on continuing this year until Ryans and rookie linebacker Mychal Kendricks started locking down receivers in Cleveland.
So far Ryans and Kendricks have locked down tight ends and running backs in nickel situations.  I think the key is the experience of Ryans.  He's able to anticipate what teams are going to do against them and it makes a big difference.  You can see that Kendricks and the rest of the defensive unit listen to his every word because he's been there and done that.
Numerous times in the Ravens game, the two linebacker were tackling running back Ray Rice or tight end Dennis Pitta before they could get first downs.
The veteran and rookie linebackers, who had played well against the Browns, played even better against the Ravens, so the rotating idea seemed to have been jettisoned and rightfully so.   Sometime rotating is a way of saying we really don't have anybody good enough to play this position.   I think Ryans and Kendricks have shown everybody that they are indeed good enough to do the job.
CHANGE AT THE NICKEL BACK POSITION:
Joselio Hanson is a very heady player, who was able to be successful most of the time because of his ability to anticipate plays and be technically sound.  Hanson was always very physical with his jams, which would take the slot receiver out of some routes.
Rookie Brandon Boykin is just as physical and maybe even moreso, but he also has the ability to run with these receivers.  He has catch up speed, which is the ability to recover on routes when he is initially beaten.  Hanson doesn't have that type of speed, so the nickel defense got more athletic by adding Boykin.
At times, teams could expose Hanson by forcing him to run and chase a receiver across the field or on a deep route.  Boykin will have no problem running with the slot receivers in the league across the field or downfield on a deep route  He's faster and quicker than any slot receiver he must cover, which gives him an advantage and will allow him to use his speed to recover on any play.  Any time the quarterback throws the ball to his slot receiver, Boykin is capable of running down the football and knocking it down or picking it off.
I love Boykin's football savvy and competitiveness which are qualities that Hanson survived on.  The fact that Boykin is a much better athlete has made the Birds nickel defense much better.
CHANGE AT THE LEFT CORNERBACK POSITION
A year ago , the Birds had two cornerbacks who didn't fit together, in fact they were total opposites.  Asante Samuel didn't like to cover wide receivers up at the line of scrimmage in press technique.  He preferred to back off of them and read the receiver as well as the quarterback.
Nmandi Asomugha on the other hand, didn't like to back off a receiver and cover him in the way that Samuel did.  Asomugha prefers to get up into a receiver's face in press technique and take him out of the route by jamming him at the snap of the ball and delaying his release.
They have both had a lot of success in the NFL but they didn't fit together in the same secondary.
Former Arizona Cardinal Dominique Rodgers-Cromartie has taken over at the left cornerback for the Eagles in place of Samuel and he's just as comfortable playing off of a receiver as he is moving up into his face and jamming him.
Now, both of the Eagles cornerbacks are comfortable in press technique as compared to a year ago, Samuel would refuse to move up into the press position.
The Eagles love to move their cornerbacks up into press technique because it puts timesqueeze on the quarterback.  It causes a sense of panic for opposing quarterbacks when they drop into the pocket and see their wide receivers being held up at the line of scrimmage.  QB's have a clock ticking in their heads when the ball is snapped the worst thing you can do to them is hold up their receivers as the Eagles pass rush is closing in on them.
Ryans singled out the cornerbacks as being one of the keys to their excellent nickel defense.
"There's a lot of pressure on our corners", Ryans said. "It's a luxury to have two great corners like we have, who can go up and defend anybody.  I'm just happy that those guys are on my team.  We have that luxury so we can do a lot more things and allow those guys to do what they do best and that's locking guys up outside."
Ryans also said they're going to be ready for Arizona's perennial All-Pro wide out Larry Fitzgerald.
"They'll do a good job, we have two great corners and they'll do a good job against Larry", Ryans said yesterday.