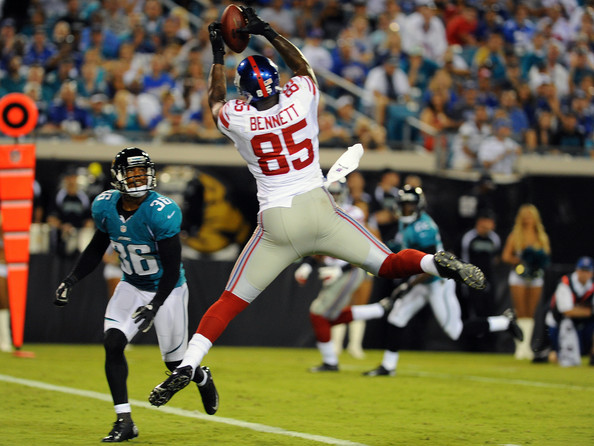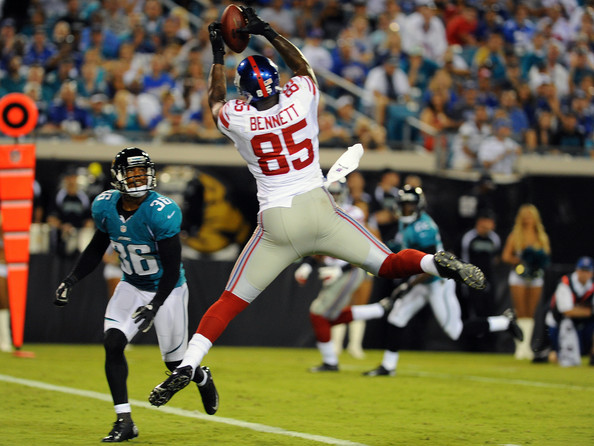 When the Philadelphia Eagles step onto the field against the New York Giants Sunday night, their biggest concern on offense, aside from Eli Manning, won't be Hakeem Nicks or Victor Cruz, but rather the Giants' new 6-foot-6 tight end, Martellus Bennett.
A familiar foe of the Eagles, Bennett has been nothing but spectacular for New York since leaving the Dallas Cowboys. Stuck behind Jason Witten for the first four years of his career, the Texas A&M alum has burst onto the scene in the Big Apple, collecting 15 receptions for 185 yards and three touchdowns. With a touchdown in every game of the season, Bennett has become Manning's go-to target in the red zone.
Two of his scores this season occurred within 20-yards of the end zone and both occurred when the score was tied. So not only is he a legitimate red zone threat, but he's becoming a reliable target for Manning in the clutch.
With that in mind, the question of whether or not the Eagles' linebackers can cover Bennett surfaces. In two of their three games this season, the opposing team rarely used their tight end. Cleveland's Brandon Weeden looked lost out on the field in the opener and Arizona was without their starter in Todd Heap.
However, when it finally came to a team who utilizes their tight end in the game plan, the Eagles allowed for a big day. Baltimore's Joe Flacco had no trouble finding Dennis Pitta in their week two affair. The California native led the team with eight receptions (15 targets) for 65 yards.
While the Eagles are certainly aware of the Giants' weapons, I have to believe they are more concerned with their wideouts rather than Bennett, simply because of the track records.
Last season, Cruz torched the Eagles' secondary, racking up over 100 yards and three touchdowns combined. His most notable performance was in Week 3 when he totaled 110 yards and two touchdowns on just three catches. His dismantling of the Philadelphia secondary will force the Eagles to pay much closer attention to him this time around.
As for Nicks, he registered three catches and 25 yards in the first meeting while adding three more receptions and 69 yards in their Week 11 contest. He was limited last year by the Eagles as they put most of their attention on him because of the lack of options on the New York offense (that is, until Cruz broke out onto the scene).
So far, Cruz and Nicks are off to fast starts. Prior to going down with a right foot injury that forced him to miss last week's game, Nicks led the league with 237 yards and one touchdown. His absence opened up more targets for Cruz against Carolina, bumping his season totals to 23 receptions for 279 yards, which ranks sixth in the NFL, and one touchdown.
Containing the Giants' passing attack will be challenging for Philadelphia, but one thing is obvious, when they get into the redzone, their first option will be Bennett. As noted before, Bennett has caught a touchdown every game so far, and his athletic ability makes him a mismatch for anyone who challenges him.
Cruz and Nicks will get the headlines, but Bennett is, and will continue to be, Manning's redzone option, which means the Eagles' undersized linebackers and safeties have to be prepared for what they will be up against on Sunday Night Football.