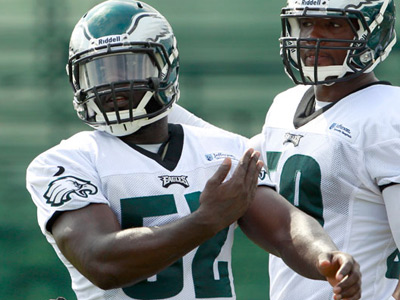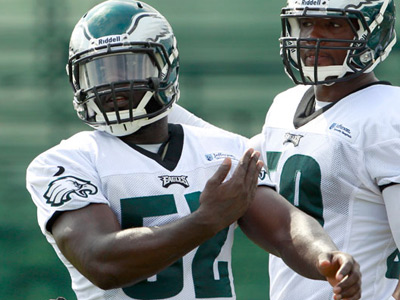 A week ago, Brian Rolle was preparing to possibly start for the Eagles at weakside linebacker with Akeem Jordan battling a hamstring injury. After the special teams turned in such a dreadful performance on Sunday night, someone had to be the fall guy for allowing David Wilson to averaging over 36 yards a return. That fall-guy was linebacker Rolle, who was released today by the Eagles.
A year ago, Rolle started 13 games for the Eagles as a rookie, and seemed to be the lone bright spot of the 2011 linebackers racking up 54 tackles with a sack, a forced fumble, and a fumble recovery that he returned for a touchdown against the Chicago Bears. There was reason to believe that the young weakside linebacker would take a big step forward playing with DeMeco Ryans and Mychal Kendricks in 2012, but the opposite turned out to be true.
Rolle took no steps forward, and put himself on the fast track to the NFL unemployment line. He entered training camp as the starter on the weakside, but his poor play caused him to lose his job to steady but unspectacular veteran Akeem Jordan. He still managed to make the team, but he had clearly fallen out of favor with the coaching staff.
Adrian Moten replaces Rolle on the roster. Moten has spent time with the Colts and Seahawks, and will be expected to contribute on special teams right away.
The Eagles also brought back offensive guard Julian Vandervelde, signing the 2011 draft pick to the practice squad, and releasing long snapper Kyle Nelson.