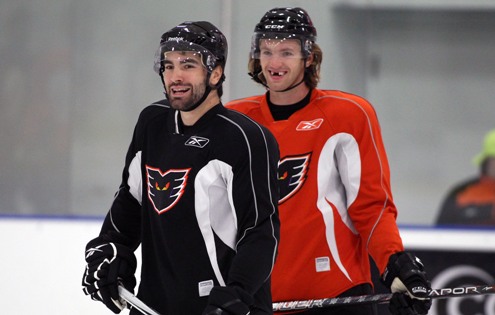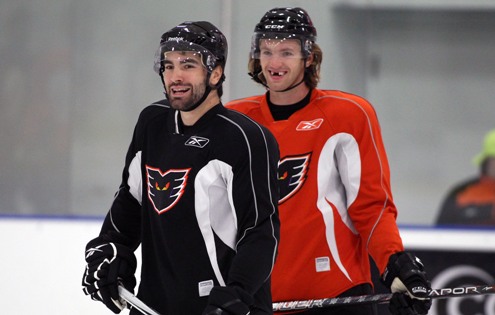 Preseason games are rarely held in high regard, no matter which sport, which league.  The preseason exhibition game held today at the Flyers Skate Zone against the Albany Devils, though, may have been the only opportunity for local fans to see professional hockey for awhile.
The Phantoms outshot the Devils by a 48-23 margin, but rookie goaltender Niko Hovinen (in what amounts to his first professional game in North America) struggled in his first game wearing orange and black gray.
From the Adirondack Phantoms media release:
The Phantoms scored one goal in each period. Danny Syvret blasted a powerful slapshot in the first. Matt Ford deflected a Brandon Manning slapper in the second. And Tye McGinn scored in the third period on an assist by Sean Couturier. Manning had assists on all three goals while Couturier had two.

The Phantoms also had a lot of power-play opportunities. Nine of them in total including three different 5-on-3's. Adirondack finished 2-for-9 on the power play but had some near-misses in their efforts to close the score. Albany was just 1-for-2 on the man-advantage.

"It's new systems for a lot of the guys in this room," said Phantoms right-wing Matt Ford who had 19 goals in 31 games for Adirondack last year after being acquired from Hershey in a trade. "I think there's a learning curve to it and we're just trying to get better everyday. We definitely had plenty of chances out there. I thought we kept it simple. The idea was to shoot the puck. We only got two goals on the power play but I thought we could have had a few more."

Niko Hovinen went the distance in goal for the Adirondack Phantoms making 18 saves on 23 shots in his American debut.

"I think he was probably a little jittery. Coming in his first game in North America. Seeing different kinds of shots," said Phantoms head coach Terry Murray. "Next time he plays he's going to be a lot better. You get the first one under your belt. A pro has got to learn to move on and come back the next day and be ready to work at it again and be better."

***

Training camp continues in Voorhees on Wednesday morning with another practice. The team will depart Voorhees on Sunday and then resume training camp in Glens Falls next Tuesday, October 9 in preparation for their season opener on Saturday, October 13 against the Portland Pirates at the Glens Falls Civic Center.
If there is one positive to take from the NHL lockout, it's that Sean Couturier is going to have an excellent opportunity to develop his offensive game.  Ignoring for a moment that this was just a preseason game, the Ford-Couturier-McGinn line appears to have some legs already.  Hopefully the trio can lead the Phantoms back to the Calder Cup playoffs (assuming the NHL season is lost).
For the latest Flyers news and updates, you can follow me on twitter (@JoshJanet).