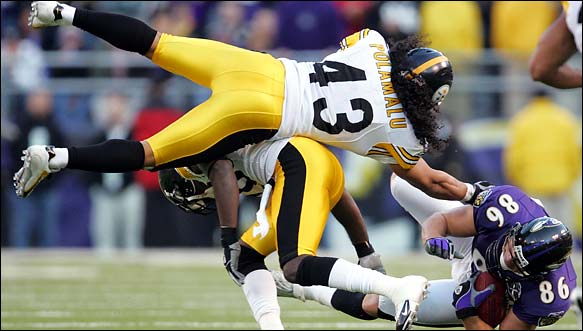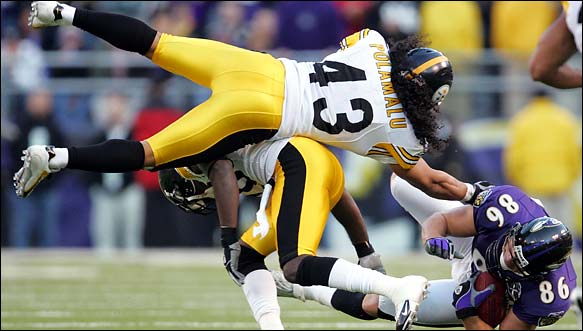 The Eagles are sitting in meeting rooms this morning and starting to prepare for the trip to Pittsburgh and the battle against the 1-2 Steelers.  They have to be wondering which Steelers team they will face.  Pittsburgh has been hamstrung by injuries to a number of key players, so they've had a number of their key players missing.  The guys in black and gold, who had last week off,  may benefit from the return of two former NFL Defensive Players of the Year and their 2011 leading rusher.
Pro Bowl safety Troy Polamalu hasn't played in the Steelers last two games because of a strained right calf.  He's expected back on Sunday and that could make a huge difference.  For years Polamalu has been one of the keys to the Pittsburgh defense.  Michael Vick and the Birds must know where he's lining up on each and every play.
I think it says a lot that the safety has been in and out of the line up the last couple of years.  It looks like he's lost a step or two and the fact that he hasn't played in a while might benefit the Birds.  It will take a while for the safety to get into a rhythm.
Pro Bowl linebacker James Harrison is expected to return to the lineup after recovering from a recent arthroscopic knee surgery.  He would help the Steelers regain their ability to consistently rush the passer and he's a big play maker.  We'll see if he's really healthy and ready to get back up to speed.
There's also a chance that Pittsburgh running back Rashard Mendenhall, who has been recovering from offseason ACL knee surgery, may return to the lineup.   If he does return, I doubt that he would take the entire rushing load in the first game.