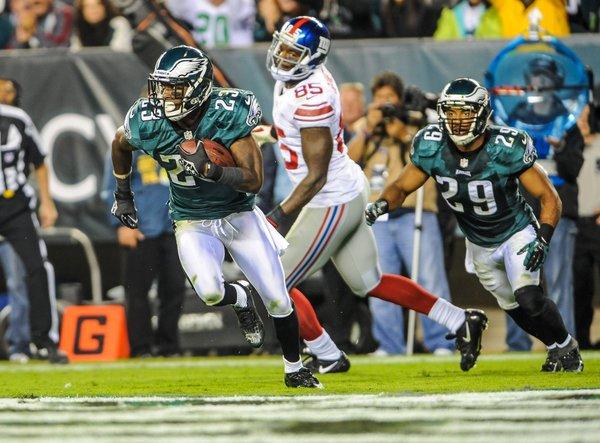 The Eagles made a nice adjustment in the secondary on Sunday night which helped them prevent what happened a year ago when Victor Cruz had his "national coming out party" against Nmandi Asomugha.  Usually they have Dominique Rodgers-Cromartie line up at the left cornerback position and Nmandi Asomugha line up at the right cornerback position.
Instead of doing in that way on Sunday night, the Birds matched up Rodgers-Cromartie against Cruz and put Asomugha on the much taller and much slower Ramses Barden.  That's the reason you saw Rodgers-Cromartie playing on the right side and Asomugha on the left for 15 to 20 plays.
It was a good move.  They've finally come to the realization that Asomugha has no chance in covering the smaller quicker wide receivers in the league, like Cruz.  Nmandi's ability to jam a receiver and take him out of his route can't be ignored, but once that receiver gets downfield, Asomugha has trouble playing the football in the air, as well as changing direction.
I don't know whether you remember that play on 4th down and one, when Cruz beat Dominique Rodgers-Cromartie on an inside route.  The dude is quicker than quick.  He gave DRC the seriou shake before beating him inside.
If DRC couldn't handle that shake move, you could imagine which Asomugha would have done with it.
We'll see what they do this week versus the Steelers.