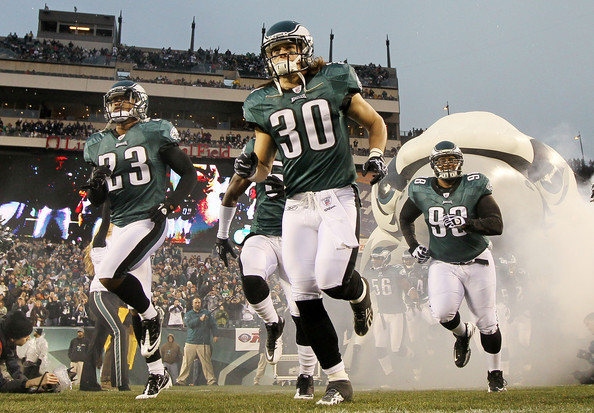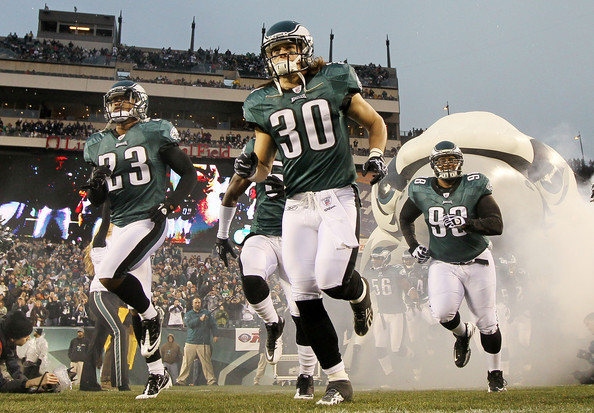 The Eagles were back at work today and their best Special Teams player Colt Anderson was back in action.  The Birds need him immediately on their kickoff team.
He said special teams are nothing but a bunch of one-on-one battles.  There's going to be pressure on him to make an difference right away.
Backup wide receiver Riley Cooper was back in action.  He gives the Birds more depth at the wide receiver position and he'll also be a help on the Special Teams.
It wasn't a shocker today for anyone to find out that Eagles left tackle Demetress Bell continued to be the starter, although the previous starter King Dunlap is healthy again and practicing.
Eagles right guard Danny Watkins missed the practice today because of a chest injury.  Linebacker Akeem Jordan wasn't able to practice because of his hamstring.  Defensive tackle Derek Landri missed practice today because of an injured knee.
Did Not Practice:
LB Akeem Jordan (hamstring)
DT Derek Landri (knee)
G Danny Watkins (chest)
Full Practice:
S Colt Anderson (knee)
T Demetress Bell (thumb)
LB Jamar Chaney (knee)
WR Riley Cooper (collarbone)
LS Jon Dorenbos (ankle)
T King Dunlap (hamstring)
WR Damaris Johnson (foot)
RB LeSean McCoy (knee)