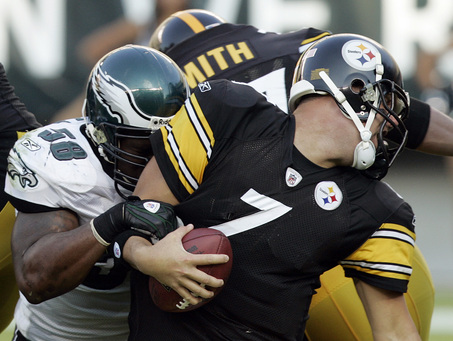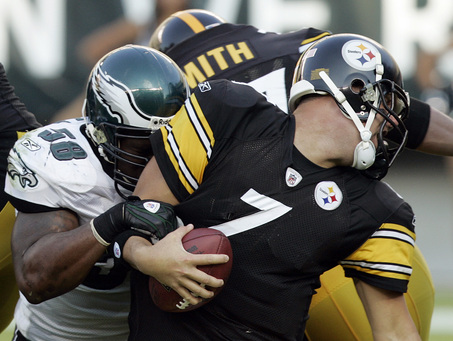 The Eagles defense faces a different challenge this week when they battle quarterback Ben Roethlisberger and the Pittsburgh Steelers.  Last week their task involved covering New York wide receivers and forcing Giants quarterback Eli Manning to move from his favorite throwing spot in the pocket.  There wasn't much of a threat of Manning scrambling and they didn't fear him breaking tackles and extending plays.
This week Roethlisberger presents a different challenge because once the Birds linebackers and secondary cover the Steelers receivers and the defensive line gets pressure on Big Ben that's just the start of their task.   The former Miami of Ohio quarterback loves to extend plays by pulling the ball down, escaping or just refusing to be tackled by the pass rush, then finding a open receiver downfield after five or ten seconds.
Discipline will be the key this week for the Eagles defense.  The defensive line can't make the mistake of not taking Roethlisberger all to the way down to the ground when they get pressure on him.  A good way to stop him extending plays would be trapping his right arm or going after the football.
The coverage part of the defense must stay on their man until Roethlisberger is sacked or crosses the line of scrimmage on a scramble.  They train themselves to keep their focus when he escapes the pass rush or breaks a tackle.  They must remember that Roethlisberger scrambles to throw.
If the safeties, cornerbacks and linebackers come up too soon they could wind up like Ed Reed and the Ravens when Michael Vick rolled to his left and they abandoned their coverage on Jeremy Maclin and he caught a touchdown in the corner of the end zone.
I like the fact that this Eagles defense does a good job of paying attention to detail.  They werefocused yesterday in the locker room on what it's going to take to stop Roethlisberger and the Steelers.
"We have to be very disciplined this week and stay on our coverage", middle linebacker and defensive leader DeMeco Ryans said. "Even when things are breaking down and it looks like he's scrambling we have stay tight on our coverage until he crosses the line of scrimmage".
"He's definitely able to extend plays and make things happen", outside linebacker Mychal Kendricks said. "He's a big guy, him going down is not going to be easy, he's 270 or 275, he's a big dude."
"He's Big Ben for a reason", safety Kurt Coleman said.  "I think Defensive linemen have trouble bringing him down.  He's able to extend plays and keep his eyes downfield.  He's been doing that his whole life back  at Miami of Ohio.  It's something he knows he's good at.  He's going to continue to do it because his wide receivers will work for him to the end."
"You can't stop even if you think a play is done", Coleman continued. "You've got to continue to work.  I'm just going to continue to run with these wide receivers until the ref tells me to get off of them."
"He's a big guy", defensive end Trent Cole said. "You can't tackle him low. You've got to tackle him high.  That's going to be one of our keys to getting him down."
The last time the Birds faced the Steelers the Eagles defensive line sacked Roethlisberger nine times and Cole
"That was in the past. This is a new year. It's a new game. We're going to treat them like any other team," Cole said. "We're going into this game looking to build upon what happened this past Sunday. We're on a winning road right now. We're back on track again. We've got to go here this Sunday and stay on track."
Although they've done their job, the Eagles defensive line is disappointed about having only five sacks at this point in the season.  They've played four games, won three of them, but they're eager to ring up big numbers in sacks.  Cole and his teammates feel that a big sack game is up the road but winning is the most important statistic.
"It's coming. I want to let you know it's coming," Cole said. "We're going to keep working hard at what we're doing. We're going to have some great practices and keep digging and trying for it. It's going to come. It's going to pop. We're going to keep working hard and do what we're doing, go out here and win games and it will come."
Hopefully they come up with a big game against Big Ben on Sunday afternoon.