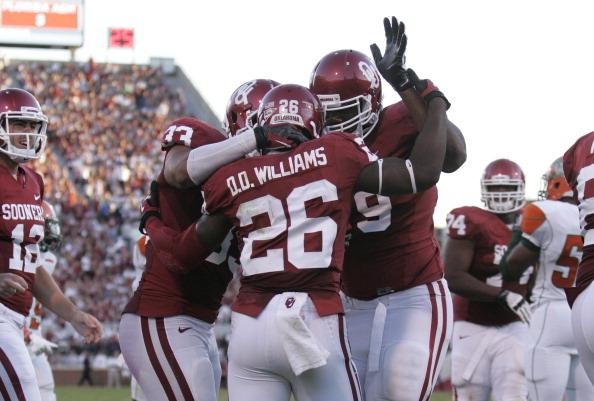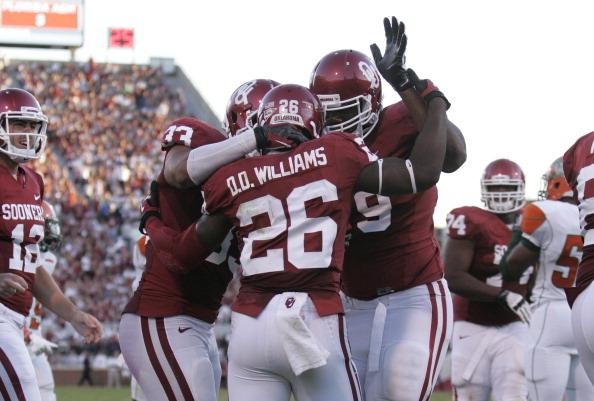 The first BCS standings will be released later today. And while there is little doubt who will sit at number one, the debate begins for all of the remaining teams to make their claim for that invaluable number two spot. Alabama will sit at the top. Although there were more popular feature games yesterday, I wanted to focus on the Bama/Missouri game to try and get a handle on just how good the Tide are. To me, the game was broken down into three parts.
Part one was before the delay due to lightning. In part one, Alabama completely dominated on both sides of the ball. Every time they snapped the ball on offense it seemed like it resulted in a big play. On the second play of the game Eddie Lacy ran for a 73 yard score. Alabama "stormed' out to a 28-0 lead. Then the lightning got too close and the teams were sent to their dressing rooms.
Part two was from the 8:00 mark of the second quarter until the beginning of the fourth quarter. During part two Alabama seemed to loose focus. They could barley manage a first down on offense and looked vulnerable on defense. Missouri did not take a gift field goal at the end of the 2nd  that would have cut the lead to 18 going into half. Here again was a coaching move where I just scratch my head. In the second quarter coach Pinkel thought he needed to score touchdowns to keep up  so he passed up the field goal and went for it on forth down and was unsuccessful. Come the third quarter he has another forth down now but this is a much more favorable situation being forth and three from the twenty three yard line. He passed up a forth and goal from the eight and went for it yet choose to kick a longer field goal with less time left. This made absolutely no sense. I think good or bad with my writing style the coach comes out in me and I focus on games a little deeper. It's my feeling that 75% of all football losses of 7 points  or less points are directly related to a poor coaching move or time mismanagement. Just look at the last NFL game Thursday night  where Pittsburgh had the ball on Tennessee's 40 yard line with two minutes left in complete control of its own destiny and mismanaged their way to a loss. Some of my friends I am sure scratch their head when I email them with 4 minutes left in a game and I say a team just lost the game on that move. Regardless part two of the game was won by Missouri they went into the forth quarter only down 18 points. In part three Alabama turned the switch back on and manhandled the Tigers as they did in part one and walked away with a 42-10 victory. It is my conclusion that Alabama is the best team in the country. I will be completely honest I still am not sure how wide the gap is between number one and everyone else yet.
The second game featured South Carolina at LSU. LSU was able to walk away with the win. The Tigers had success running the ball right at the Gamecock defense. I think Conner Shaw made some poor decisions and looked nervous in the forth quarter throwing just an awful pick when he had a receiver wide open. And on other plays  not recognizing other open ones. But overall South Carolina has nothing to be ashamed of they played a tough physical football game. I said a few times before I didn't expect South Carolina to go through their brutal schedule unblemished. The schedule makers did them no favors they go to Gainesville this week and get Florida. Florida better be ready this is a good football team. I know a few people on the networks say LSU Is back in the BCS picture but I disagree. I am not a huge fan of Mettenberger I don't see LSU there in January.
The next contest ended with some controversy with Notre Dame beating Stanford 20-13 in Overtime. I saw the play in real time and my "opinion" is it was a good call. The whistle had blown and the play was dead. Notre Dame and South Carolina have the two most difficult schedules in the country and I love what the Irish are doing. But as the Gamecocks fell I think Notre Dame's run ends in two weeks at Oklahoma. Regardless the Irish are back.
As I have said already there is no such thing as a "good" loss but you can understand how South Carolina lost. West Virginia is another story. I stated in many previous articles you cannot win without a solid defense and West Virginia would eventually loose. But they got blown out by  an average team. Don't believe the hype about Texas Tech I watched all of their games they are average. That being said I think West Virginia gets it together this week and pulls the upset over Kansas State. It looks like Vegas agrees the line is West Virginia -3 today.
Let's give Florida some credit they played well enough to handle Vandy in the ultimate sandwich game, the week after LSU and a week before South Carolina. Many predicted their demise. Florida faces off with an angry South Carolina squad in the feature game  this coming week. This is why college football is the best sport in the world you get playoff games every week.
Let's give it up for Oregon State and back up quarterback Cody Vaz. Everyone wrote off the Beavers going into BYU on Saturday. All Vaz did was torch a BYU defense that had given up only 10 points in it's previous games for 332 yards on 20/32 attempts. Oregon State remains undefeated and has tremendous team speed. They are going to be a tough out for the rest of the Pac 12.
Also what about Rutgers and Louisville? Everyone bashes the Big East yet these two teams could compete with any team in the big 10. Also Temple is much improved they can run the ball and play defense. Could it be upset city for Rutgers at the Linc  this Saturday ? Also how about some attention to Mississippi State, and head coach Dan Mullen. They still have Alabama, LSU and Texas A&M so enjoy it while you can but the Bulldogs have played well so far beating Tennessee on Saturday night. If they beat one of the three previous teams mentioned it would be a successful season.
There are a  half dozen one loss team hoping for a way back in. USC has no heart and no coach. Florida State did what they had to against Boston College but you will never get past losing to NC State, Texas A&M has Alabama and LSU and a freshman quarterback who had his worst performance against Florida and a good defense already. South Carolina and West Virginia can quickly get closer with wins this weekend. And Oklahoma will regret losing to Kansas State they have BCS championship talent on both sides of the ball but I believe they are the best one loss team.
Looking forward to this weekend the BCS will shape up even more with some top 25 contests on the horizon. Oregon visits Arizona State on Thursday which should be a shoot out. Again I will be watching Alabama closely this weekend when they play Tennessee. I still want to see Alabama tested and it most likely won't come this weekend but I need to see more of the Tide. BYU had a miserable day against Oregon State and Vegas has instilled Notre Dame as a two touchdown favorite but I think the Cougars keep it within that window. Too many people over react with a bad performance BYU still can play defense. LSU squares off with Texas A&M I expect the Tigers to go on the road and get the win. The game of the day is South Carolina at Florida. Something tells me the SEC gets even more confusing after this week with a clear number one left standing.
Instead of the current top 10 why don't I give you my best guess as to what it will look like after this weekend in my book
1)       Alabama — Still waiting for someone to test them LSU in a few weeks
2)       Oregon — Arizona State gave them a fight for the first half but too much speed. Will USC find a heart and play them tough?  
3)       Notre Dame — Not an exciting win over BYU but the Irish get ready for their showdown with Oklahoma
4)       LSU — Another quality win vs A&M
5)       South Carolina — Nice bounce back win against Florida shows they are a legit top 7 team in the country
6)       Oregon State — Got a real scare from Utah but still a top 10 team
7)       Oklahoma — Easy win against Kansas bring on the Irish
8)       Ohio State — Got by Purdue but I think Penn State may give the Buckeyes trouble
9)   Florida   — Even with the tough loss to South Carolina they have an impressive resume
10) USC  — Top 3 talent  not top 50 anything else
Enjoy the week!