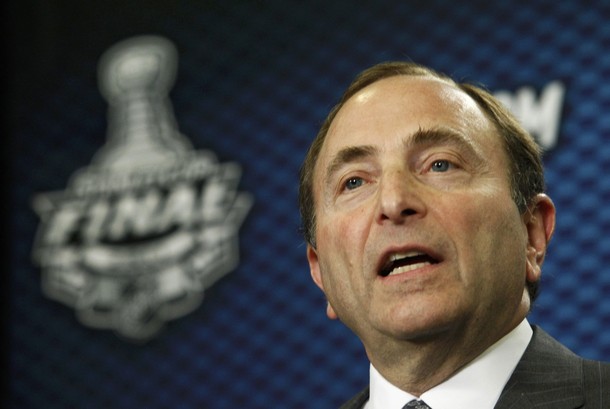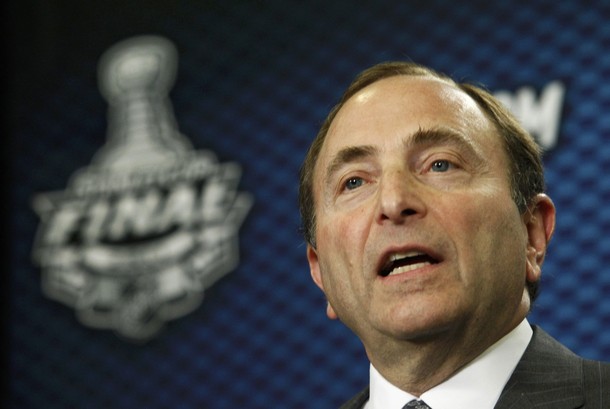 NHL Commissioner Gary Bettman announced this afternoon that, after weeks of requesting a counter proposal from the NHLPA, the NHL is extending their own revised offer to the players' association for a new collective bargaining agreement.  Should the NHLPA accept the offer within ten days, the NHL maintains that they will be able to organize a condensed schedule with all 82 games and playoffs finishing before June 2013.
The season would begin November 2.
According to John Shannon of the Canadian network Sportsnet and Bob McKenzie of TSN, the new proposal from the NHL includes:
No rollback on existing contracts
50/50 split of hockey related revenue
Revenue sharing at $200 million
Entry Level Contracts remaining at three years in length
Free Agency beginning after eight years / age 28 (previous CBA was age 27)
Maximum contract length at five years on all new contracts (previous CBA added limits with 'Kovalchuk Rules')
Annual Salary Variance limited to 5% of contract
Salary arbitration intact
NHL salaries for players in the AHL remain on the salary cap
The proposal places another hard deadline on the table with more realistic starting points from the NHL than what was previously offered.  While a step in the right direction, the entirety of the NHL's proposal has not been made public.  There may very well be additional points that could more negatively impact the players.
It has been noted by some outlets that while the 50/50 split is still going to be a hard sell for the NHLPA, the offer may be difficult to pass up for some players.
Jesse Spector of Sporting News offered this analysis:
It is a tricky spot for the NHLPA, because if the players really just want to play, this is their chance to do so. The question that the players have to face is whether it is worth sacrificing the future in the name of the present, or the other way around. Factor in three months (and years before that) of building distrust for Bettman and the owners, and you can see that it's premature to start canceling non-hockey plans for the first weekend of November.
I also don't believe that the NHL will be able to have all of this resolved in ten days, with an 82-game schedule intact. A shortened season beginning on Black Friday, though?   That wouldn't be out of the question.
For the latest Flyers news and updates, you can follow me on twitter (@JoshJanet).