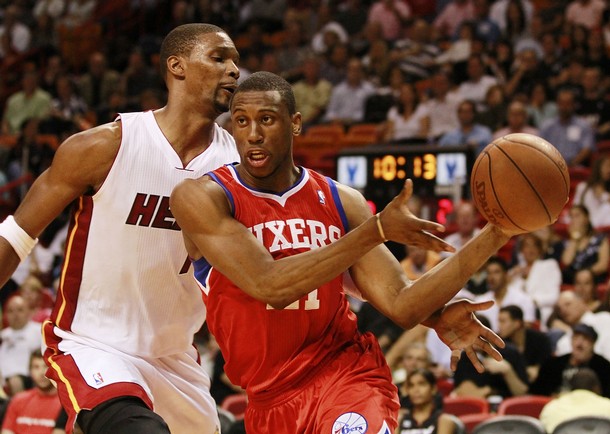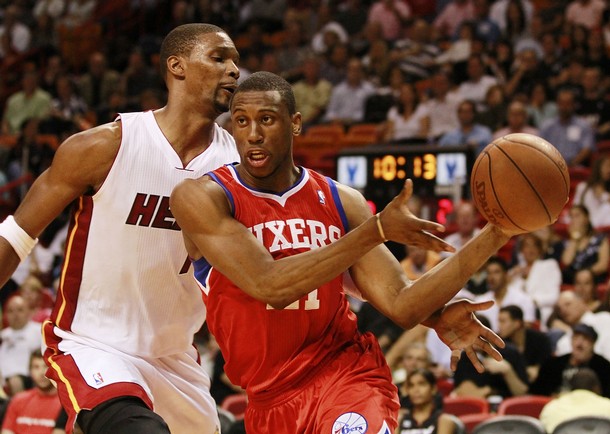 Less than a week from today, the Philadelphia 76ers will play their first game of the season when Andre Iguodala and the Denver Nuggets come to town on Halloween night.
The 2012 season is the first in some time that basketball fans in Philadelphia have had good reason to be excited for the Sixers. The franchise is making great strides in the right direction; they've finally acquired a true franchise player, and they've got a number of exciting young players that could really come into their own.
Basketball fans in Philadelphia have had to suffer through some dark times over the last decade.
We've seen a line of incompetent head coaches come and go. We watched Randy Ayers get fired after just half of a season while struggling to replace the great Larry Brown. We saw Jim O'Brien last just one season. We hit rock bottom when former general manager Ed Stefanski hired his friend from New Jersey, Mr. Princeton offense, Eddie Jordan, came to town in 2009 and tried to tell everyone that he didn't need a traditional point guard to run his offense.
We dealt with a number of unlikable superstars or mediocre talent on the roster. We saw the Allen Iverson era rise and fall. We watched Chris Webber come to town to steal money for a couple of years. We endured Samuel Dalembert patrolling the paint (with his head seemingly often in the clouds) and unable to realize his potential for almost 10 years. Willie Green was the starting shooting guard for half a decade. Worst of all, for years we had to listen to Andre Iguodala, his coaches, and ownership try to sell us on the idea that he was a true star in the NBA.
But those days are over, and now the fans who stuck with the team through those rough times should be in for a real treat this year.
The direction of the franchise is finally positive. Head coach Doug Collins has been a great fit on this team. He's done a fine job getting the most of his talent in the two years that he's been with the team, and has the locker room completely under his control.
Newly acquired Andrew Bynum will have a chance to be the face of this team. Although there are already issues with his knees that have prevented him from appearing in the preseason, there isn't any reason to doubt that once the big man returns that he won't be dominant force that can give the Sixers 20 points and 10 rebounds a night. There isn't a center in the Eastern Conference that can match up with the former Laker, giving Philadelphia a decisive edge in that position over much of their competition.
The young talent on this team have been growing up together, and got their first taste of playoff success after defeating the Chicago Bulls in the first round. Now that they've got a true superstar to work with, it will be interesting to see how much better Jrue Holiday, Thaddeus Young, Evan Turner, and LaVoy Allen get. Each of these players has a chance for a breakout year.
Holiday has been improving steadily as a point guard, and should see his assist numbers go up with the opportunities he'll have to run the pick and roll offense with Bynum.
Young and Allen have embraced their roles coming off of the bench, but still have desires to become the team's starter at power forward. They'll push Spencer Hawes for playing time throughout the season.
Turner will slide over to small forward to fill the void left by Iguodala. His improvement may be the biggest key for the Sixers to take another step forward. The former top draft pick flashed greatness in small spurts last year, and now he must prove that he can sustain such a high level of play.
The team has also rebuilt their bench by stocking up on outside shooters. Jason Richardson, Nick Young, and Dorell Wright can all provide a scoring punch, although each of these players also tend to be streaky shooters.
If I have any concerns about this team (other than Bynum's knees), it's the lack of veteran leadership. This is a team that went through a pretty dramatic roster shakeup, and lost three veterans who were key guys that were the faces of this team over the last five years. Along with Iguodala, Elton Brand and Lou Williams are gone as well. The regular season will have its share of highs and lows, and this young squad will need to have someone step up to help keep them strong and together during the lows.
Brand will be the guy that this team misses the most. He was a guy who led by example, always worked hard, and played through some painful injuries.
So who are the leaders on this team right now? Bynum is obviously the first name that comes to mind, but this is also the first time that he's ever been in a situation where he's asked to be "the man", and it remains to be seen how he'll react to it. Will any of the young guys (Holiday, Turner, Young) step up and take charge of the locker room? Can Jason Richardson, a guy who has been in the league for some time, help out in a leadership role as well?
I think this team has a very high ceiling. The advantage that Bynum gives them over every center in the East can't be understated, and the potential improvements of the key young players make me believe that the Sixers could finish at the top of the Atlantic Division, possibly winding up as a third or fourth seed in the playoffs.
Looking at the rest of the Eastern Conference, the Miami Heat are still at the top of the food chain, but the rest of the seeds below them are all up for grabs.
The Bulls won't be as potent as they could be with Derrick Rose still working his way back from his injury.
I'm not in love with the Celtics; Rajon Rondo is poised for his best season as a professional, but Kevin Garnett is another year older and I don't think their team matches up well with the Sixers.
The Brooklyn Nets will be a playoff team, but something about the way that this team has been constructed makes me think of them as the Miami Marlins of the NBA; a lot of big-name free agent signings, but they won't have nearly the amount of success that they should on paper.
The Indiana Pacers are a team that a lot of people are in love with, but I think they hit their ceiling a year ago.
The New York Knicks have talent, but that talent hasn't meshed well, and Carmelo Anthony's style of play will prevent that team from being any kind of serious threat.
The door is wide open for a very exciting year for the Sixers, complete with a deep playoff run. The Denver Nuggets and Andre Iguodala will be in town in just six days, and I can't wait for season to tip off.
Denny Basens is the editor of GCobb.com. Email him at dbasens@ycp.edu, or follow him on Twitter.