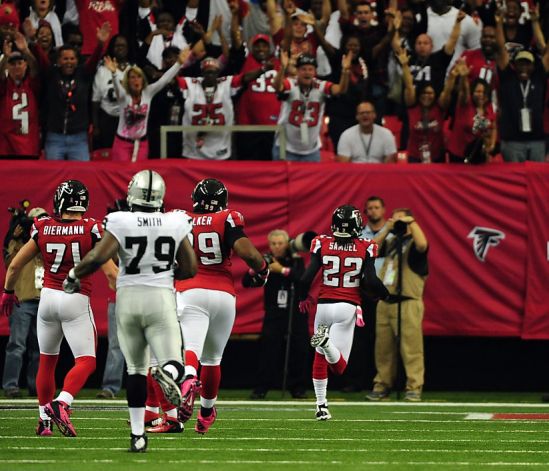 I'll guarantee you that former Eagles cornerback and now Falcon cornerback Asante Samuel will be running his mouth on Sunday and all of his former Eagles teammates know it.
"He'll do more talking with the receivers," said Eagles quarterback Michael Vick. "I don't get involved in that."
"No question, that's Asante", said Birds cornerback Dominique Rodgers-Cromartie. "That's the great thing about him. You love his spirit. He knows these guys personally, just like they know him personally," Rodgers-Cromartie said. "He made good friends with Mike Vick and DeSean Jackson.
During all of his years with the Birds, Samuel was the voice you heard above all the others at practice, but he backed it up.  I've never seen a cornerback who was more successful in jumping short pass routes.  He knows Vick and he knows just about all of the Birds receivers, Jackson, Jeremy Maclin, Jason Avant and Riley Cooper.  Samuel will come into the game with a plan to pick off some passes if they come his way.
Earlier this season, Samuel picked off a short pass by Oakland Raiders quarterback Carson Palmer pass in the fourth quarter and ran it back 79 yards for a touchdown to help the Falcons come from behind and stay undefeated.  I can't understand why quarterbacks continue to test him with the short passes.  He is vulnerable to double moves and deep routes, but you don't have success throwing short patterns against Samuel.
I encourage Vick and the Birds to stay away from Samuel on short patterns, whether they be out routes, curl routes, or slants.  Don't throw short patterns to Samuel's side.  If Vick does throw the ball over there on short routes, he's probably going to get the chance to make a tackle or two.
The veteran cornerback has the ability to study receivers and quarterbacks to the point where he can read the route while the receiver is running it.  Once he has the receiver figured out, you can't throw any short stuff his side.  The former Pro Bowl corner can figure out minute aspects of their games, which tip him off to the routes they're running.