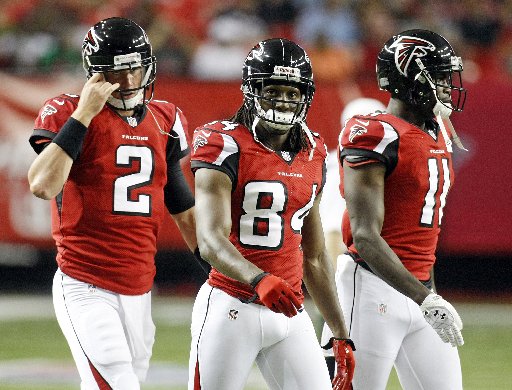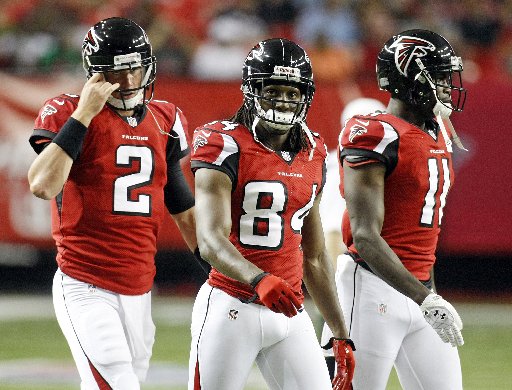 We're going to get the chance to see a number of outstanding match-ups when the Falcons battle the Eagles on Sunday afternoon. The Birds cornerbacks Dominique Rodgers-Cromartie and Nnamdi Asomugha will be competing against Atlanta's duo of Roddy White and Julio Jones.
All of these players have good size in NFL terms.  They also have good speed.  I could see the Birds matching DRC against White and putting Asomugha against Jones.  White and DRC are the quicker of the four athletes.
White is the more experienced of the two Falcons wide outs, while Jones is bigger 6'3″ 200 lbs.,  and more physical.  The former Alabama standout may be the faster of two wide outs, when you're talking about straight ahead speed, but both of these receivers can get deep on anybody.
DRC can run with either of the wide outs when you're talking about a straight go route.  I don't know if Nmandi can still run with these guys, even though the veteran corner can open up when he needs to do so.
Asomugha is the more physical of the two Bird's defenders, but he'll have a handful in trying to hold up Jones at the line of scrimmage.  It's going to be a serious battle and I expect to see at least a couple of flags to be thrown during what is sure to a be punishing battle.
New Eagles defensive coordinator Todd Bowles was asked what team are doing to stop White and Jones.
"Whatever it is, it's not working," Bowles said. "Those two guys are probably, arguably, the best two in the league, size-wise, speed-wise, and what they have that a lot of big guys don't have [is] they can run patterns as well, as well as block. You've got to pick your spots. There's only one football, luckily, and you're forgetting Gonzalez is in that mix as well as [running back] Michael Turner. So, it's going to be tough."
At this point in the season, White has caught 37 passes for 553 yards with four touchdowns.  Jones has caught 30 passes for 376  yards and four touchdowns.  Julio is in only his second year, so he's got a big upside and seems to have a better understanding of the passing game this year.
The X factors in these wide receiver-cornerback battles will be the level of pressure which the Eagles defensive line is able to put on Matt Ryan and what types of defenses will new defensive coordinator Todd Bowles decide to use.  Ryan must be forced to roll to his left.  He doesn't have the quickest of feet, so forcing him to his left will negate some of his ability to throw on the run.
The other factor will be future Hall of Fame tight end Tony Gonzalez and how the Falcons decide to utilize him.  I don't know if they're going to put the diminutive Brandon Boykin on him and Brandon Hughes had a horrible game against the Lions.
Will the Birds decide to move Asomugha inside at times against Gonzalez or will they let rookie linebacker Mychal Kendricks guard him?  I'll get into detail about dealing with Gonzalez in a later article.
As you can see, the Falcons have an abundance of weapons, so this won't be an easy job.   Atlanta seems to have put more of the game in Ryan's hands, so he's free to change plays at the line and take advantage of whatever he deems to be a match up in their advantage.
Bowles will need to mix things up by showing Ryan and company different looks, especially on third downs.  I want to see him show overloads to one side, then send the blitz at Ryan from the other side.  He could do this with a zone blitz where you go after the quarterback but don't risk giving up the big play deep.
I can't emphasize enough the need for this secondary to learn how to "stem" into blitzes.  That means you start out in one look, but by the time the ball is snapped you're in a completely different look.  This is especially true of the safeties because quarterbacks read the safeties first to decipher the coverage.
Ryan is an experienced quarterback, so they must keep him guessing or they're going to make his job very easy.  I would like to see them use the walk around technique where they have all eleven defensive players on their feet and in two point stances until the ball in snapped.
You've got be imaginative as a defensive coordinator when you're facing an experienced quarterback, who has seem just about every kind of defensive look.  Bowles can't copy Juan Castillo by sending four defensive linemen after the quarterback and dropping everybody else into coverage on every play.
At the professional level in nearly all the sports, you can't tell the opponent what you're going to do without any element of disguise and be consistently successful.