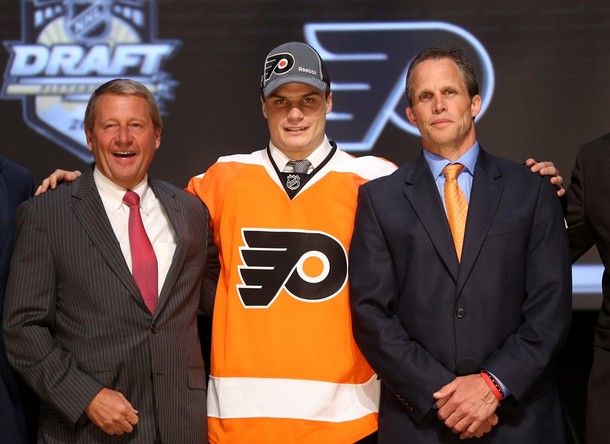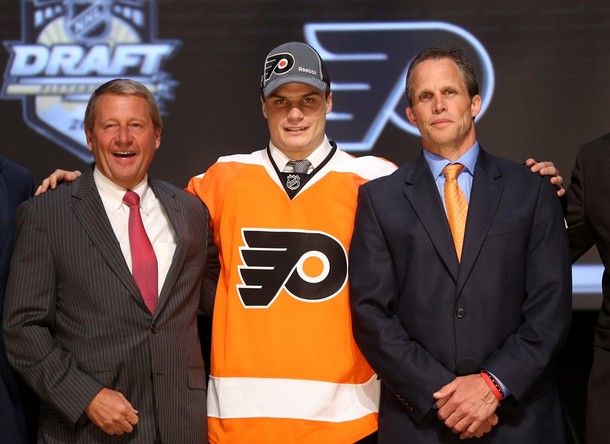 Scott Laughton, the Philadelphia Flyers' first round draft pick in the NHL entry draft this past June, has been suspended for ten games for a blindside hit to the head during a game on Wednesday.
The OHL has posted a video explaining the rationale for the suspension here.  The OHL apparently doesn't feel it needs Brendan Shanahan to give a long-winded and obtuse explanation, and simply states "CHECK TO THE HEAD", "PLAYER INJURED ON PLAY."
On the play, an Ottawa 67's player skates through the offensive zone and fires on the net with his head down. Laughton skates across the ice and elevates his elbow into the player's head.
It's not the ugliest hit I've seen, but it was certainly unwarranted and the type of play that Laughton needs to learn to avoid. Had he administered the check to the body, he would have been lauded instead of punished.
Laughton joins Flyers prospect Nick Cousins in earning negative publicity for the organization, although Cousins is in hotter water at the moment.
Cousins will be in court on November 5 to fight sexual assault charges along with two of his teammates. Cousins missed the beginning of the OHL season to enter a "Wellness" program, but has since tallied 7 goals and 19 points in 14 games played.
Cousins ranks 5th in the OHL in scoring while Laughton ranks 37th.
For the latest Flyers news and updates, you can follow me on twitter (@JoshJanet).