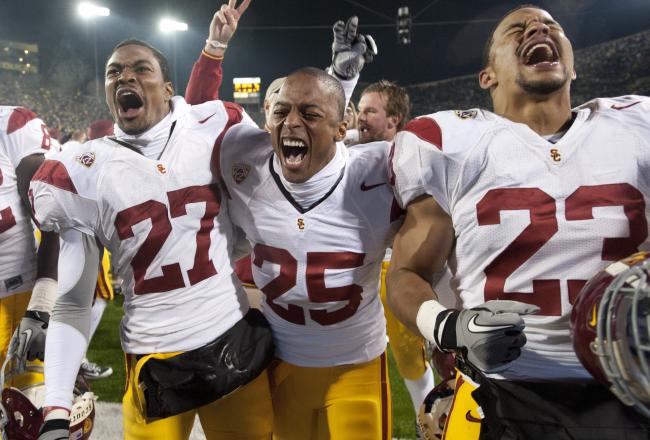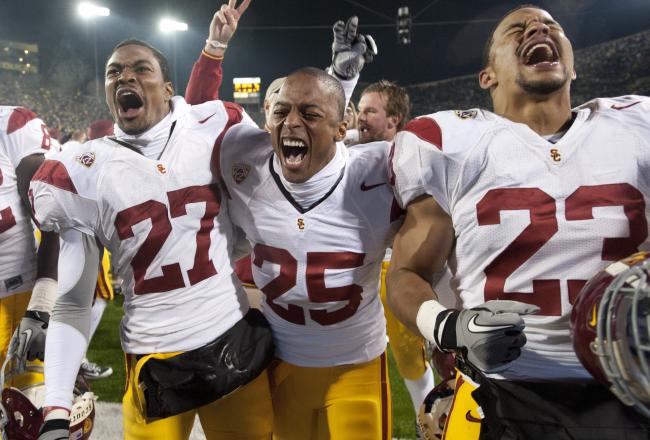 I walked away with a different perspective then some after watching 12 hours of college football Saturday. I see the national media picking at these four teams individually. It was said that it was 15 times more likely that all four teams lost once then all four going undefeated. The problems with statistics are they can't measure heart. What I took away from Saturday was there are four teams fighting with everything they have to stay at the top. Each team faced their own challenges. Alabama was staring a loss squarely in the face after seemingly being shut down the entire 2nd half. Notre Dame was trailing by two scores in the 4th quarter and then missed an extra point to make the comeback even more difficult. In OT they fumbled and were left for dead until some sort of divine intervention made an outstanding kicker push a kick right that was as close to automatic as there is. Kansas State although having a lead lost their leader but held on for a victory. Oregon found out that USC wasn't going away and hung in until the final minutes to give the Ducks their first scare of the season.
In my opinion the Heisman winner was crowned Saturday.  A.J. McCarron faced almost insurmountable odds when he took possession late in the 4th quarter after an LSU missed field goal. The Tide was having trouble putting a first down together and LSU had been playing an incredible game on both sides of the ball. But it's not just that drive why I say he deserves the award. With 1:08 remaining in the first half and a 7-3 lead, Alabama took over the ball from their own 36 after another LSU missed field goal. Alabama had a 2nd and 15 and McCarron connected on an 18 yard screen play with Eddie Lacy that changed Bama's play for a field goal to hey we have a shot at 6 here. McCarron was flawless as he eventually scored untouched with seconds to spare to give Alabama some space and a 14-3 halftime lead. Without that drive the end of the game doesn't happen. Almost every other quarterback gets more publicity but give me McCarron as the best player in the land. What McCarron is trying to accomplish no other Alabama great has been able to do. Names like Namath, Stabler, have never won two consecutive National Championships as a starting quarterback. Steadman Shealy Jr. played on the 1978 team and started for the 79 team that won two titles but McCarron would be the only one to start for two. Another player who shined was freshman running back TJ Yeldon who when he is finished his career will leave as the best running back in Alabama history. Alabama has a tough test this weekend against Texas A&M.
It looks now if all ends the way it looks that Alabama will get Oregon in the BCS title game. It is what the people want and although I much prefer it get settled in a playoff will be the right call. I will stick to my guns in saying Alabama is too physical for Oregon and will win a game in the low 40's. Oregon's offense is dynamic but Alabama will run all over them controlling the clock and eventually getting more stops then the Ducks.
I don't think Notre Dame gets through USC. USC actually controls its own destiny for a rematch with Oregon but it must beat Arizona State this weekend and UCLA in the last game. Kansas State's destiny will have a lot to do with the health of Collin Klien who left Saturday's game with a concussion.
I got into a "debate" with someone who said the SEC is a fraud as a conference. Again there are always going to be people who try and say controversial things to garner attention. I say this because I believe it. I think that South Carolina, Florida, Georgia, LSU and Texas A&M could all beat Notre Dame and Kansas State. These are teams in the middle of the SEC conference. Find me another conference in the country who can say that. It's not even close the SEC is the best conference in college football.
There is one team that I wish hadn't lost early. Clemson gets no publicity but they have only one slip up to a top 10 team on the road and have dominated in every other win. Clemson is always one of those teams that is right on the cusp. One of these years they will get it right. They are an exciting team to watch.
Some great games on tap again this weekend. Texas A&M visits Alabama. Bama is coming off their most physical game of the year and Texas A&M is no joke. Kansas State visits TCU everyone will be watching the health of Collin Klein. USC at Arizona State should be a high scoring affair. Oregon visits Cal which should be a massacre Cal just stinks. Mississippi State visits LSU and Notre Dame plays Boston College.
Have a great week!