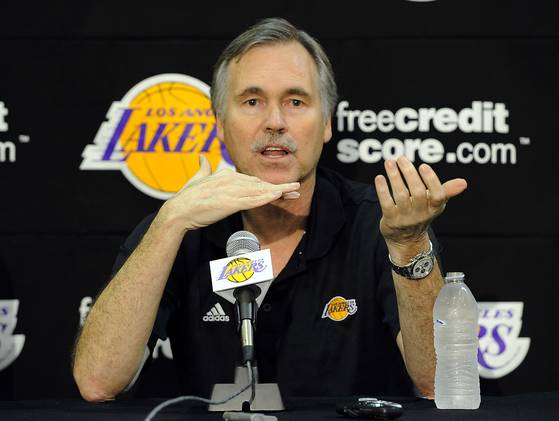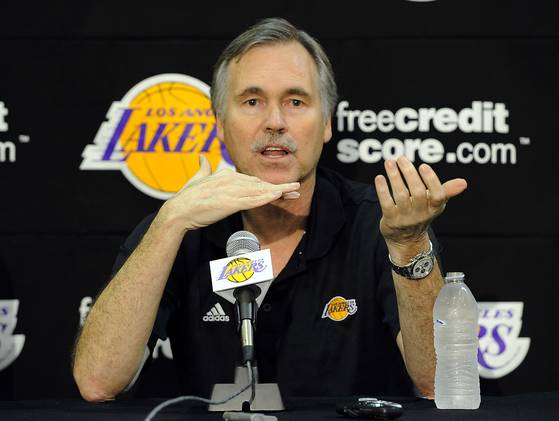 Five games into the 2012-13 season, the landscape of basketball in Los Angeles changed dramatically as Mike Brown was relieved of his coaching duties by the Laker organization. That appears to be a very polite way of saying Mike Brown got canned. The Laker PR department seems dead set on saying that this drastic, yet likely overdue, coaching change had more to do with scrapping the ill-fated Princeton Offense incarnation rather than a change in overall team philosophy. However, the move and Kobe's stares-of-death speak for themselves. Mike Brown had clearly lost the locker room and a team built to win immediately was floundering. Rather than wait out a losing hand, Jim Buss, Mitch Kupchak, and the rest of the Laker brass have decided to move onward and hopefully upward with one of the most polarizing figures in professional basketball today, offensive specialist and former Knicks and Suns coach, Mike D'Antoni.
The lack of Phil Jackson's all-too-familiar Zen on the sideline at Staples is certainly worth mentioning and questioning to an extent. Offering the keys to a classic car to an upstart valet known for driving fast and forgetting where and what the brakes are after passing up a game-tested chauffeur who has successfully navigated the road to victory eleven times is going to raise some eyebrows. The fact is, we'll never really know the semantics and vibe of the meeting with Phil Jackson; whether Jim Buss' ego got the better of him in wanting to prove the Lakers could win without Jackson, whether the Lakers assumed Jackson's eventual asking price and anticipated exceptions regarding his involvement in travel, practice time, and basketball operations would be too great of a price to pay for a championship still in doubt. Perhaps, the Lakers truly felt Jackson's Triangle really would mirror the failed Princeton method a bit too much and limit the production of the aged, but still kicking, Steve Nash. This last scenario is unlikely, but bear in mind, none of those Phil Jackson championship squads are known for their dynamic point guards. Regardless, Laker fans got the change they wanted so badly and writing about the coach that could have been seems as foolish writing about why the dish ran away with the spoon and left the fork behind with the salad bowl. With that said, very legitimate questions remain regarding D'Antoni's ability to lead the Lakers to more than flashy regular season wins.
Mike D'Antoni's success seems to go hand in hand with a high rate of play and a versatile point guard who can break down defenses early in the shot clock. Whether or not Steve Nash can sustain that kind of play for extended minutes over the course of the season is a major concern. However, let's not underestimate Mike D'Antoni's ability to adapt to his personnel. You don't get to be a part of the coaching staff of Olympic basketball teams by being a one-trick-pony. D'Antoni will likely do away with the seven second shot clock that made him infamous entirely and trust his nearly patented ball movement and spacing to do its work at its own pace. While Nash's age is a concern, and Steve Blake isn't an ideal back-up for a point guard centric system, no longer will Steve Nash have to drag an otherwise mediocre team up the floor every possession and a freer offense should allow Kobe, Pau, and Dwight Howard to have their chance to shoulder the load respectively in spurts. Nash's minutes will likely decrease, but provided he can get and stay healthy, his contribution should be invaluable.
The lack of defense preached by Mike D'Antoni also brings skepticism in the L.A. coaching change. The Phoenix Suns and New York Knicks never had it in philosophy or personnel (not including the lockout season when the Knicks had Tyson Chandler). This severity of this flaw was made all the more apparent when the Boston Celtics blanked the Knicks in the playoffs of 2011. However, as much as Mike D'Antoni is responsible for sleeping in the bed he and James Dolan made, part of the reason for his semi-bitter exit from New York had to do with the players he was coaching not being motivated enough to commit to defense and do what it takes to win. Perhaps that is harsh criticism, but Melo and Amare's track records speak for themselves in that regard. This Laker squad recognizes that time is of the essence and has Kobe Bryant, a man who went to train with "The Dream" after winning a championship and whose motivation and effort speaks for itself. The Lakers have two-time defensive player of the year, Dwight Howard in the middle and, while not the player he used to be in both name and trade, World Peace's defensive talents should not be underestimated when he's focused. Quick shots and long shots can lead to run outs for Laker opponents, but  it also leaves room for offensive rebounding, which Howard and Gasol should do quite well to say the least. This team won't suddenly be tops in the league in defense (a stat ironically held by the Knicks), but D'Antoni arguably has at last found that happy medium between having a potent offensive team and sacrificing defense altogether.
Mike D'Antoni's New York stock was at it's lowest was when Anthony, a isolation and shoot first player was thrust into the point-forward position and basically put himself on an island on a nightly basis. The only glimmer of hope for D'Antoni and the Knicks was a month long fad when they placed their hopes and dreams in the hands of a dynamic, and indeed, average point guard, Jeremy Lin, who, to his credit, performed and got a heck of a pay day out of the deal.  D'Antoni needs distributors on the floor to be successful. Something the Knicks didn't have; something the Lakers do, at more positions than the point.
Questions seem to circle around whether or not Dwight Howard and Pau Gasol will have their numbers negatively impacted by not being able to post up in a lane that until proven otherwise, D'Antoni uses as a freeway for slashers and rollers. As refined as Pau's outside stroke is, you don't want to negate his size and turn him into a glorified jump shooter and Dwight Howard should never have the ball for any meaningful amount of time outside the paint. Bear in mind, though that these two will continue to do the dirty work down low, just on flashes and pick and rolls. We're not looking at a drive and kick offense a la Phoenix anymore, we're looking at a pick an roll based offense where two of the best bigs in the game will be heading to the rim. If teams overplay it, Pau hits the 15-footer all day. If not, I'd hate to see the guy get in the way of Howard after getting a pocket pass from Nash and a head of steam. If anything, this should finally give us a look at the Laker team the fans expected all along. Pau Gasol's ability as a passer should also add multiple new wrinkles to this offense's flexibility. By the way, Kobe Bryant will be on the court, too, and have the space to do what he still does so well after 17 seasons. The nature in which the Laker bigs get their touches will change, but not their numbers.  The lack of shooters and depth on this team is perhaps the only legitamate concern for this squad, but picking up a shooter is a trade deadline move away (unless Meeks wants the job) and depth was a concern with or without D'Antoni.
Mike D'Antoni faces an uphill battle in Los Angeles and will have to buck a lot of old habits in order to silence critics and lead this Laker team to a title. D'Antoni will have to prove there's a little more to his coaching method than shoot first look at film later, but he and the Laker organization certainly have the tools to prove both he and this team were not brought together in vain. One thing is for sure, Laker players and fans alike seem excited about what this season will hold which, coming off of the Mike Brown era, has to be considered half the battle.