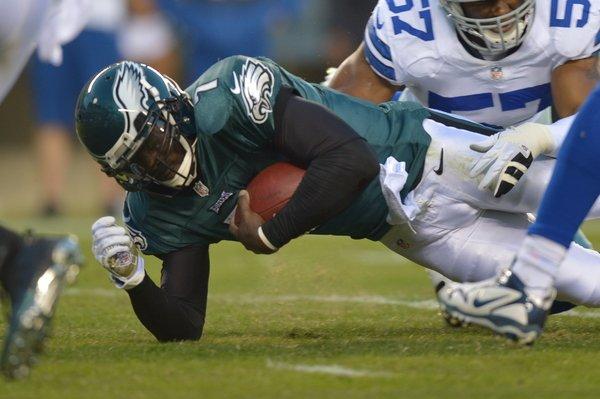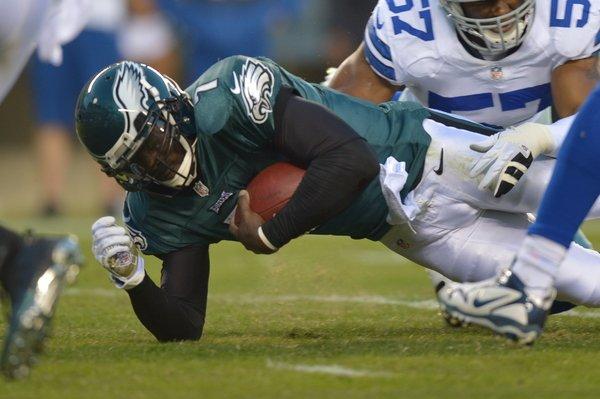 After the team practice, Eagles head athletic trainer Rick Burkholder gave us an in-depth assessment about the status of quarterback Michael Vick today.  It made me think that there's a very good chance Vick will not only miss this week's game, but he's likely to miss the next week's game as well.
"Right now, he currently has (concussion) symptoms. He's had symptoms all week since the game. He's had a headache, which has gotten better during the week. He's foggy. He's not very alert right now in terms of he just doesn't have that energy. He's tired all the time, he's slept a lot, and he's not getting rid of that fatigue. I would consider him heavy eyed. When I talk to him, he's just not the Michael Vick that I know when he's healthy. For that reason, our process stays at that phase one that I talked to you guys about last year when I went through it with Michael. He does have symptoms".
We'll have to wait and see where this goes from here.   The key quarterback issue for the Birds right now, is how does Nick Foles play tomorrow.  If he plays well and the Eagles win, there will be no rush to get Vick back on the field.  If he plays poorly but the Eagles still find a way to win, the football team will continue to try and get Vick back on the field.  If they lose, it's done deal and no one will care one way or the other.