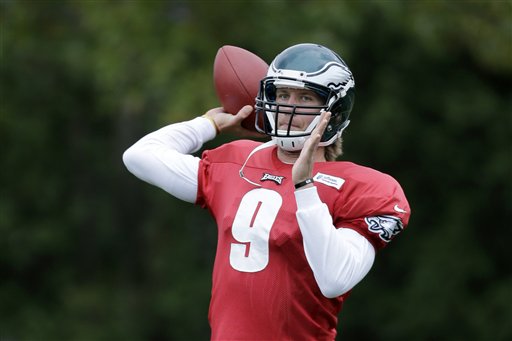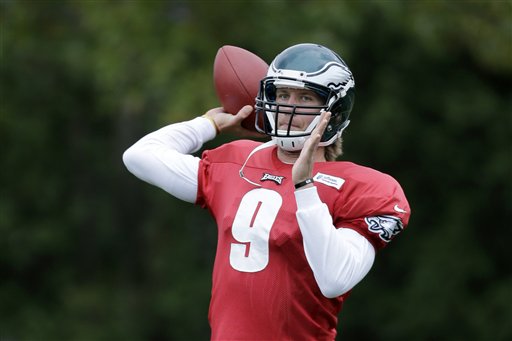 Andy Reid and Marty Mornhinweg were in Nick Foles' ear so much Wednesday that he wasn't able to get freed up to do the the usual Wednesday lunch time interview with the media.  They don't say it but yoiu can tell 're counting on Foles to help save the season.  Reid and Mornhinweg know they have the perfect situation for the kid, so they're focusing especially carefully on this game plan.
As you would expect, rookie quarterback can hardly contain himself as he prepares for this weekend's battle with the Skins. "I'm ready", Foles said. "I'm excited to just play again. Like I've said before, my prayers are with [QB] Mike [Vick] and I just want him to be healthy. It's my time to just go out there, play, do everything I can for this team, and help in any way possible. We just have to play fast."
The Redskins are a team which the Eagles are very capable of beating.  They have a pedestrian offense which is led by a rookie quarterback in Robert Griffin III. and they have a defense without a pass rush backed up by a mediocre secondary.  The Washington defense as it is constructed right now are a perfect opponent for Foles to play against in his first start.
Foles is sensing a terrific opportunity.  "He's around here all the time, and he spends a lot of time in this building getting himself right", Reid said. "You have to do that when you're the relief pitcher as the backup. He's used to that workload and he's continuing on with that. He came in yesterday and made sure he put in a few hours."
According Mornhinweg, Foles' teammates are just as excited about playing with the rookie.  "There's two things we talked about. Nick starting – I love this situation because, hey, it's us against everybody. Even to the point of thriving on it with our players. Then, you put with Nick in there, a rookie quarterback, and our players certainly see bright spots with Nick. I know there is some excitement there."
Mornhinweg was very strong in about Foles' leadership skills.
"I will say that Nick Foles has excellent command," Mornhinweg said. "It appears he is an excellent leader. He is big, he has a big arm, and I thought he carried [the University of Arizona] as best he could [last season]. They really had problems personnel-wise . . . and he was tough both physically and mentally. He certainly is built the right way."
Nationally they're be a tremendous focus on the fact that two rookie quarterbacks will be the likely starters in this game.  Foles for the Eagles and Griffin III for the Skins.  They are both part of a rookie quarterback class which has made an amazing number of starts in their rookie seasons.
"It's crazy how it's going this year with all of us rookie quarterbacks," Foles said on Wednesday. "But sometimes life is crazy and it just happens that way. Right now, we're playing against each other, we're starting and we've got to play at a high level."
I didn't know Nick that well until we got to the combine," Griffin said via phone on Wednesday. "He's a really cool guy. All us rookie quarterbacks are leaders on the field, but we're down to earth off the field. And it's exciting that all of us are playing now. As a group, we're definitely clicking."
You can tell that there's a pride amongst this group concerning how many starts they're getting.  We'll see who comes out on top on Sunday afternoon.