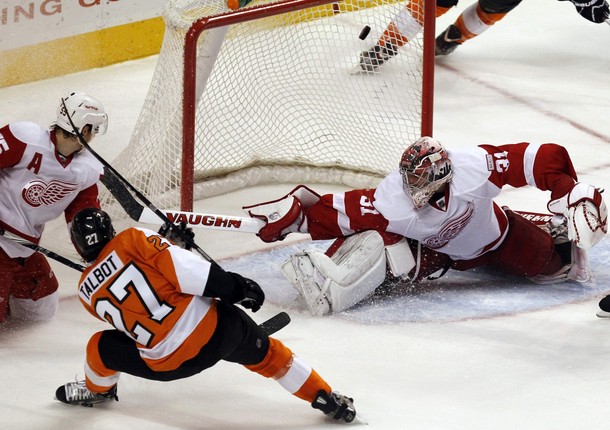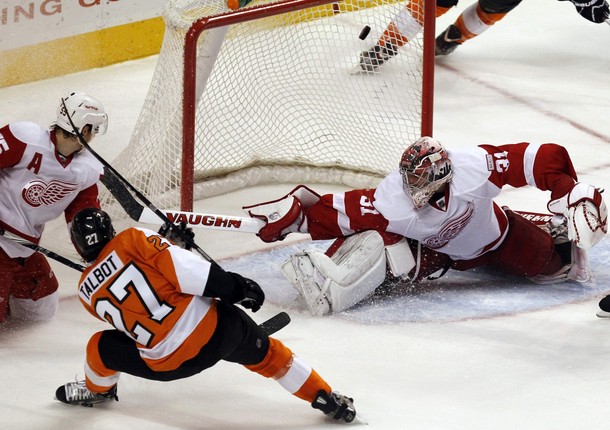 NHL commissioner Gary Bettman suggested this evening that a two-week moratorium on collective bargaining negotiations might now be in everyone's interest, assuming that interest is the erosion of hockey completely from the sports landscape in the United States.
Not surprisingly, more players under contract with the Philadelphia Flyers have begun signing with European leagues in the past week.
Joining Claude Giroux, Danny Briere, Matt Read, Jakub Voracek, Tom Sestito, Ruslan Fedotenko and Ilya Bryzgalov are Max Talbot, Nicklas Grossmann, and Bruno Gervais.
Max Talbot has signed with the Finnish club Ilves in the SM-Liiga.  In the club's official statement on the signing, they stated (via Google Translate), "Talbot is characterized as an excellent skater, as well as hard-mounted leader." After having the best season of his career in Philadelphia, it's difficult to argue with that statement.
In his first game with Ilves, Talbot scored a powerplay goal in a losing effort against former Adirondack Phantoms goaltender Johan Backlund.
Gervais joins Los Angeles Kings goaltender Jonathan Bernier on Heilbronner Falken, a team in Germany's second tier league, "2nd Bundesliga." His signing helps the team fill a gap on the defense left by injuries to two of its existing players.
Wayne Simmonds played in the same league earlier this fall, but has since left Europe entirely following a less than ideal environment in the Czech Republic.
Grossmann will join Flyers teammate Matt Read in Sweden on a four-game stint with the Allsvenskan (second tier) team SSK Sodertalje. Per the club's web site (via Google Translate and Bing Translate), general manager Per Nygards had this to say:
"It is with great pleasure that Nicklas connects to us. Better character players are hard to find; [thus why] Philadelphia has extended his contract with four seasons. At the same time, he shows an incredible goodwill and love for the club he represented as a young man by fully funding this… out of pocket.

Nicklas is a very strong defensive back with wonderful personal leadership qualities that always had an impact on their teams. With his presence on the ice, Nicklas is such a player that opponents have to keep an eye on when he is on the pitch. He can play very physically but fair.

He has all the characteristics of a culture carrier… in the top league in the world, and we will [hope he] can be with us longer than these four games in his contract terms."
Perhaps the most frustrating aspect of all these player movements to Europe is that the full impact has not been recognized by either the players nor the owners.
Financially, playing hockey in Europe is not worthwhile long-term. For all the complaints directed to the NHL about proposed limitations on future contracts, many players have been paying out of pocket to play overseas due to the high insurance costs over their existing contracts.
The limits on player contracting rights suggested by the NHL may curb the ridiculous 15-year, $100+ million contracts, but history has shown that owners will pay the maximum of whatever they are allowed in order to sway players to their respective teams. The players will still make much more money than they would anywhere else in the world, with much better working conditions.
As for the owners, there does not appear to be any recognition on their part as to why these players expect to make the money that they do.  The quality of product that the NHL offers is the greatest in the hockey world, and yet as of late, only the European teams fortunate enough to scrounge money for a handful of players seem to recognize how great these players are.
Gervais may not garner much attention in Philadelphia as a fifth/sixth defenseman, but the level of talent he brings to Germany will be tremendous.
Read, meanwhile, has helped transform a struggling, bottom-feeding team win ten of its last eleven games.
In short, "you get what you pay for." If the NHL wants to continue to grow revenue in North America, it's going to require icing a premium product.  "Premium" is not synonymous with "cheap."
There is no good that a two-week moratorium can serve except further inflate the egos of those individuals unwilling to face reality.
Well, maybe it will give more Flyers time to pack.