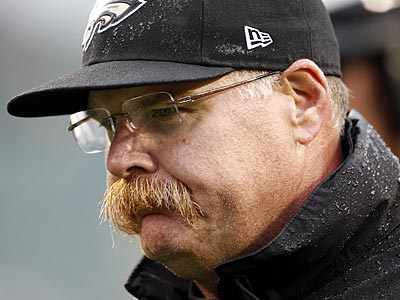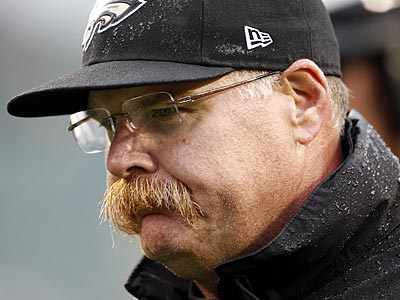 It hasn't been a fun time to be a Philadelphia sports fan.
There hasn't been much to cheer about in 2012. The Flyers and Sixers generated a little excitement last spring with their playoff runs, but other than that we've endured some tough times over the last six months.
The Phillies were a failure in 2012, and we had to watch Ruben Amaro become a seller at the trade deadline. Later on we would see Hunter Pence step up and become a leader and a producer for the San Francisco Giants as he helped them capture their second World Series title in three years.
In the fall we've had to endure an equally (if not more) frustrating Eagles team. After watching the team seemingly make dramatic improvements in the off-season and get off to a fast start at 3-1, all of the sudden we haven't seen a victory since September.
Let's take a look at the state of each of the four major teams right now.
Philadelphia Eagles
Everything that the Eagles have worked towards over the last 14 years has come crumbling down around them, and this year's implosion leaves all kinds of uncertainty surrounding the franchise.
Andy Reid is a dead man walking. He's proven beyond a shadow of a doubt that he's no longer capable of coaching at a high level, and he's simply playing out the remaining five games of the season while awaiting Jeffrey Lurie's final word. Bizarre decisions regarding the construction of this team, the coaching staff, and in-game management have all caught up to Reid, and will cost him his job.
The Eagles don't know who their next head coach will be, and they also don't know what the future of the quarterback position is. Nick Foles isn't doing much to inspire confidence right now, and Michael Vick will almost certainly not return next season (unless he's willing to dramatically restructure his contract).
The entire roster is in need of a purge. There is a losing mentality lingering amongst the players, and the front office will need to do some major housecleaning in the coming months. They've already begun that process this week with the release of one of the most unlikable faces on this team, defensive end Jason Babin.
The only key figure who appears to be safe is general manager Howie Roseman, which could be a major mistake by Lurie. Roseman has had just as big a hand in this team's poor decisions and failures than Reid over the last three years, and hasn't done anything to prove that he's capable of selecting a new head coach and rebuilding this team.
Philadelphia Phillies
Philadelphia fans were forced to suffer through one of the most disappointing seasons in recent memory as the Phillies spent most of the season playing inspired baseball and missed the playoffs for the first time since 2007.
The team has a limited amount of payroll space available to spend on free agents to help improve the club's current standing, but they also received shocking news yesterday when they learned that popular All-Star catcher Carlos Ruiz will be suspended for the first 25 games of the season.
It will mark the third straight year that the Phillies will begin regular season play without one of their key figures. Losing Ruiz for a month is a huge blow to this team that already has some concerns about the health and availability of their other key figures.
Chase Utley's knees remain unpredictable, and he hasn't played a game in April since the 2010 season. Imagine the frustration if Utley reports to Spring Training, and is immediately held out of action due to "routine soreness" again.
Starting pitcher Roy Halladay spent the entire 2012 campaign battling shoulder problems. At his age, and with all of the innings he's logged on his arm, there are no guarantees that he'll be back in top form either.
The Phillies can't afford to begin yet another season with multiple All-Stars out of action.
Philadelphia 76ers
While the Sixers have been playing fairly well during the first month of the season, their prized off-season acquisition Andrew Bynum has yet to appear in a single game with the team, and he has no timetable for a return.
The 2012-13 season has been one of the most highly anticipated years for the Sixers in over a decade, and all of that excitement has been generated because of the Bynum trade.
Without Bynum, the Sixers have a limited ceiling and aren't likely to be anything more than a low seed in a competitive Eastern Conference.
Philadelphia Flyers
Don't count on seeing hockey anytime soon.
The NHL remains caught up in a lockout with no end in sight. Negotiations are for adults.
Even before the lockout, the Flyers were caught up in some bad luck of their own. They tried desperately to hand out a contract worth over $100 million to some of the top free agents available (such as Zach Parise and Ryan Suter) but the available talent had no interest in coming to Philadelphia, and turned their noses up at Paul Holmgren's offers.
Holmgren finally managed to find a taker for his boatload of money when he signed Nashville's Shea Weber to a massive offer sheet, only to have the Predators surprise them by matching the offer and destroying the ideas Flyers fans had of acquiring what would essentially be a young Chris Pronger to anchor their defense.
Overall
Over the last six months, each of the four teams has built the city up only to let them down.
Michael Vick ran around screaming delusional nonsense that this Eagles team would be the start of a dynasty.
The Phillies put out a miserable effort for most of the 2012 season, got themselves back into the race in the final weeks of the year, only to let down against lowly teams like the Houston Astros to rip the hearts out of fans hoping for a miracle.
The Sixers seemed ready to assert themselves as one of the top teams in the Eastern Conference, only to have the key figure in those plans go completely MIA.
The Flyers failed to improve their team that was easily defeated by the New Jersey Devils in the second round of last year's playoffs. Even if the NHL wasn't in a lockout, the team would still be going through the ups and downs of Ilya Bryzgalov while struggling to get consistent play from the forwards and defenseman.
Its a hard time to be a Philadelphia sports fan. There's not a lot to be optimistic about right now.