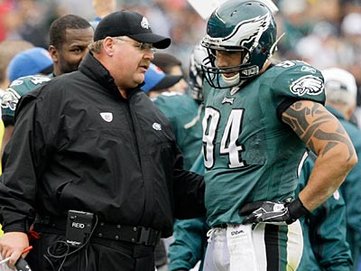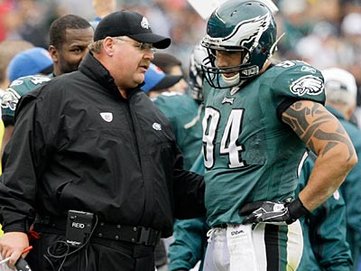 There's a lot of talk about the release of Jason Babin sending a message.  Why would you wait until the team is 3-8 to send a message?  The season is over and all the players are playing for is their individual careers and futures.  It's every man for himself now with the Eagles.
That's my reaction to the release of Babin, now here are his former teammates reacting to his release.
"I've been in the league for eight years now and seen people come and go and it's just business", Trent Cole said to a group of media members on Wednesday. "There's nothing you can really say. That's between him and the franchise and that's it. We're going to miss him. He was part of our d-line; we were tight. We're a close-knit group. He's a great player. He's a very aggressive player you want to have on your team. He's going to find another home."
"I'm just going to take this opportunity, and I'm about to go hard", Brandon Graham said regarding the opportunity he will get to play more with Babin gone. "Y'all going to see me this weekend. You're going to hear from me."
My question is why didn't we see you earlier in the season and earlier in your career.  Graham is always talking more than he should.  Show us don't tell us.
"As young guys, we're just gonna have to step up," said Vinny Curry said about Babin's release.  "I'm just going to work my tail off today and the rest of the week."
Curry is a young hungry player, who should have been given a chance to make a difference much earlier in the season.  You can bet that Jim Washburn never even considered sitting down one of the starters.
"I've learned, as a rookie, that this is a business and things happen like that", Fletcher Cox said yesterday before the afternoon practice.
Cox has been the Eagles best defensive lineman.
"I guess in a way you kind of expect something to happen", Mike Patterson said yesterday to the local media. "You could look at it that way if you want to but you just feel like the team is trying to make the best choice for us to win games. That's the only thing as a player [that] you look at it."
"It happens" said DeMeco Ryans. "Nothing really surprises me in the league anymore."
"The one thing that I've learned about football is that it is a business", Nick Foles said in the midst of a circle of reporters. "I love every teammate here, but it's a business and you just have to go with it. There's been guys that have been released before and we just have to come together. I talked to Babin earlier and I wished him the best of luck. That's just part of it and that's what I'm learning."
"It's an interesting situation", Evan Mathis said during the afternoon media session. "As players we have to trust any kind of situation like that when they're made by our coaches and management."