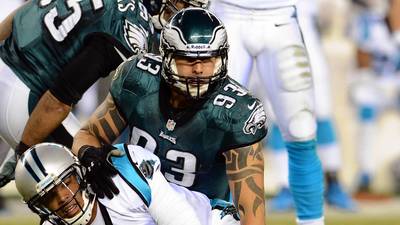 The release of starting defensive end Jason Babin is a rather erratic move this late in the season.  But the move exposes the fact that the Birds should have made some changes at the defensive end positions and/or elsewhere on the defensive side of the ball much earlier in the season.
There's talk that the Eagles may start benching defensive players after their pathetic performances of the last five weeks.  It's much too late for that to matter.  The season is over.  They should have benched a number of players to send a message much earlier.
This football team and especially this defense has too many "nice guys".  Former Troy Vincent said this team lacks leaders and that's true.  Nobody wants to upset anybody.  Somebody on the roster should have treated this season like they were caught in a burning building and expressed the sense of urgency to get something done.
I asked DeMeco Ryans last week whether he felt somebody should get in the face of the team's defensive players and demand that they play better and he said, "No".  Ryans is without a doubt their best defensive player.  He shows up ready to play each week, but that isn't enough, he should have demanded the same from his teammates.  Maybe he will do it next year, but that's too late for this year.  That's one of the dangers of comprising a team of mercenaries.
At least Ryans has led by his play, but other veterans like Jason Babin, Cullen Jenkins, Trent Cole, Nmandi Asomugha and Dominique Rodgers-Cromartie have come up missing.   Every NFL team has to have veteran player step up with their play and demand of the same effort from their teammates.
The Eagles used to get leadership from the cornerback position with Vincent,  after him Sheldon Brown, then Asante Samuel, but Asomugha and DRC give you nothing.  I know some of you might be surprised for me to mention Samuel, but he made big plays for him the entire time he was here.  He competed with the receivers in practice and in the games, which made them better and more competitive.
Kurt Coleman has some leadership qualities and he gives maximum effort, but he's not good enough of a player to make much noise.  He's not a Brian Dawkins.
Andy Reid and his staff treated this team as if they were one of his earlier teams with bonafide leaders on the roster.  They let the entire season go up in flames without benching anybody on the defensive side of the ball.
This defense has underperformed drastically on historic levels, but they haven't benched anybody on the defensive line, linebackers or secondary.  They've allowed five quarterbacks in a row to throw for at least 120 quarterback rating.   How do you explain that?
A lot of times on the defensive side of the ball, hustle and "want to" is just as important as talent.  I remember Dominique Rodgers-Cromartie saying something earlier this season that bothered me.  In describing then secondary coach Todd Bowles, DRC said, "He's laid back just like me".
One of the reasons that some one as talented as Dominique Rodgers-Cromartie was in a trade at the prime of his career was because of his nonchalant attitude.  He was too "laid back".  He's still too laid back.  Arizona was unable to put a fire underneath him and Bowles has let him remain laid back, when he should have been threatening to bench him if he didn't improve his play.
During training camp I said that DRC has Hall of Fame talent, but he needs somebody to keep a foot in his butt.  There are some players who you can be nice to and they will perform, but there are others who need a foot in their backside.  This collection of players need a foot in their backside.
Bowles has let this collection of nice guys on the Eagles defense sabotage his coaching career.
Here you have a defense that's not performing on an NFL level, yet they have refused to bench anybody.  Reid fired the defensive coordinator Juan Castillo, which is something that is a very drastic measure, yet he and his staff have seen this team lose seven consecutive games and not one player has been benched during the seven losses.
This has been the problem with this football team.  Players have been able to perform poorly yet not suffer any consequences.  Players don't usually play their best football when they're too comfortable.  A football coach must push his players.  There's need to be a threat apparent if the players doesn't perform well enough.
The coaches on this football team have allowed this group of "nice guy" players to be comfortable while underperforming and for that every coach in the organization is going to be fired.