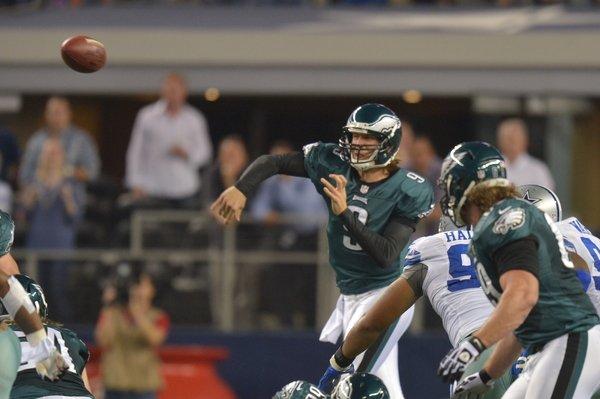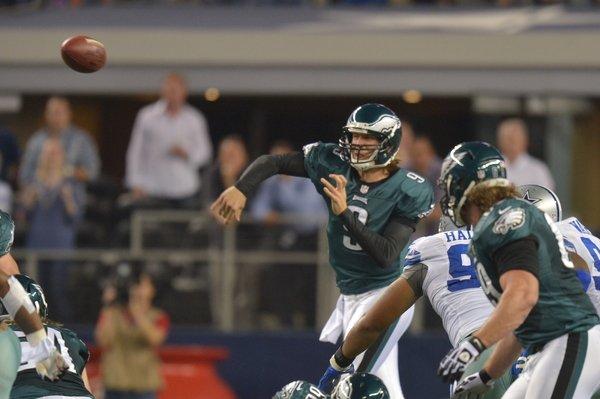 I'm sure you liked the way the Eagles employed a balanced attack against the Dallas Cowboys on Sunday night, but you're not going to see that this week.  It's going to be back to bombs away which we saw earlier this season with Michael Vick at the helm.
The Eagles still like to throw the football more than running it and they've got to throw the football after looking at the stats of the Tampa Bay defense.  They do a great job of stopping the run, but are awful against the pass.
Eagles offensive coordinator Marty Mornhinweg seemed to anxious about getting a shot at the Buccaneers mediocre defense against the pass.
He was beaming with pride earlier today when he talked about Eagles rookie quarterback Nick Foles.  He doesn't see Foles as a rookie any more despite fact that he's still in his rookie year.  The offensive coordinator is ready for the youngster to take his game to another level.
"We are no longer rookies – that's done", Mornhinweg. "We expect to play at a high level consistently."
He might play better on Sunday afternoon than he did in his impressive performance against the Dallas Cowboys last Sunday night.  In fact Foles could wind up being the biggest offensive positive to come out of this season along with rookie running Bryce Brown.
You know Mornhinweg doesn't mind getting the chance to demonstrate how he can develop a young quarterback in lieu of the fact that he and his fellow assistants will probably be unemployed right after the New Year.
"He sure does some things just naturally", Mornhinweg continued. "These are some great positives he's got. There are some details … that we get those taken care of through hard work and preparation, that we'll be in great shape, and he'll be off and running."
The Eagles are going to be throwing the football at 65 to 70% of the time this week against the Bucs.  Tampa has the number one run defense in the league and the worst pass defense. Injuries have decimated the secondary.  They defend the pass in much the same way that our secondary does.
Mornhinweg is looking forward to letting Foles throw for 400 yards if he can.  They are going to air it out with Foles throwing the football at least 40 times.  Hopefully he doesn't start getting sacked or throwing interceptions because I don't think the Eagles will stop throwing the football regardl.  The youngster will have a big day or a terrible day.  I don't think there will be any in between.
I hope they don't forget the success that Brown has had in his first two starts.  He's gained over a 160 yards in his first two starts, but don't be surprised if they forget him as they try to take advantage of Tampa Bay's bad pass defense.