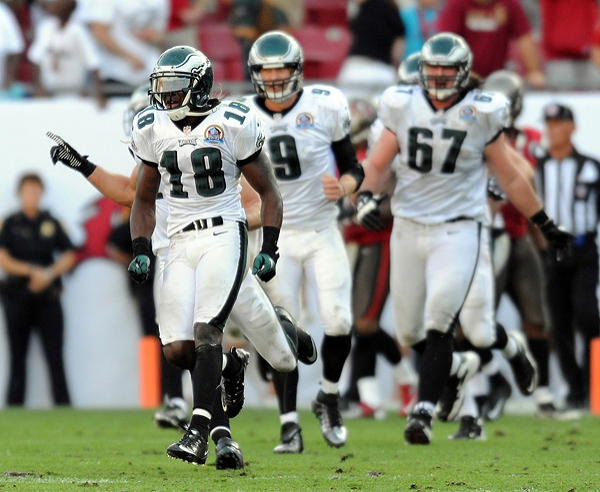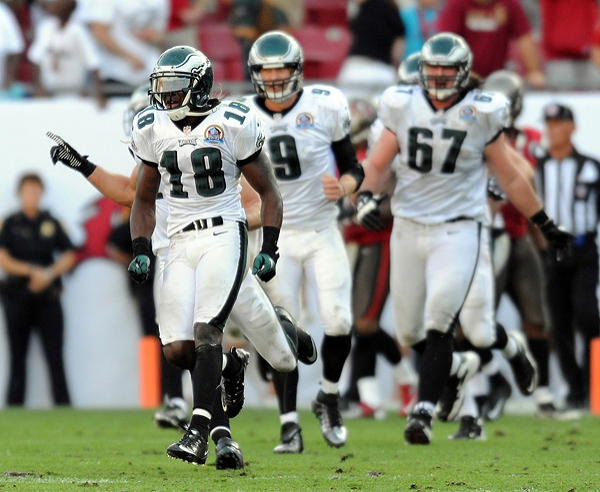 Foles Keeps Making Strides
In his fourth start of his career, Nick Foles made a strong case to be the Eagles' starting quarterback in 2013.
Foles was spectacular, putting up 381 yards, two passing touchdowns, and one rushing touchdown with no interceptions as he lead the Eagles on a come-from-behind victory, finishing the game with a touchdown pass to Jeremy Maclin as time expired.
Give Foles all the credit in the world today. Look at all of the factors he had working him that he was able to overcome. His offensive line wasn't interested in providing great protection throughout the game, and allowed their quarterback to be sacked six times. His running backs only carried the ball 13 times for a grand total of two total yards. He played without three of his offense's best weapons (LeSean McCoy, DeSean Jackson, Brent Celek). He needed to find a way to put up 11 points in the final 10 minutes of the game on the road against a tough Tampa Bay team. And the rookie got it done.
Despite the pressure he was under, Foles remained confident and poised. He saw the field very well today, and spread the ball around to eight different receivers. He had great command of the huddle, and didn't turn the ball over.
Foles has come a long way in just four starts. He had a rough outing against the Redskins, but he's shown steady improvement in each game. Every week he's looked more and more like a legitimate starting NFL quarterback.
Foles didn't just put up some pretty numbers this week, he made big throws in clutch situations.
While 2012 may be a lost season for the Eagles, the maturation of Nick Foles has been a sight for sore eyes. Whether or not he's the franchise's long-term answer remains to be seen. Just as I stated that it wasn't fair to give up on the third-round pick after a couple of shaky outings against the Redskins and Panthers, it would be just as foolish to run around calling him the savior after today's game.
But today's performance was very encouraging. If he continues to move in the right direction, he may be able to build up enough confidence that the organization won't make quarterback a priority in the first-round of next year's draft.
Defense Shows Improvement
The Eagles defense turned in their best performance in nearly two months today, holding the Bucs to just 21 points.
The defense showed a little fire and intensity today. They weren't without their issues, but even when things began to go bad for this unit in the second half, they fought hard for 60 minutes, which is something you couldn't say about them for the last two months.
For the first time since Todd Bowles took over as defensive coordinator, the Eagles managed to hold the opposing quarterback to a rating below 100. Josh Freeman completed just 14 of his 34 passes for 189 yards.
A lot of people are going to point to the firing of Jim Washburn as the reason for the quick turnaround, but that's not the case. The defensive line wasn't particularly strong today, and allowed Doug Martin to run right through them for 128 yards and a touchdown.
Today's defensive turnaround was about the unit as a whole coming together and playing for each other.
A week ago, Nnamdi Asomugha and Dominique Rodgers-Cromartie gave disgraceful, embarrassing efforts. This week both of them played hard. Rodgers-Cromartie had his best game in months, and looked like a Pro-Bowl caliber corner. Asomugha still had his issues in coverage, but at least the hustle was there from him this week.
The defense also has benefited from a couple of young, hungry players getting opportunities for playing time.
Colt Anderson got the start for the injured Kurt Coleman, and played very well. Anderson brought a little stability to the safety position, and was among the team leaders with five solo tackles. Jamar Chaney replaced Akeem Jordan in the starting lineup, and was in on four tackles.
Although they struggled in the second half, the defense was able to stand tall when it mattered most, and came up with a stop late in the fourth quarter that put the football back in Nick Foles' hands, giving the rookie the opportunity he needed to win the game.
The defense still needs to be completely rebuilt, but they showed today that they're capable of much better play than what they've shown throughout the season.
Quick Thoughts
Alex Henery had his streak of 21 consecutive field goals snapped today, and missed two his three field goal attempts. The miss on the 58-yard attempt before halftime is forgivable, but the chip shot he missed in the second half is not. Nick Foles' comeback effort would have been much easier if Henery had done his job. Instead of looking for a last-second touchdown on the goalline at the end of the game, the Eagles could have lined up for an easy game-winning field goal.
Inexcusable mistake by Damaris Johnson on the muffed punt. The Eagles were in control of the game with a 10-0 lead, and Johnson's turnover opened the door for Tampa Bay to generate a little momentum that would turn into 21 unanswered points. The rookie has shown in the last two weeks that he may have a chance to develop into a decent return man, but he can't have issues like this moving forward. The young receiver has got to know to just let the ball go when it comes that close to the endzone.
Bryce Brown just couldn't get anything going today. Tampa Bay is the best run-defense in the NFL, and they completely bottled up the rookie who had run for over 300 yards and three touchdowns in the last two weeks.
Jason Avant was at his best today. He finished with seven catches for 133 yards, including an incredible one-handed reception in the second quarter. Avant doesn't have great speed, but he makes up for it with excellent body control combined with an ability to run good routes.
Jeremy Maclin had a big game as well, catching nine passes for 104 yards and also caught the game-winning touchdown. The Eagles tried to take advantage of Maclin's speed by setting him up on a number of bubble screens throughout the game.
I really like what Riley Cooper has done in the last few weeks. Today Cooper caught four passes for 31 yards.
Vinny Curry made a nice play to stuff Doug Martin on a third and one. Curry hustled over from the other side of the field in time to pull Martin down and kill a Tampa Bay drive.
Marvin McNutt was promoted from the practice squad several weeks ago, and got his first NFL action today. He drew a holding penalty in the second half that helped keep a drive alive.
Anyone else frustrated to see former Eagles third-round pick Daniel Teo-Nesheim play well today. Teo-Nesheim was a high draft pick in 2010 that was released after just one season in Philadelphia. He's made himself into a productive starter for the Bucs.
Jamar Chaney took over as the team's strong side linebacker, and Mychal Kendricks slid to the weakside position, allowing him to attack the football more.
Final Thoughts
Its been 70 days since the Eagles last won a game. The horrible eight-game losing streak is now a thing of the past, and the inspiring performance by Foles adds a great deal of excitement to the final three games of the season.
Even though it may be too little too late, it's nice to see the Eagles come together and play at a respectable level again.
You have to give Andy Reid credit. Yes, the head coach has had a terrible season, and he's got his fingerprints all over this team's problems and their 4-9 record. But give Reid this much: he's not a quitter and he's always going to work hard to get the most out of his football team. He's made some terrible decisions that have really hurt the Eagles, but I respect the fact that even though things have gone south, Andy coaches his best down to the bitter end. It's just unfortunate that his methods have been horribly misguided, and driven the team this far into the ground. With all that Reid has gone through this year on and off the field, it was nice to see the big man celebrate as his team pulled out the win as time expired.
The Cincinnati Bengals are next up on Thursday night, let's see if the young quarterback is able to build even more off of his success.
Denny Basens is the editor of GCobb.com. Email him at dbasens@ycp.edu, or follow him on Twitter.