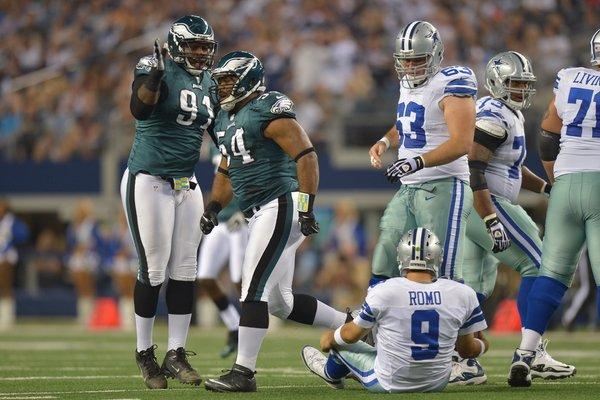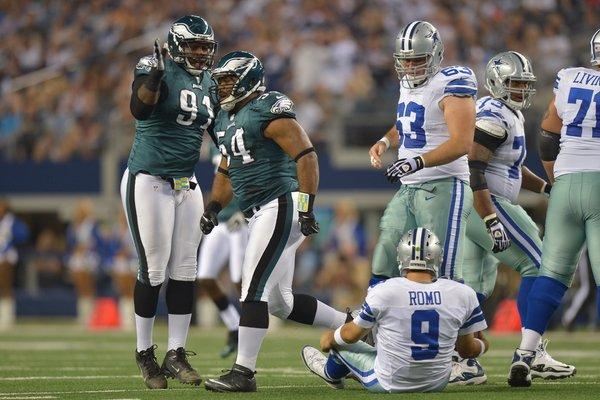 The Eagles defensive line will be going  back to a standard defensive front this weekend, which will mean a major change for all of them.  No longer will they be able to pin their ears back and get after the passer.  They will have to read what the offensive lineman they're facing are doing during the play and react to it.
Sometimes they'll be fighting a double-team, other times they'll be squeezing the hole by attacking a trapping guard, other times they'll be shutting down the attack pass rush because they read a draw.
They have to drilled in these reactions until they do them without thinking.  It has to be automatic and without hesitation.  They have to drill it into their subconscious until they react without thinking about it cognitively.  This is normally all done in training camp, but not in this case.  They need to do it in a few days.  Thankfully, many of the players like Trent Cole and Cullen Jenkins have done this before.
Undersized players like Brandon Graham will have a challenge when it comes to taking on double teams and holding their ground.  He won't be able to simply get off on the ball and get upfield.  It's ironic that just when Graham was coming off a good game in the wide-nine that they have decided to put it on the shelf in a storage unit.
It will be something new for rookie defensive tackle Fletcher Cox.  The young man has played in the wide nine style during all of his college and pro careers so far, so moving to a standard read and react style will be a major change for him.
"It'll take me a little time," Cox explained the media members present and listening. "Just go out and work on it pre-practice. Get an offensive lineman or somebody to work on it with those guys. This is new to me, something I've never did. I think I'll still do a great job at it. I do still expect to be a pass-rushing tackle."
Cox has the combination of size, speed and power that allows him to be a dominant player in the wide nine, over or under alignment or 3/4 defensive front.
In the wide-nine it's all attack.  You have one hole to cover and your job is to get as deep into the backfield as you can get regardless of the play.  This requires quickness and speed as compared to size and strength.  Cox was outstanding in the wide-nine because of his speed and quickness.  The wide-nine puts tremendous pressure on the linebackers and safeties to fill the gaps opened by the pass rushing defensive linemen.
In the under and over defensive fronts, it's a controlled attack.   You've got one gap responsibility in the over and under, which means you come off the ball attacking that gap.  At the same time you're attacking, you must read what the blockers are trying to do to you.
You can't just get upfield blindly like in the wide-nine, but you must react to the blocking scheme.  On trap plays you must read it stop getting upfield and attack the trapping blocks to squeeze the hole and make the linebackers job easier.  On draw plays, the defensive linemen must react to it and stop running upfield.  On sweeps they must stop the rush upfield, then get off their blocks and help make the play.  You've got to play the run when you see it, but otherwise get on the snap of the ball and get to the passer.
There are times in the under and over, when the defensive tackles and defensive ends have to take on double-teams.  Their job in those times is to hold their ground and not let either of the blockers come off and pick up the linebackers.  In fact they are taught to hold the offensive linemen on a double team, so they can't get off of to stop the linebackers from making the play.
In the 3/4,  the defensive linemen must be able to take on double teams, play two-gap responsibility and for the most part keep the offensive linemen off the linebackers so that they are free clean up and make tackles.
In this scheme, two-gapping is a major part of the job.   Playing two-gap means taking on a blocker and being able to cover the hole on each side of the blocker.  You have to be so big and strong that you can neutralize the block, then toss the blocker either way depending on which hole the running back goes into.  You must be big and strong to do this technique.
Versus double teams you must be able to take on two blockers at the same time, yet not give any ground, so that you free up the linebackers to make most of the plays.  You have to be as big and as strong as an ox to do that.
Cox is the one Eagles defensive linemen who is capable of excelling in the wide-nine, under or over and the 3/4.  in fact he's the only current Eagles defensive lineman who could excel in the 3/4.  Brasher agrees.
"Oh, yeah. He can play any scheme," Brasher said. "He's a big, quick guy. He can play 3-4. He can play the scheme I'm teaching. He can play the scheme anyone teaches. He's got that much physical ability."
Don't be surprised if the Eagles defensive line takes a while to get accustomed to the change.  This is something which should have been done in training camp, not in the 14th week of the season.