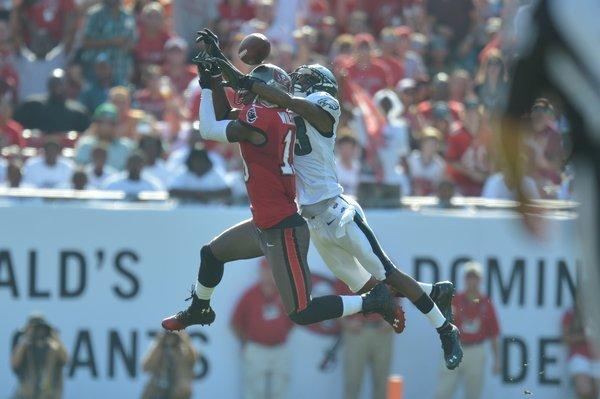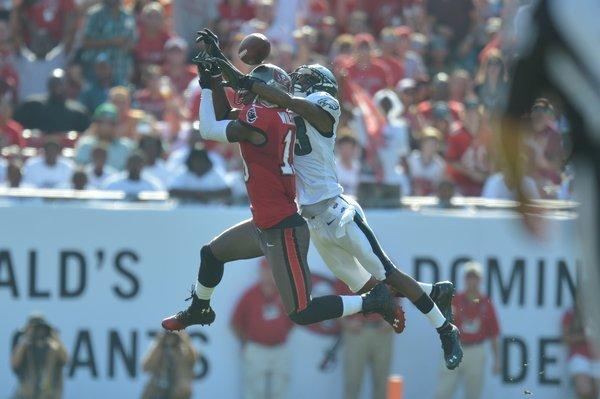 Those of you who were listening to John Lynch during the game, heard him call out Dominique Rodgers-Cromartie and Nnamdi Asomugha for refusing to play the game the way it's supposed to be played last week against the Cowboys.  He told it like it was and I like the fact that Andy Reid and Todd Bowles called out those two veteran cornerbacks out before the game, but they should have done this much earlier in the season.
If they had been challenged they could have played better this season.  This is one of the reasons Reid and Bowles will be fired at the end of the season.  They tolerated lackluster play without holding these players accountable.
I will give both Nnamdi and DRC credit that they showed up effort wise for the game against the Buccaneers.  This should be automatic every time they put on the uniform.  It's the way you demonstrate your character.  If I were coaching them last week, I would have embarrassed them the way they embarrassed their coaches, by benching them during that Cowboys game.  In the Bucs game, they gave professional effort the way they should do each and every week.
Still, Nnamdi is doing a terrible job in pass coverage.  He moves up into a press technique then doesn't use his best weapons (his long arms) to jam the wide receiver.  Once the ball is snapped he backs out and opens the door for the receiver to do whatever he wants to do.  It makes no sense.  If you're not going to jam the guy, then why go up there on him in the first place.
Most of the time, if he gets a good jam on the receiver, that's one receiver that the Eagles don't need to worry about.  The coach needs to find out what in the world he is doing.
I thought this was one of DRC's better games.  He made three tackles and broke up three passes.  If I were coaching him, I would be demanding an interception out of him, if the opposing quarterback was willing to throw his way.  He's satisfied with knocking the ball down far too much.  Knockdowns are nothing special, but interceptions help you win Super Bowls.
I think we've seen that DRC needs a coach who is going to ride him and stay on him or he will shut it down and coast.  I think he gets bored unless he is challenged.  I would give him a challenge every week and let him watch tapes of All-time Hall of Fame cover corners like Deion Sanders and Michael Haynes.  His goal should be to be an All-Time great.
The reason I mentioned Haynes is because I was at an event up in New York with him for a few days last week and I talked to him about Nnamdi.  He talked about how poor Nnamdi's fundamentals had declined.  The Hall of Fame cornerback didn't have much good to say about him.
Former Eagles Pro Bowl cornerback Troy Vincent was there also.  He didn't see the Cowboys game, but he heard me going off on the radio about Nnamdi and DRC not giving effort.  He has publicly talked about the veterans refusing to lead this football team.  Guys like DRC and Nnamdi should be leaders on the team rather than guys who have to be called out for not hustling and giving their best effort.
During the OTA's I remember DRC saying he liked coach Todd Bowles because "he was laid back like I am".  His "laid back" approach is the reason a guy of his talent level was traded during the prime of his career.  Bowles or anybody who coaches DRC should have a foot "knee deep up his butt", in order to force him to use his amazing talent every play of every game.  He's not the kind of player you can hug and pat on the back all the time.  This young man needs to be pushed.
The Eagles finally realized that rookie Mychal Kendricks is a pure Will linebacker, so they moved him to his position.  He made about four plays against the run, which are what has been needed all year.  When the youngster smells a run his way, he doesn't wait for it to get there, he attacks it and blows it up.
He didn't force a fumble yesterday, but they're on the way.  Kendricks also broke up a couple of pass plays with his quickness and anticipation.  The coaches have to get him thinking turnover on all of these plays.  This young man is capable of forcing turnovers because he arrives before the ball carrier anticipates, so he must be thinking about dislodging the football when he gets there, not just blowing up the ball carrier.
This was probably his best game of the year.  He had five tackles and two assists, plus he broke up three passes.  I would like to see those pass breakups turn into interceptions.  They've got to coach him to think that way.
Jamar Chaney did a good job at the Sam position for the most part.  He broke up an intended pass and almost had interception on the play.  The linebacker made two tackles and two assists for the game.
DeMeco Ryans had another solid performance, but I wouldn't say it was one of his better games because Doug Martin ran for 128 yards and most of them were up the right up the gut of the defense.    He contributed six solo tackles and one assist.
On the touchdown to Vincent Jackson, the red light has to go on for him when he finds himself matched up with Jackson.  It was a tough coverage because he had to protect the outside route because there's no one outside of him on that coverage.  Once he moved outside, it opened up the inside route.  The only way he was going to stop that route was by jamming Jackson.  The Eagles were clearly outschemed on that play.
Colt Anderson had to embarrass the other safeties because he showed what a safety is supposed to do when teams telegraph a running play.  Anderson was meeting Doug Martin three yards into the backfield was sure about the run play.  This young man is a special teams specialist, but he proved him can step in a do a good job at the safety position when given the chance to prepare.
Anderson contributed five tackles and one assist in the victory.
The Eagles pass rush was almost nonexistent.  Far too many times, Josh Freeman was back there with all day to throw the football.  I wasn't surprised because the defensive line was being asked to play a completely different scheme than they had been playing all season.
The defensive line contributed two sacks during the game.  One was by Fletcher Cox and the other was by Cullen Jenkins.  Cox continues to show that he's their best defensive lineman.  He made three tackles in addition to the sack.  About five or six times a game, Cox just over powers an offensive lineman and makes the play.  This young man must be pushed into greatness.
Cullen Jenkins registered the Eagles other sack in the game.  Jenkins has seen his best days.