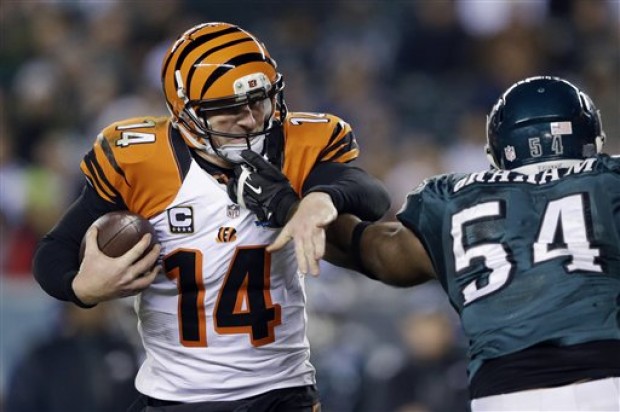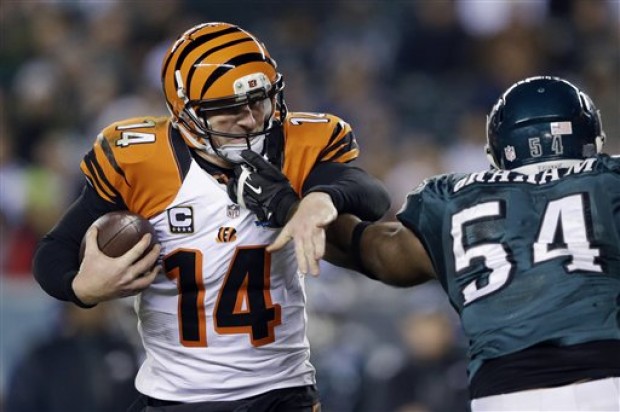 The guy who stood out the most in the Eagles-Bengals contest was Eagles defensive end Brandon Graham.  He's been coming on of late and making people take notice.  He couldn't get on the field for Jim Washburn, but now that the defensive line coach and Jason Babin are gone, Graham has been the Eagles best pass rusher.
Washburn has such a commitment to the veteran starters that he wouldn't shake things up when they were failing to get the job done.  Graham is showing us that he deserved an opportunity to show what he could do.
On Thursday night he contributed 2.5 sacks and forced Bengals quarterback Andy Dalton to fumble. Graham was using his speed to beat Cincinnati right tackle Andre Smith like a drum.  He was either beating Smith or forcing the big guy to hold him.  The young defensive end was showing off the burst, which got him drafted so high.
Graham beat Smith around the corner and hit Dalton's arm as he tried to throw to force a fumble which was recovered by Trent Cole.  He's starting to resemble the player the Eagles were dreaming of when they drafted him out of Michigan.  Although undersized, he was explosive off the ball and he used his short frame to get up under Smith.  On another play he tripped up Dalton as he tried to scramble to the far side for another sack.
He shared a sack with defensive tackle Fletcher Cox.  Graham and Cox could get to be a nice combination in the future.
Graham made a big tackle on another play he came from the left side and tracked down Dalton as he tried to scramble downfield.
He's been playing with a chip on his shoulder since he was labeled a bust a year ago.  Graham has been under pressure to produce because of being drafted ahead of Giants defensive end Jason Pierre-Paul, who has already been selected to the Pro Bowl and led his team to a Super Bowl title.
"As long as I keep bringing the same attitude and effort like I'm coming from behind", Graham said. "I feel like I'm still the No. 2 guy and I'm still trying to prove myself. That's going to be me until I'm done playing."
The former Michigan Wolverine will need to keep this performance up for awhile in order to erase the talk of him being a bust, but he's well on his way.
"I'm trying to step into that role of being a leader for next year," said Graham. "Trent taught me a whole lot, Babin and those guys, just looking up to them and trying to be a leader because I really want us to go to the playoffs. I haven't been in the playoffs since I've been here —  my first year I got hurt when we went. I want to be in the postseason trying to go for a championship."
Graham is saying the right things for Eagles fans and he's playing the right way, but he needs to keep it up going forward.  Next year he will likely be a starter on the defensive line.  He needs to be getting to the quarterback like he did on Thursday night.