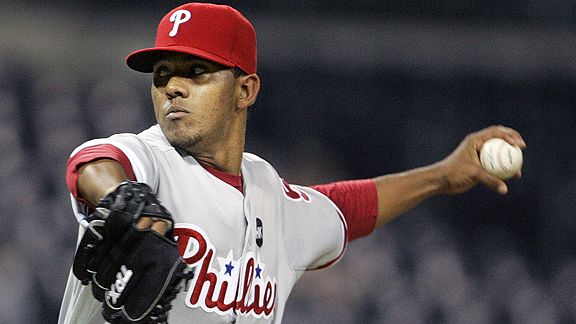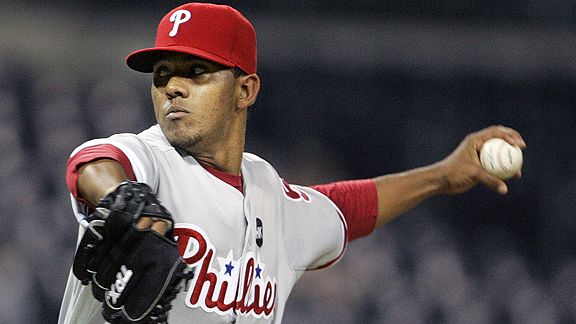 2012 Expectations
Big things were expected from Antonio Bastardo following his breakout year in 2011. Bastardo had put together a 6-1 record with a 2.64 ERA along with eight saves. Even though he began to perform poorly at the end of the season, the Phillies were counting on the lefthander to once again be a workhorse out of the bullpen that the team could use in a variety of roles.
2012 Performance
Bastardo was nothing short of a disaster in 2012. He lost some velocity on his fastball, and shortly afterwards lost his confidence. There were few times last season that the Phillies were able to feel good about putting him in the game in a tight situation. He finished the season with a 2-5 record, a 4.33 ERA, and just one save in five opportunities.
Bastardo did have a couple of points in the season where it looked as though he could have been regaining his old form. He had a very successful month in May where he went 2-0 with a 0.79 ERA in 13 appearances. But ultimately, it was a lost season for the native of the Dominican Republic. He was at his worst in July, posting a disturbing ERA of 9.72 in just 8.1 innings.
It got to the point where many where calling for the Phillies to shut Bastardo down for the year to avoid damaging his confidence even further, but the Phillies kept him active and in the major leagues. They were able to get him on a bit of a roll to close out the season. Bastardo finished the year with an ERA of 0.93 in 12 September outings. The Phillies began to use him as a situational pitcher. Instead of asking him to make through an entire inning, the team asked to only record one or two outs at a time, and Bastardo seemed to respond well to that.
2013 Outlook
Bastardo enters 2013 as a major question mark, albeit a very intriguing one.
Who is the real Antonio Bastardo? Is the guy that set the world on fire in 2011, or is the mediocre reliever we saw in 2012?
While the Phillies would love to have the 2011 Bastardo back, they won't count on him to perform at that level again. Newly signed Mike Adams and Phillippe Aumont will be the team's top options out of the bullpen, while guys like Bastardo, Jeremy Horst, and Mike Stutes will be asked to play complimentary roles to start the season.
I think the Phillies will start off the season handling Bastardo in a similar way that they did at the end of last season. He'll be a situational lefthander, and won't be asked to do too much. If he's able to find a nice groove and pitch well, his role could expand as the team regains confidence in him.
The Phillies need Bastardo to bounce back this season. They don't have any better lefthanded relief options at the moment, and if Bastardo falters again they're going to need to find that relief elsewhere.